AMBASSADOR'S
Crossing The Himalayas #10 / トラウマの大ヒマラヤ山脈横断♯10(最終回)
2016.02.05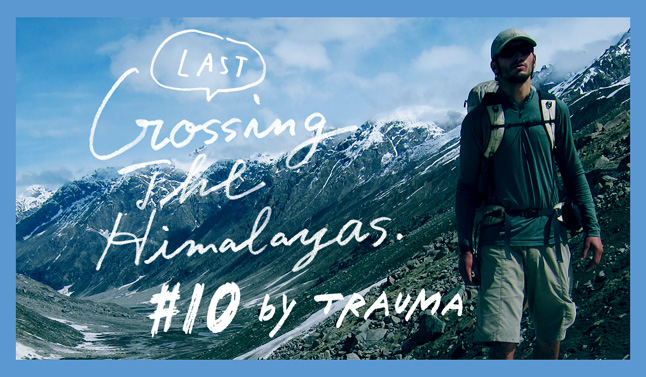 Crossing The Himalayas – India GHT #5: By Justin "Trauma" Lichter
I crossed the penultimate pass of the trip, Shingo La quickly and easily. It was the highest pass, at about 5100 meters in elevation, remaining between me and the India/Pakistan line of control. The trail was good and the climb went fast and wasn't very challenging. I had come a long way and this felt like an easy climb after months of battling tough conditions. There was minimal snow on the pass with only a few snowfields and a pretty ice covered lake just below the pass. My body was feeling strong and at this point the terrain seemed easy. It was just a matter of putting the hours in until I'd be at the border and finish the hike in a few days. I chose to make my route go over Shingo La because there is rumor that the Indian government is planning on putting a road over it sometime in the near future. I wanted to experience the pass and these precious river valleys before they are affected and the wilderness is ruined forever.
On previous sections of the hike through India, I had already witnessed different areas demise. I would descend from a remote pass and pop out towards the lower part of a valley only to come upon a monstrous lake and dam that wasn't on my map. India has flooded a lot of valleys in order to generate the power that their growing economy demands. They haven't geared their efforts to more sustainable means of electricity generation or even diversion hydroelectric power. Instead they are building dams and flooding pristine areas. In conjunction with the dams comes a network of roads and development to access the site for construction; hence further encroaching on and isolating some of the backcountry areas. It is a tough situation and I know progress is necessary in some respects as it is making people's lives easier and electricity is more prevalent, but in the words of Joni Mitchell, "they paved paradise and put up a parking lot". That feels like the direction of a lot of the Himalaya is moving in throughout these developing countries. There were a few areas considered national parks. Often people continue to live in these areas and graze their herds and if there are trees they can still cut down firewood. The definition and protection aspect is different than a national park in most first world countries.
I descended through the valley. The landscape turned arid and a lot drier than the previous regions I had passed through. It was much more reminiscent of the Dolpa region in Nepal. The Zandskar Range sits behind what most people consider the main crest of the Himalaya, just as Dolpa is in the rain shadow of Dhaulagiri. Plant life was fairly minimal. After a few more hours I hit a dirt road and passed through a small town with a monastery. There was nothing that was going to stop me now. I felt like a racehorse dashing to the finish line. It was a matter of a day and a half more of walking the same dirt road, through a couple of more towns and over a low pass at around 4200 meters, until I reached the India/Pakistan border and successfully completed the trip. The views on the last stretch were sweeping and impressive. At times I could see the two remaining 8000-meter peaks, Nanga Parbat and K2, not far to the west and just over the Pakistan border.
It was a bittersweet moment when I walked up to the tiny town of Kargil right on the border. I was excited to complete probably the most challenging hike I had ever done, both physically and logistically, and also to get back home and see friends and family and catch up on everything I had missed. I looked forward to not having to wake up in the morning and pack up and press on and climb 2000 meters every day. I was eager to get all of the food and Ben and Jerry's that I had been dreaming about for the last 3 months. I wanted Ben and Jerry's in mass quantities, yogurt, dark chocolate, salads, cheeses, and chocolate soymilk. I was skinny and I needed to gain some weight back. However at the same time, I was in the best shape of my life. It's amazing what your body can get used to. I never would have imagined that after a high elevation stretch on the trail, my heart rate would have been 46 when I was still at 3200 meters in elevation. My legs wouldn't fatigue at 2000 meter of gain per day. Climbs weren't climbs unless they were in the thousands of meters. Any climb in the hundreds of meters was ticked off with hardly an issue. If international borders didn't create barriers, I could have kept going. I had intended to do 150 miles though Pakistan but Osama Bin Laden was assassinated during our hike and things got very politically heated. Reaching the Pakistani border, I reevaluated my plans and decided to end my hike at the Line of Control between India and Pakistan, which was very heavily militarized and pretty scary in its own right. I walked into Kargil and soldiers where everywhere. I tired to take a picture and immediately got harassed. I couldn't even get a picture at the end of my three-month and over 2,000-mile hike. Physically I felt good, but as soon as I hit the border area I was mentally ready to get home. I was hungry and I wanted to be out of the militarized area and back in a safe environment. I caught a ride the next morning to Leh and then a flight back to Delhi. A day later I was on my flight back to the U.S.
I sat on the plane and started out the window and recapped the trip in my mind. It already seemed like ages ago that I had been in Nepal. I was flashing back to the experiences and things I had seen on the trip and the amazing places I had been, and all of the intricacies of development, bureaucracy, and second and third world development. The scenery had been stunning, the cultures amazing, and the political situations eye opening. Each had played their own part to create challenges and interesting things on the adventure. For each frustrating and challenging moment, there had been an equally rewarding experience, creating the yin and yang of hiking. I learned a lot from the experiences and returned home a more well rounded hiker and person. I will never forget this adventure.
TAGS: