AMBASSADOR'S
リズ・トーマスのハイキング・アズ・ア・ウーマン#02 / アーバン・ハイキングへの挑戦
2015.02.20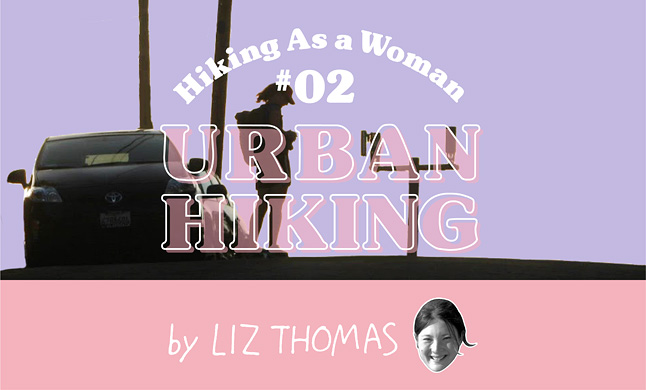 Hiking As a Woman#02 / URBAN HIKING
What is it that draws people to long distance hiking? Is it our love of nature? Is it having an excuse to eat as many cheeseburgers as we want? Or is it the love of putting one foot in front of the other? Last spring, I set out to answer that question in one of the least likely places in the world to look: Los Angeles. It all started out with an odd email from a stranger. At the end of my 2012 hiking season, I was having a hard time finding winter work, and missed being on trail when I received an unsolicited note from Andrew Lichtman. Andrew is in his 60s, but once was a somewhat famous Yosemite climber, and he still has the mindset of a man out to beat records and make history with physical achievements in the outdoors. What Andrew proposed was that I come out to LA and try my hand at breaking a speed record on a new route: an urban thru-hike. When I received that email, it was snowing in my home of Colorado and the idea of being able to enjoy a sunny and warm thru-hike in the offseason—even if it was on pavement—was pretty exciting to me. I thought that even if this urban thru-hike was lame, at least it would count as pre-season training. I wrote back to Andrew and he sent me a series of many very long emails detailing the trip.
Andrew explained that Los Angeles was once the nation's leader in public transit—a century ago boasting 25% more track that NYC has today. Although LA had yet to build freeways, LA-style suburban sprawl was already happening, heralded by the trolley cars which ruled the streets. The man who owned the street car company—Harry E. Huntington—discovered that if he used his profits to fund the development of new suburbs further out from downtown, that people living in those suburbs would be forced to use his trolley business. To ensure that people buying into Huntington suburbs had an easy time walking to Huntington street car stations, Huntington made sure his suburbs had plenty of sidewalks. The only problem with these so-called "street car suburbs" is that they were often placed in hilly areas—the most well-recognized example is the Hollywood Hills. To solve this problem, stairways became vertical sidewalks that connect neighborhoods otherwise separated by topography. With public stairways, people living high on hilltops could easily access the trolleys in the canyons below. As the trolleys disappeared and cars became king in LA, the stairways remained. For many years, as pedestrians became a rarity on the LA landscape, the stairways were forgotten or if remembered, became areas for gang activity, drug and alcohol use, and murders. But within the last decade, I learned, Angelenos have formed one of the most vibrant pedestrian communities in the country, and the heart of these walking communities is based in its public stairways. Their goal has been to turn the stairways into a safe place for families, the elderly, and school children to exercise and connect with their neighbors.
Andrew is one of the most active members in the LA stairway community. He and his wife, Ying, first learned about the public stairways in LA after reading an article by Dan Koeppel in Backpacker Magazine. Dan, a writer and leader in the LA bike and pedestrian community, had been preparing to hike the John Muir Trail—a 214 mile hike from Yosemite valley to the 14,505 foot summit of Mt. Whitney—and discovered the LA streets and stairways could be his training ground. Within his neighborhood, Dan devised hiking routes that incorporated the stairways and allowed him to cover 5,000 feet of elevation gain over 22 miles—similar to a day of hiking on the John Muir Trail. Meanwhile, another LA stairway guru, Bob Inman, was leading weekly walks in different parts of LA to share hidden parts of the city with his neighbors. Bob and Dan were both amassing lists of all the public stairways they had found in the city. There was no accurate map or public record of where the public stairways could be found, so the two urban explorers walked nearly every street in LA in pursuit of stairs. By 2012, Bob's list was at nearly 300 and he and Dan would lead dayhikes across the city that connected some of these stairs. Dan even started a two day and 40-mile event called the Big Parade that connects so many stairways that it can't be covered in one day. But Andrew and Ying, who had thru-hiked the Pacific Crest Trail, had their eyes on an even bigger plan for the urban stairways of LA. The two began to think that there must be a way to connect all the stairways and thus, make an urban hike of several hundred miles that would take more than a week to complete. The two approached Bob, who reluctantly decided to map the adventure and lead the trip. Bob is a modest man, but Andrew and Ying were so impressed with Bob's work developing and guiding the route that they insisted it be named the Inman 300 after him. Bob, Andrew, and Ying's ten day, 200-mile trip across LA was so much of a success that they wanted others to repeat it—which is why Andrew approached several athletes, I being the only one whose interest was piqued.
When I told Andrew I would do the Inman 300, I didn't realize that it would mean months sitting in front of a computer planning and mapping. Bob made a Googlemap of the route he had taken on his ten-day trip of the Inman 300 with Andrew and Ying. He also shared his list of stairways with me. However, it was up to me to figure out how to turn Bob's route into a journey that could be done in half the time. Planning for an urban thru-hike turned into more work than planning for a wilderness thru-hike! I quickly realized that urban hiking came with a set of challenges far different than hiking in the wilderness. On a hike like the AT or PCT, I never plan out exactly how far I can hike each day, but generally just try to hike my as far as I can and when it starts to get dark, find a campsite near the trail. This "sleep wherever I am when it is dark" plan works because unlike in Japan, in the US, in most places, hikers can camp anywhere that is public land, not just in designated campgrounds. On an urban hike—especially one in LA—I did not feel comfortable camping wherever I was in the route when it got dark. Instead, I found hotels or homes to stay in each night, which meant having to make it to a checkpoint at the end of each day. So, I needed to map and plan my entire route around these precise ending points. With more than 150 maps, screenshot and printed in hand, I arrived in LA on a night bus from Las Vegas. The bus dropped me off in an area of downtown where homeless people's tents were lined up on the sidewalks. I couldn't help but wonder what I was doing here. As an outdoorswoman, I was unprepared for the unique dangers of walking in the city. What was I getting myself into?
To see if I was really up for the Inman 300 Challenge, the next day, Andrew and two other people from the stair climbing community took me on their "testpiece" dayhike—a 24-mile, 80 stairway route with estimated 5,000 feet of elevation gain called "Stairtrek". Now, that kind of mileage and gain is not terribly difficult to a thru-hiker, but the stair enthusiasts kept watching me throughout the trip, expecting me to break. If I couldn't do Stairtrek, there was no way I could do the Inman 300. Well, it turned out that I was so ahead of time on Stairtrek that I decided to add on another famous stairclimbing dayhike called Tomato Pie. Stairtrek and Tomato Pie had never been done before, and after I completed it, the stair climbing forums were buzzing up with words of praise and skepticism about my upcoming Inman 300 trip. After a few rest days, I started the Inman 300 at 5:30 AM up in the Flintridge Hills where I immediately discovered that the biggest difference between thru-hiking in the woods and thru-hiking in the city is the ability to pee whenever you need. As I traveled through beautiful Pasadena residential neighborhoods, all I could think of was how much I needed a port-o-potty. 11 miles later, I found a supermarket, where I was easily able to refuel, as well as use their restroom. By the middle of Day 1, my feet were aching, my ankles were swollen, and I was really praying something wasn't broken. I did not want to drop out after a day just because I couldn't deal with walking on pavement—a surface that impacts foot bones and joints much more than dirt from a trail.
Luckily, when I woke up on Day 2, my feet felt miraculously better. That next morning, I had an easy time navigating on my route and was making great time—until I got lost. Getting lost an urban hike isn't like getting lost in the woods. At any point, I knew that I was safe and could get help if I needed. But my goal as an urban hiker wasn't just to get from point A to B, either. My mission was to find and climb up or down all the stairways in the city. I became lost because I couldn't find one of those stairways, and in the spirit of completing my quest, I needed to locate them all. Urban stairways are often hidden between houses or behind cars, bushes and garbage cans. To find these stairways, I had to be constantly vigilant. A friend of mine who hiked part of the Inman 300, Ryan Sylva, made the great analogy that stair climbing is a bit like hiking in Utah canyon country. On a trip like the Hayduke Trail, you're constantly counting slot canyons. On an urban hike, you're constantly counting streets. On both trips, if you make mistake and miscount, you can't just bushwhack your way to where you need to go. Just like the canyon cliffs make cross country travel straight to your destination impossible in the desert, the houses in LA are guarded by gates and pit bulls and guys who are going to call cops on you. I was eventually able to find where I needed to go, but wasted an hour of precious daylight doing it. At the end of the 2nd day, I was supposed to be walking through the Inman 300's sketchiest neighborhood. It's totally fine during the day, but at night, it wasn't a place I wanted to be walking through alone as a non-Angeleno woman. Before the trip, I anticipated that I'd be hitting up this section around dark, and had arranged for Andrew, Bob, and their friend Steve to meet me and we would nighthike this section together as a crew. We definitely walked passed some questionable things—especially when we were walking under a highway and hopping through holes in fences as short cuts—and even with the entourage, I was on high alert.
The stair climbing community thinks that the scariest part of the Inman 300 is where the pedestrian lane is a cage right next to highway traffic. In this section, cars head right towards the hikers with their headlights blinding us as we walk against traffic. I'm used to roadwalking, so this section actually wasn't that scary, especially since a cement divider and the cage protects pedestrians from oncoming traffic. What unnerved me, though, were the holes in that cage that connected to the homeless camp right next to the Highway. Before my trip out to LA, Andrew had talked this section up and his descriptions of hypodermic needles littering the camp did nothing to put me at ease. After the highway section, we had a quiet, uneventful walk to the paradise of Silver Lake/Echo Park where the Dave, who reminds me a bit of the Elf King Elron from Lord of the Rings, lives in a magical neighborhood of mini-houses on a hill. Silver Lake-Echo Park used to be sketchy 20 years ago, but is now the hipster artisan capital of the U.S. It has beautiful architecture, gardens, great walking—it feels like San Francisco with a southern California flair. Dave lives in an almost-treehouse on a hill off a stairway-pathway decorated with tile stairs. He has no road in front of his house. Instead, to drop off a package, the UPS delivery person has to walk up a stair pathway—lined with similar, adorable houses. This staired pathway follows a little brook with a mini-bridge over it and numerous gardens and benches for contemplating the beauty of his little roadless community. I slept in a hammock right next to this for two nights and felt very much like the hobbits taking refuge in Rivendale before and after an arduous journey.
If you're ever in LA and are looking for an urban dayhike, I strongly suggest hiking part or all of the Inman 300 Day 3 route. Locally referred to as "Stairtrek" and the "Tomato Pie route," these dayhikes take walkers through the densest areas of public stairways in LA. In addition to being scenic and a great physical challenge—about 5000 feet of gain over 24 miles—this route also takes you past the Red Hot Chili Peppers' recording studio, numerous actor and musicians' houses, and fantastic food. Food is a major benefit of the Inman 300 over any other thru-hike ever. The route itself travels through vast markets, farmer's markets, and famous foodie establishments. Food literally grows from trees along the route—from oranges and grapefruits to the elusive strawberry tree. Trail angels even leave out water in select neighborhoods popular with thru-hikers. On Day 4, I traveled through some of the most iconic LA sights on my trek through downtown. However, I discovered early that day that on Day 2, I hadn't paid attention to my map and had missed out on some stairs. I'd have to backtrack. At the end of the day, I became lost and my phone battery died. I was ten miles from my destination, a trail angel's house which I had to take a bus to. I didn't know what to do. It was a Sunday and the bus schedule was limited. I decided to give up on completing all of my route for the day and just take the bus from where I was to the trail angels' house before the bus stopped running. The bus required a transfer, and I was dropped off on dark corner with an hour-long layover until the next bus arrived. This was definitely the low point of the trip. I ended up walking to a KFC, charging my phone and eating, and the trail angels picked me up. I really wanted to the Inman 300 to be a car-free thru-hike, and getting picked up is not something I'm proud of. Yet considering if I'd taken the bus, I would've showed up around midnight at this elderly couple's house, I think I went with the courteous choice.
On Day 5, I had to bus back out to where I left off on Day 4 and make up some miles. A highlight of the trip for me was walking through Rustic Canyon. This nature-y and unpretentious neighborhood was lined with oak trees and had a small creek running through it, home to frogs' whose evening calls echoed across the canyon walls. The grand Pacific Palisades neighborhood was also a highlight because of its striking ocean views. Although I had hoped to finish at the end of Day 5, when it became dark, I still had 6 more hours of hiking left to complete the route. So I stayed with trail angels for another night. On Day 6, I picked up at the same spot I ended the previous night and several hours later, finished the trip in the San Pedro neighborhood at the ocean. To celebrate, I went out to eat and for the first time in my hiking career, I shop owner was so impressed by one of my walks, that I got a free pizza. There are many novel, beautiful, and amusing things in a city. After all, people have to live in cities, so they try to make efforts to make them hospitable. This trip made me reflect on what it means to be a thru-hiker and why I enjoy thru-hiking. I enjoy putting one foot in front of the over. I enjoy challenging myself. I love seeing the world at 3 miles per hour and taking everything I can learn about a place from that view. I relish traveling and meeting new people and growing as a person from experiencing new places and different ways of living. The view in a city is never going to be as stunning as a wild mountain range. Yet urban hiking makes me appreciate the beauty the humans are capable of. It's easy as someone who spends as much time in the woods as us to think "Nature good, people bad." But even in a place as crowded, dirty, and polluted as LA, I found there was a lot of beauty and good people to be found. I'm pleased that I didn't let prejudices or skepticism get in the way of doing this hike. Natural or urban, thru-hiking continues to teach us and connect us to the world, its people, and ourselves.
To learn more about urban hiking, I suggest checking out the guidebook I used on the Inman 300: Finding Los Angeles by Foot