AMBASSADOR'S
Crossing The Himalayas #3 / トラウマの大ヒマラヤ山脈横断記#3
2015.03.20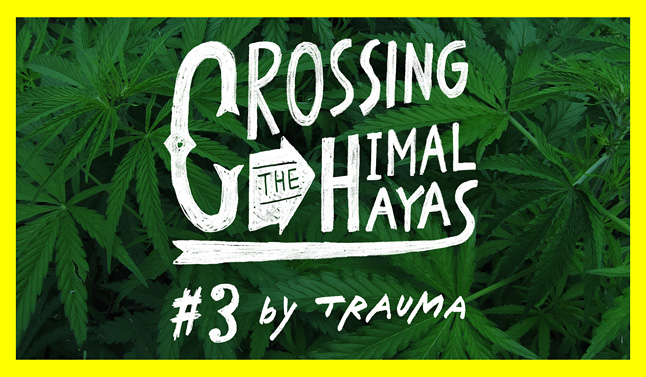 Crossing The Himalayas – Nepal GHT #3: By  Justin "Trauma" Lichter
The next morning we caught an early bus from the hectic Kathmandu bus station back to where we were a few days earlier. According to everyone it was a three-hour bus ride. With the poor road conditions, frequent stops, and occasional driver breaks, it was a frustrating and grueling 6 hours before we arrived in Berhabise. We jumped out of the bus and bought a few bananas, juice, and some potato chips to snack on before we headed up the trail. The town was a network of stalls and shops lining the main road, with people clogging the road and making it nearly impossible for any traffic to pass.
We were hoping that with the early bus we would get to start hiking in the cool of the morning and gain elevation before the heat of the day set in. Apparently that wasn't meant to be. It was hot and humid since we were at the lower elevations of the foothills. We felt sluggish in the heat — and with the residual food coma and lethargy from a couple of rest days. It always seems harder to hike after a rest day then if you wake up on the trail, even if you have hiked 35+ miles the day before.
By the time we reached our destination of Berhabise, we had been cramped on the bus like sardines for more than 5 hours, even though the ride was little more than 150 km. It was typical of the windy roads and subpar transportation system. We learned over the course of this trip to be patient – everything was on Nepali time.
The most challenging parts of this trek navigationally were always finding our way through the villages and out the other side. The villagers created a spider web of trails leading every which way. Our maps were not detailed enough to show any of these routes. We would merely try to end up on the outskirts of the town at the correct elevation that we wanted or somewhere on the correct end of the village, then we hoped we could pick up the proper trail from there. Leaving Berhabise, we crossed the road and climbed straight out of town on a steep trail, without any shade. The climb felt relentless and within minutes we were dripping sweat from the heat and humidity, and our shirts were soaked. We connected the mish mash of use trails and headed through fallow rice fields in what we believed was the right direction. As we got farther from town, and gained nearly 1,000 meters we met a single use trail that wound through more fallow fields. Eventually the climb relented and became less steep. We crossed a creek and took a 30-minute snack break.
As we relaxed and cooled off on a small, shady ledge we noticed the clouds had built into scattered thunderheads. A few minutes later we packed up and headed off as the sky became completely covered with towering anvil shaped clouds shutting out the sun. Ten minutes later a few raindrops started and we sprinted up to a nearby house. As we approached the covered porch the faucet opened like we had never seen. Water poured out of the sky in buckets and instantly flooded and flat area. The raindrops were huge and water started flowing everywhere. We gazed out from the protection of the thatch covering on the outside of the adobe house. It was hard to see into the darkness of the house, since they did not have electricity. After a few minutes the woman inside waved that we should come in and sit down on the bed. We were grateful for the offer as it was beginning to get chilly outside with the cooling from the rain. We put on an extra layer and sat down safely inside from the deluge waiting for it to let up.
About an hour later the storm passed. We thanked the lady and headed back out into the saturated landscape. Low clouds hung in the valley bottoms and the temperatures cooled considerably. We easily ascended over a low saddle and then contoured to another saddle. We hit a dirt road just below this saddle and descended on it as the sunset. We looked for a good place and couldn't find anything. We were both out of water and needed some to cook dinner. We pushed on as another rain shower set in. There's nothing worse than getting soaking wet right before you stop for the night.
Our pace sped up and we threw on some rain layers. A few minutes later we found a small, rickety shed that had formerly housed some livestock. We crawled in hoping for shelter from the rain. The roof was decent but had some leaks so we set up our tarp below the roof. I ran back out and got some water from a creek and we settled in for the night.
The next day we pushed big miles as we were off and on dirt roads. There was some considerable elevation gain, but the distance went by fairly easily. On one of the big climbs, I stopped to get water from a spigot in a village. It was another hot and humid day. I downed a liter of water before filling up my bottle again. A girl around 20 years old came over to me and asked me to come to her house. Pepper was a few minutes ahead of me at the time. She spoke a few broken words of English. She wanted me to meet her mother and asked if I wanted some fresh buffalo milk. There was nothing I wanted less than milk on a really hot day, but she would not let me deny her.
She went inside and poured some milk from one of their pots. I asked how long it had been sitting out in the heat for. Brokenly she said that they milk the buffalo twice a day; morning and night. I looked at my watch and figured it had been sitting, unpasteurized and un-homogenized, in this pot for at least 4-5 hours. I thought I was going to get sick from drinking the milk but had no choice since I didn't want to seem rude. I drank the cup of smoky, clumpy milk in four big gulps. Before I left, the girl asked me, "You drank my buffalo milk, will marry me?" I was flabbergasted. I didn't know how to react. I quickly said, "Thanks for the milk, but I have to go catch my friend, he's a little ahead of me." I walked out of the gate to their house and back on to the trail, climbing another 800 meters in the hot sun. My stomach felt a little queasy and I thought I might puke at any time.
I caught up to Pepper about an hour later and told him what happened. He couldn't stop laughing.
As we approached a plateau and the climb slackened, we began to go in and out of shade. The heat waned and my stomach settled down. The last thing I want on a hot day is a warm glass of milk.
Another massive monsoonal rainstorm drowned us that night. Neither of us slept well as we were trying to keep out tarp functional all night. Tent stakes would pull out of the ground every hour because of the saturated soil and there were no rocks to weight them down with. The sound of the pouring rain inside the tent was like a freight train coming by our camp.
A couple of days later we connected to the Gosainkund trek, a more popular area with a straightforward hiking trail since it is considered a religious pilgrimage. It was great to be back on good trail with teahouses. The first day we hit the trail we stopped after at the first teahouse after only a few hours of hiking because Pepper was feeling sick. For most of the day, I read and ate and relaxed and enjoyed the view from the top of the ridge.
We moved on the next day and pushed big miles on the high quality trail. We went over Larabina La, a pass over 4200 meters and through a really pretty lakes basin that was reminiscent of the High Sierras in California. Most areas of Nepal do not have alpine lakes, so this was a very pleasant change of scenery. Then we descended for nearly 20 miles back into the hot river valley and our next resupply at the town of Dhunchee.
TAGS: