AMBASSADOR'S
リズ・トーマスのハイキング・アズ・ア・ウーマン#15 / 日本人ハイカーはどう思われてる?<後編>トレイルエンジェルの視点
2018.11.21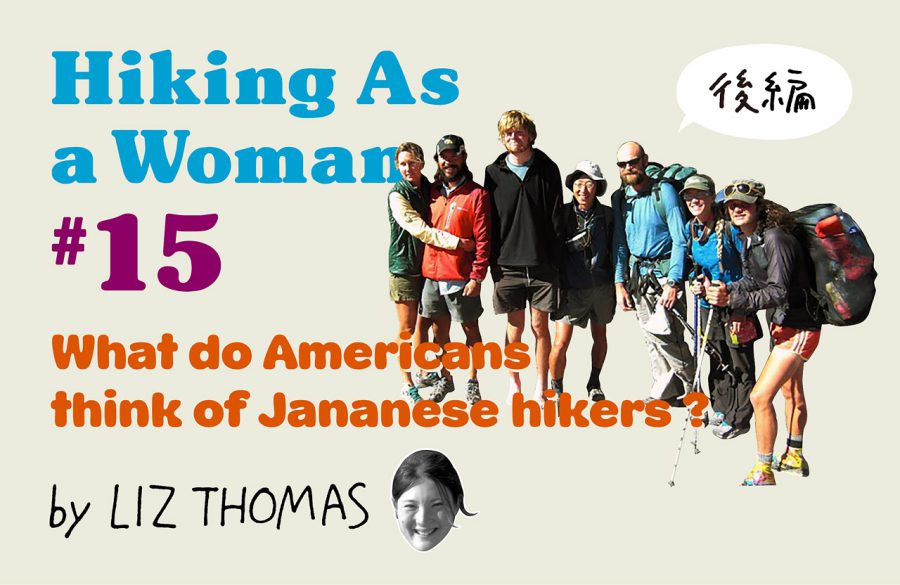 What do Americans think of Japanese People Hiking in the U.S.? part.2: TRAIL ANGEL
Text: Liz Thomas, Photo: Liz Thomas, Funada Yasuaki, Ninomiya Yutaro
Trail angels are kind people who live near the trail and sometimes, open their homes and hearts to hikers. The two most famous trail angels along the PCT are Jeff and Donna Saufley in Agua Dulce, CA and the Joe and Terrie Anderson in Green Valley, CA. The Saufleys and Andersons host hundreds of hikers each year at their homes. Their two hiker outposts are a day's walk from each other and are often as described "as different as can be." I was lucky enough to interview them both to ask them about their experiences with Japanese hikers.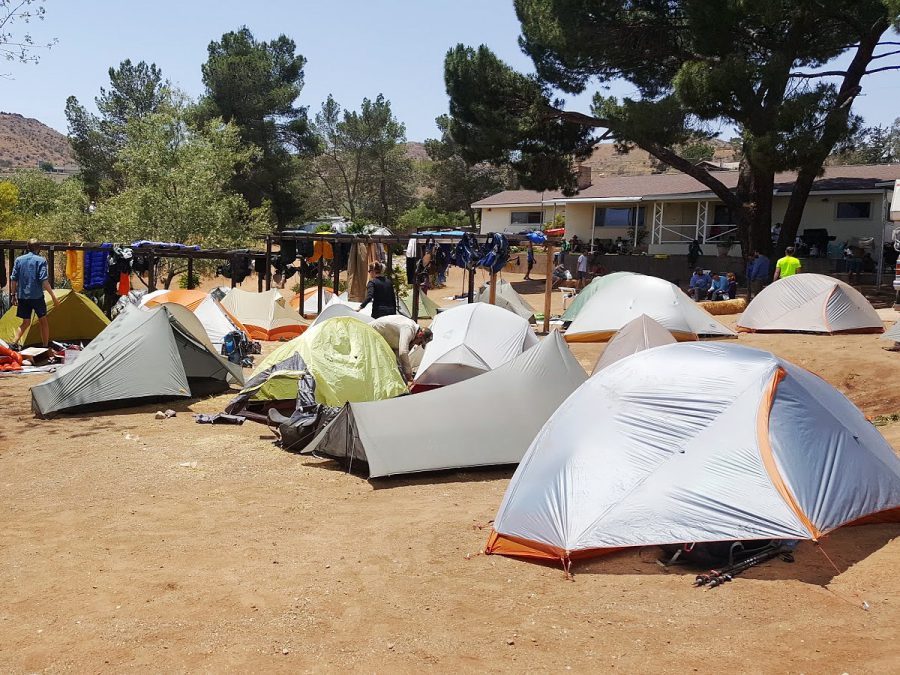 Hiker Heaven(CA).
Donna has noticed that the number of Japanese hikers has increased in recent years with total numbers in the dozens. In fact, the number of hikers from Asian countries has increased in general.
Compared to American hikers, "polite is the word that comes to mind. Extremely so," Donna says when describing Japanese hikers. Increasingly, many people have felt that PCT hikers in general have become more entitled and not very respectful. That's one reason the politeness of Japanese hikers is especially appreciated.
Donna thinks the greatest difference between Japanese and American hikers is that Japanese hikers don't complain. Japanese hikers don't take the trail or kindness for granted: "They are avid hikers and seem to weather the trail's hardships without complaints…I've never heard them grouse about anything…They are stoic." But she says, other than that, "they share all the other characteristics [of the usual thru-hiker] (stinky, dirty, tired, hungry, and in need of a respite."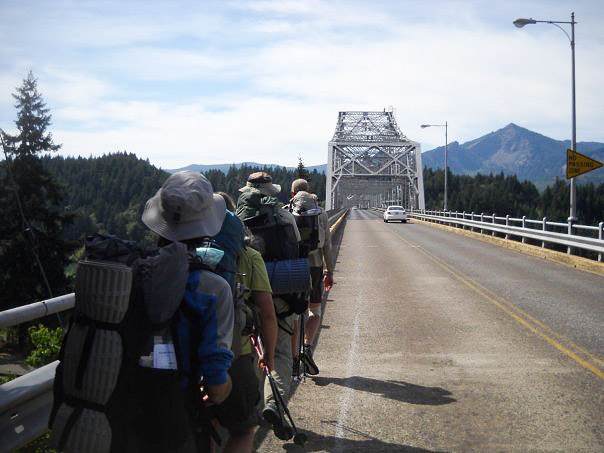 Yas (in the back of the line) traveling with my hiking group on the PCT.
When I asked Donna about whether a language barrier is a problem for foreign hikers, she was quite encouraging. "With ubiquitous smartphones and translator apps, language is less of a barrier than it was in the past." Between English and sign language, "in true hiker fashion, everyone figures it out," she tells me. Perhaps this is one reason why there are more Japanese hikers recently. Technology is making it easier to communicate. But even so, Donna's description of hikers being able to "figure out how to communicate" echoes how Yasuaki Funada described his experience on the PCT. The common "hiker language" made it easier to figure out what each other was trying to say.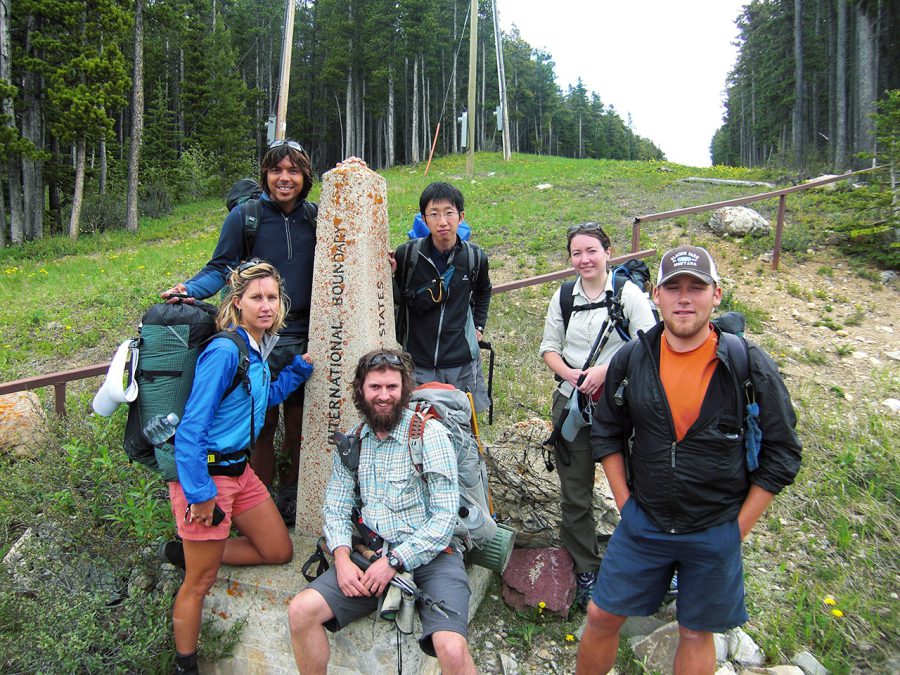 Yas (in the back of the line) traveling with my hiking group on the CDT.
But Donna worries that the language barrier may keep Japanese hikers "on the outside or in the fringe of the close-knit cliques that form on the trail." It's true that the friendships that one forms on a long distance hike can sometimes be the most memorable parts of the trip. Are Japanese hikers missing out on this part of the adventure? I was reminded of Yas and his travels on the CDT. Was is a rarity for a Japanese hiker to join a group of Americans?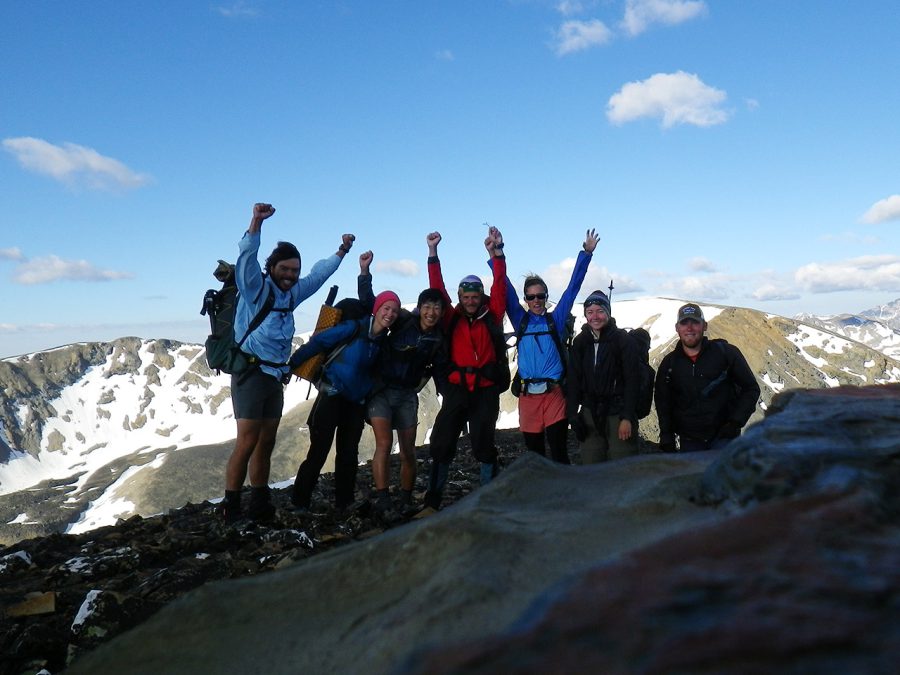 Even if language creates a barrier, Donna thinks that where it truly matters, a hiker's language and clique don't seem to matter. In recent years with droughts and climate change making wildfires more common along the PCT, it's important that hikers travel safely when sections of trail are closed due to fire. "I've seen others help [Japanese hikers] with unplanned [trail] closures, etc.," Donna told me. "So in the end, the trail provides what is needed."
After interviewing Donna, I felt encouraged that Americans really do want Japanese hikers to come. "We welcome you," she told me. "and are here to support you on your Pacific Crest Trail adventure."
* * *
Terrie Anderson, the Trail angel of Casa de Luna, confirmed my belief that the trail community is a welcoming one. The Andersons have been hosting hikers for 20 years now. While Donna Saufley's trail angel home is a well-oiled machine, the Andersons' home is full of surprises. It's always a fun, light-hearted atmosphere at the Andersons, but don't be shocked if the night ends with a raucous party.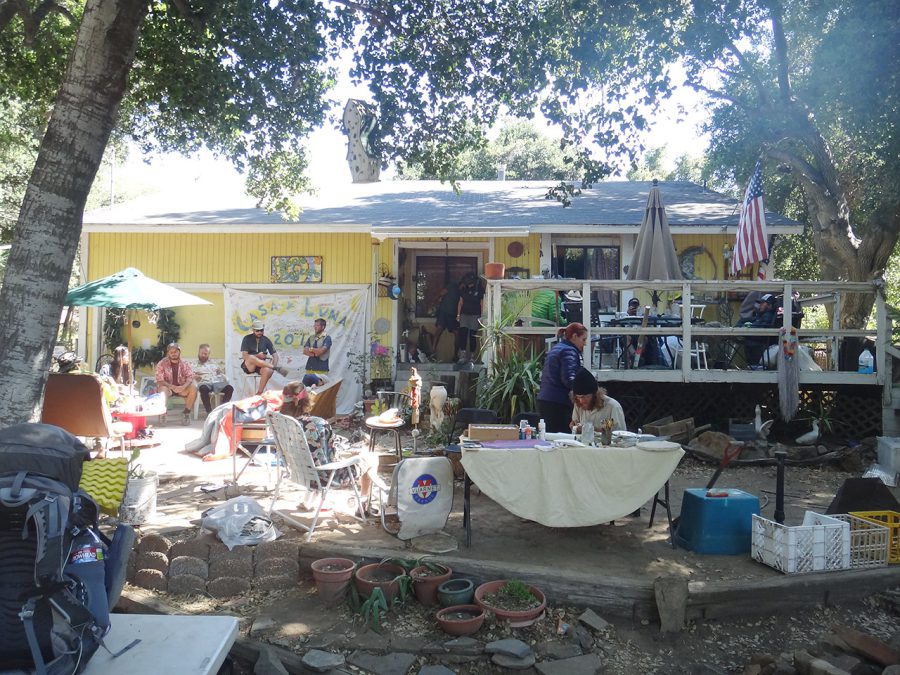 Casa de Luna(CA).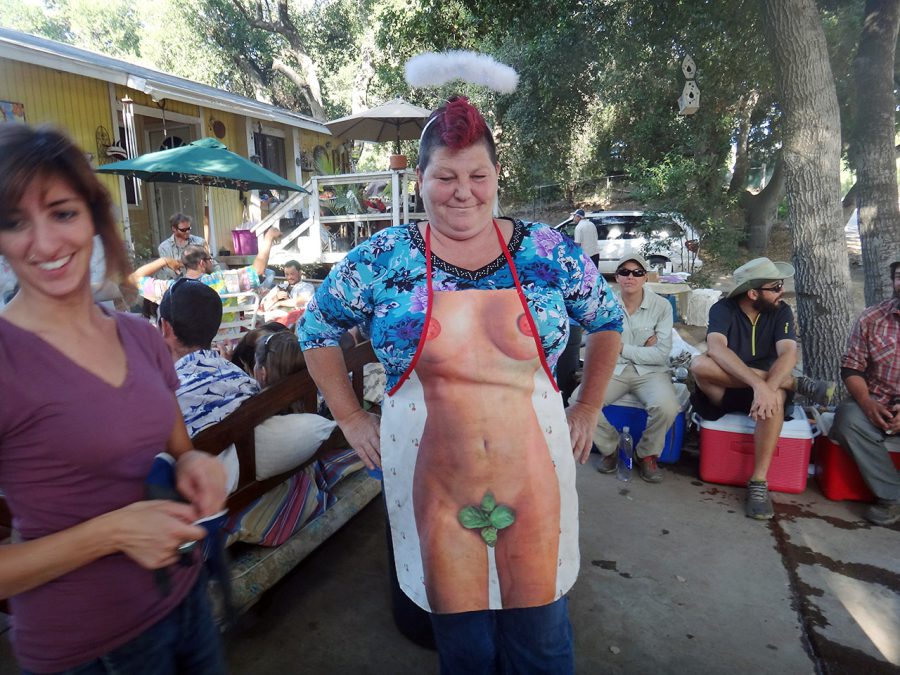 Terrie Anderson, the Trail angel of Casa de Luna.
In the beginning, Terrie tells me, there were only 1-2 Japanese hikers per year. They were relatively rare. In the past five years or so, it's more like 5-7 hikers per year.
But each year, Japanese hikers are "very excited to experience what we have to offer them." Although every night at the Andersons is full of surprises, Casa de Luna is also full of fun traditions. It starts with a big hug from Terrie Anderson. Then, everyone changes into Hawaiian shirts, the clean clothes hikers wear while staying at the Anderson's house. Dinner is always taco salad. Then, hikers can get a bandana with the Casa de Luna logo…but only if they dance for it! In the morning, Joe Anderson serves pancakes.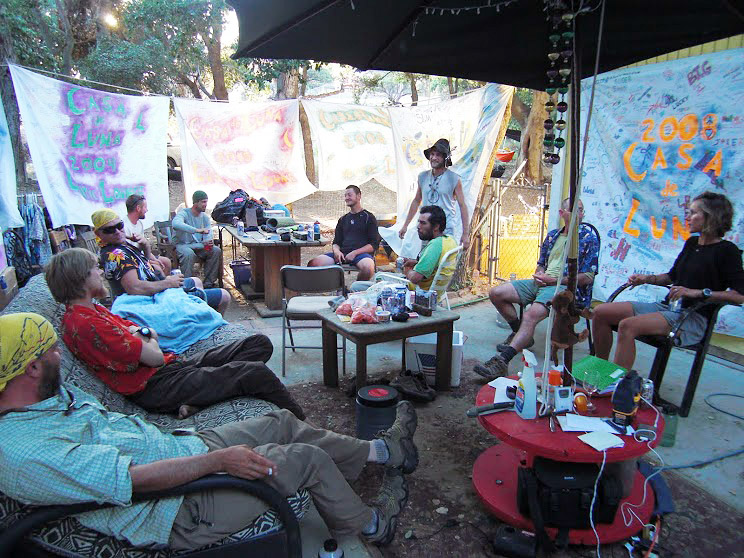 "Hiker Kids" of Casa de Luna.
The Andersons are a fun couple. Terrie says, "Sometimes the [Japanese hikers] kinda are like what is this crazy lady doing?" But "I don't see [Japanese hikers] as different. They are all my kids no matter where they come from." Being one of Terrie's hiking kids means you never know what shenanigans she may pull. Perhaps I am ruining some of the surprise of the Andersons by sharing this, but Terrie tell me, "The giggles are so funny when I MOON them."
Like Donna, Terrie believes that Google translate and technology have made it much easier to communicate with international hikers: "From what I've seen, American hikers are very nice to foreign hikers. They do hike together. A lot of times hikers will go the extra mile to help other hikers that struggle with English."
Terrie asked me to tell readers of TRAILS: "Don't be afraid that your English isn't good enough to try to communicate with anyone. Don't let language stop you from the adventure of your life. Don't let language or fear stop you from your dreams. I have a BIG HUG waiting for you at mile 478.6. You are all welcomed at Casa de Luna. Let's make some memories together."
* * *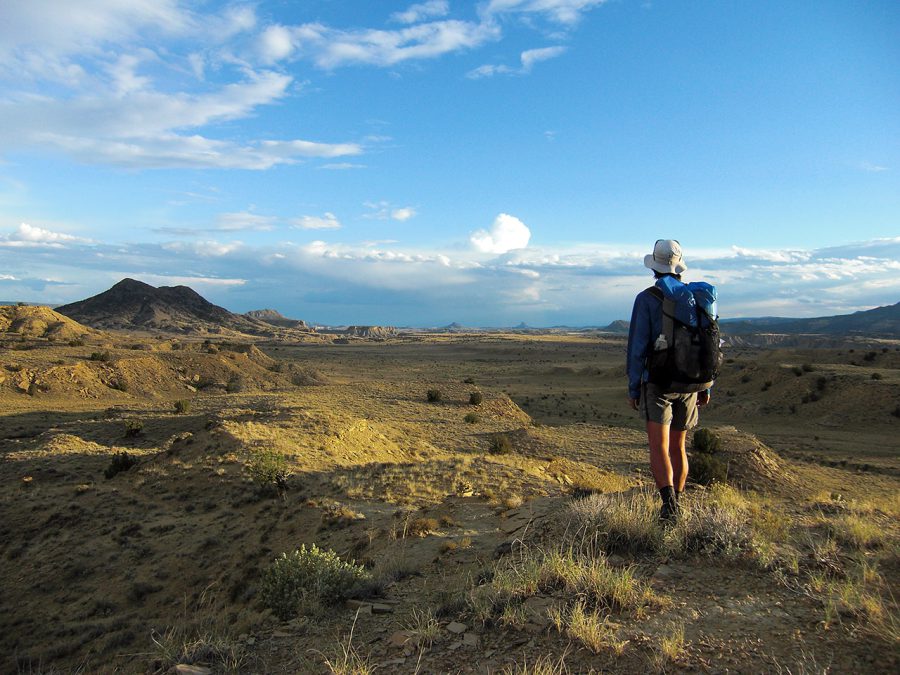 While I initially started this research concerned that Americans were not welcoming to international hikers, I became very encouraged that Americans are especially excited to meet international hikers on the PCT and JMT.
"It doesn't matter what language you speak or how rich or poor you are, the trail is the great equalizer," Terrie Anderson told me. "They all hikers and watch out for each other. They are bonded."
"I always say…hikers are not strangers to me, they are just friends I haven't met yet."
Related Articles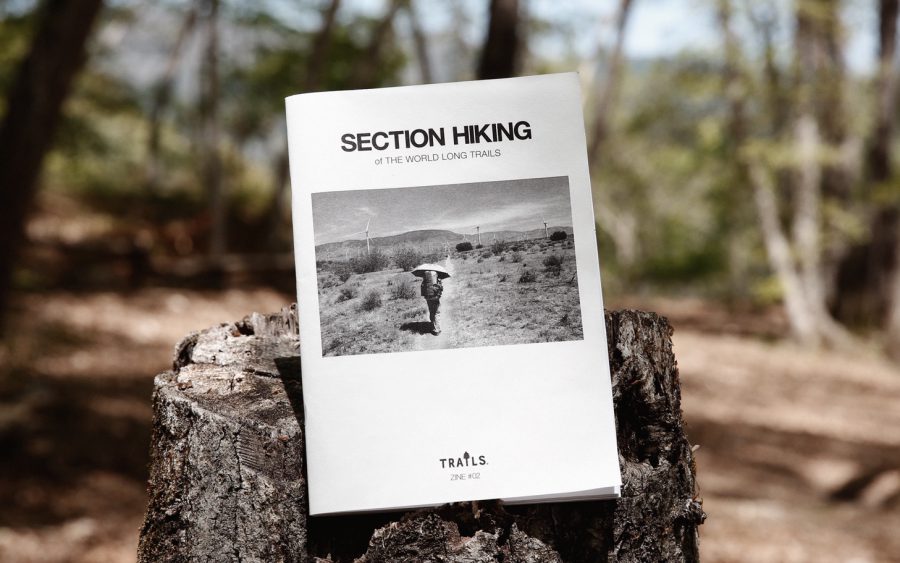 ZINE – IN THE TRAIL TODAY #02 | 長旅をあきらめていた人のための、2週間で行く『SECTION HIKING』world trail編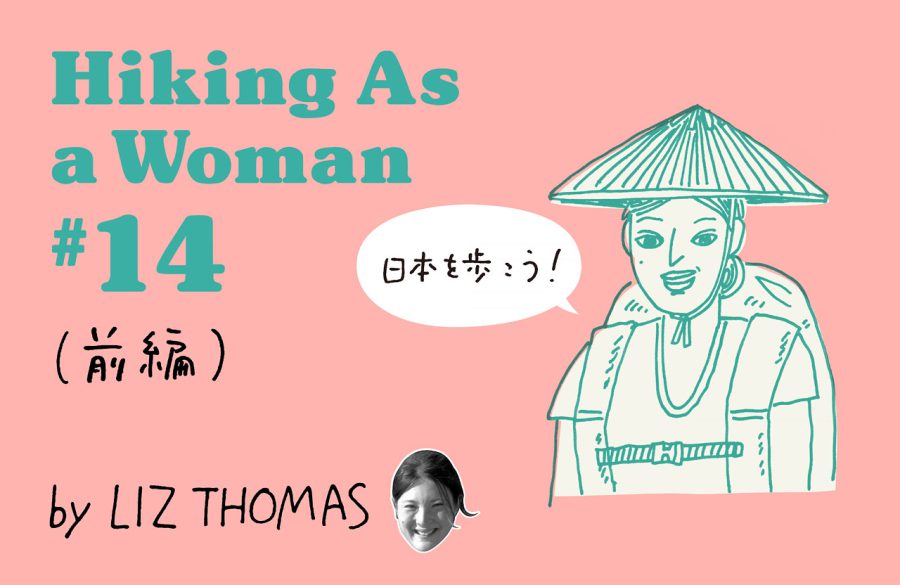 リズ・トーマスのハイキング・アズ・ア・ウーマン#14 / アメリカ人は日本のどこをハイクしたい? <前編>トレイル認知度ランキング
TAGS: