AMBASSADOR'S
リズ・トーマスのハイキング・アズ・ア・ウーマン#19 / サンディエゴ・トランス・カウンティ・トレイルのスルーハイキング(前編)
2019.04.10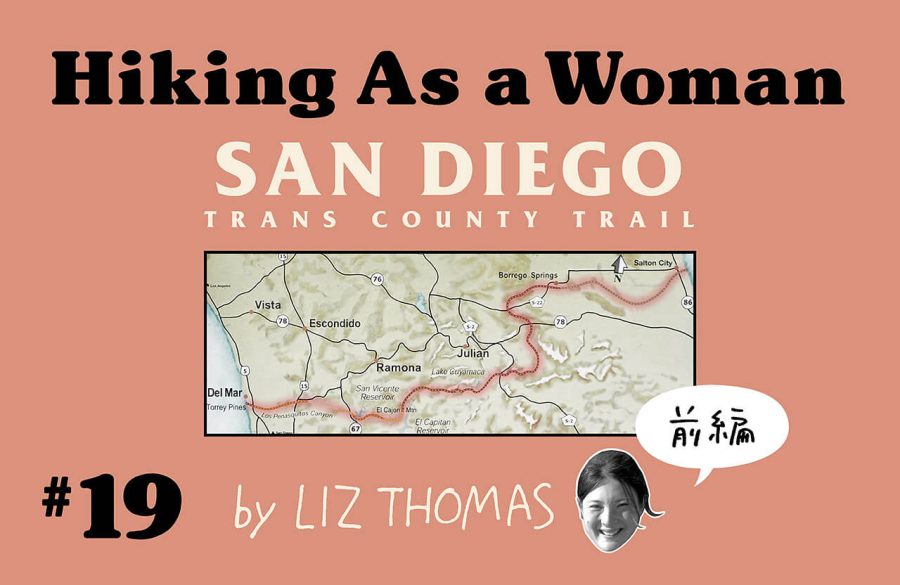 The San Diego Trans County Trail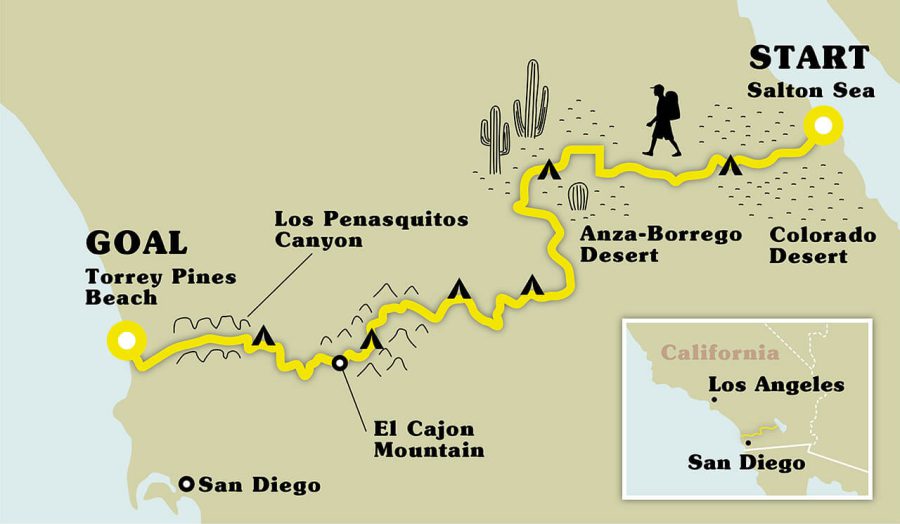 Many distance hikers dream of going on a longer backpacking trip in the winter. But aside from heading to the southern hemisphere, winter snows keep all but the most intrepid adventurers from getting on too many overnight trips. A potential solution? The Trans San Diego County Trail, a 246-km (153 mile) distance hiking route through a desert climate that is best experienced in winter. I hiked the Trans San Diego County Trail last year and report back on what I believe is a fun route best suited for experienced hikers willing to bushwhack, go crosscountry, and explore.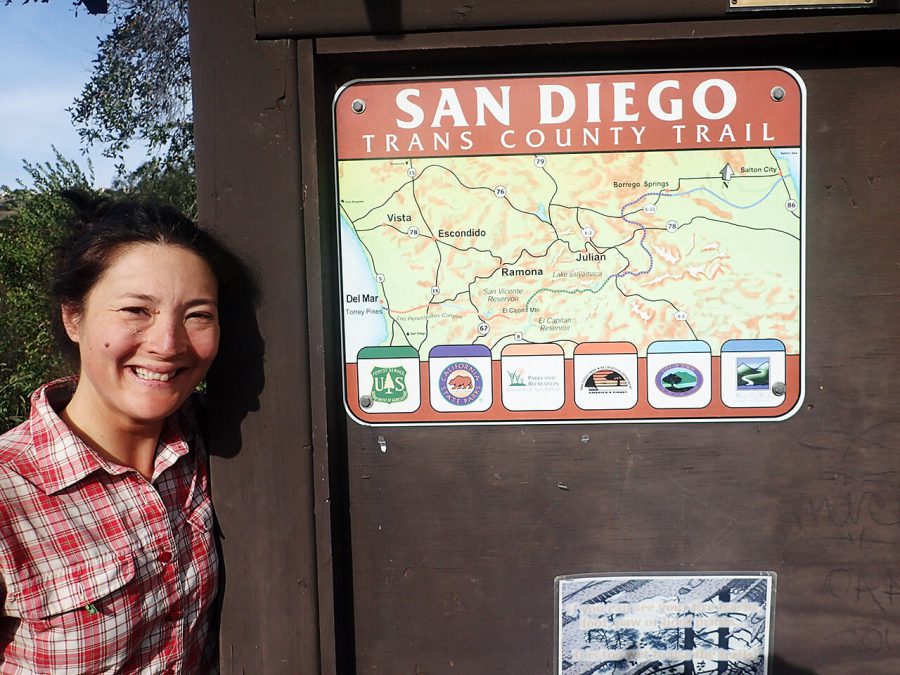 San Diego County is the perfect place for its own dedicated distance hiking trail. The county is known for its mild climate and lack of rain. More than half of the county's land is public and open to recreation. The Trans County Trail runs east-to-west from the Salton Sea on the eastern border of the county to the Pacific Ocean near Del Mar. Along the way, it travels through Anza Borrego Desert State Park, the second largest state park in the Lower 48 States of the U.S. It crosses the Pacific Crest Trail Section A. Trans County Trail visits a variety of ecosystems from desert, chaparral, sub-alpine, suburban, and urban areas. It's a lot of experiences to pack in a 150-mile hike.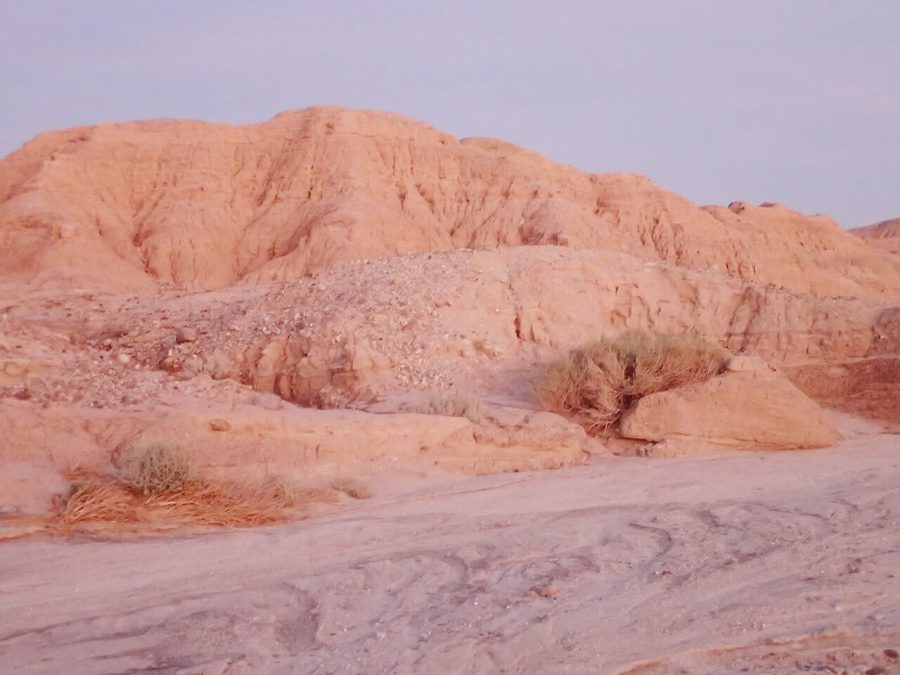 But making the Trans San Diego County Trail into a completed hike-able trail has faced a few obstacles. Although land managers have been trying to build and connect the trail for decades, it didn't take off until 2000. The Sea to Sea Foundation (a trail organization dedicated to creating a path from the Salton Sea to the Ocean) advocated for the trail. But it went defunct during the recession.
Now, an unlikely bunch of advocates has risen to keep the Trans County Trail alive: long distance hikers. They've kept the spirit of the route going by self-publishing free maps and holding group hikes. They talk with land managers about routing and right-of-ways. It's one of best recent examples of hikers advocating for a trail and forming community around a regional distance hiking trail.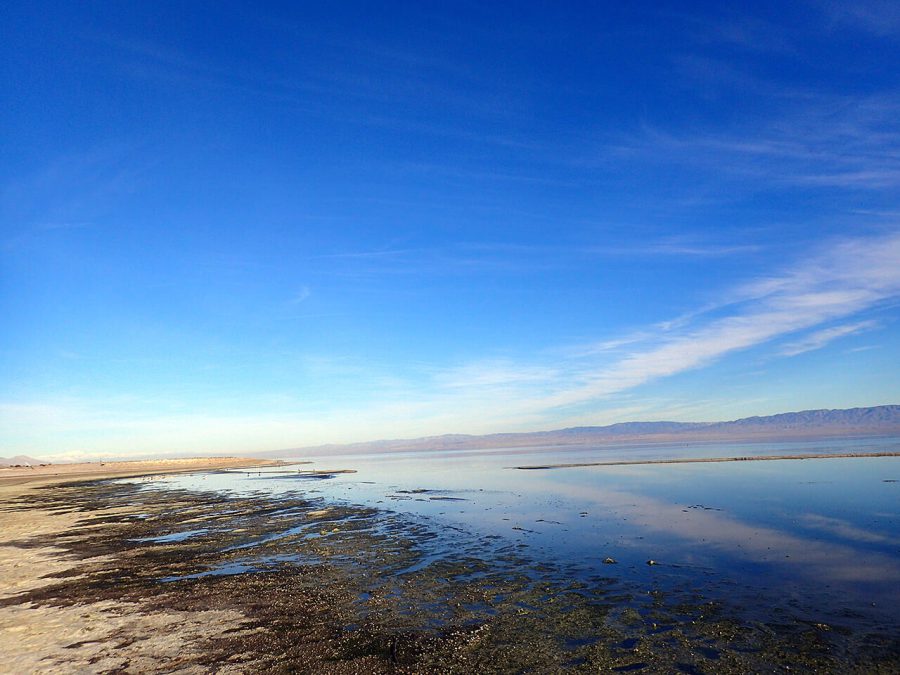 I started the Trans San Diego Trail in January with a group of friends visiting from Portland, Oregon. They were excited to get some hiking time in during the winter as well as to see the sun (Portland is notoriously dark that time of year).
A few days before my hiking partners arrived, I drove out to the desert to cache water. While there are several spots to resupply food along the trip, naturally flowing water is scarce. I hid some jugs of water and took GPS waypoints, hoping that they would still be there (and without holes) when we returned in a few days.
Day 1:Salton Sea to Anza Borrego Desert State Park eastern edge
We got dropped off at the Salton Sea, a large saline lake surrounded by the Colorado Desert. The trail from here travels from sandy wash to sandy wash. Soon, canyon walls grew around us. It felt as if we were a tunnel. Occasionally, other tunnels would branch away, but few had signs.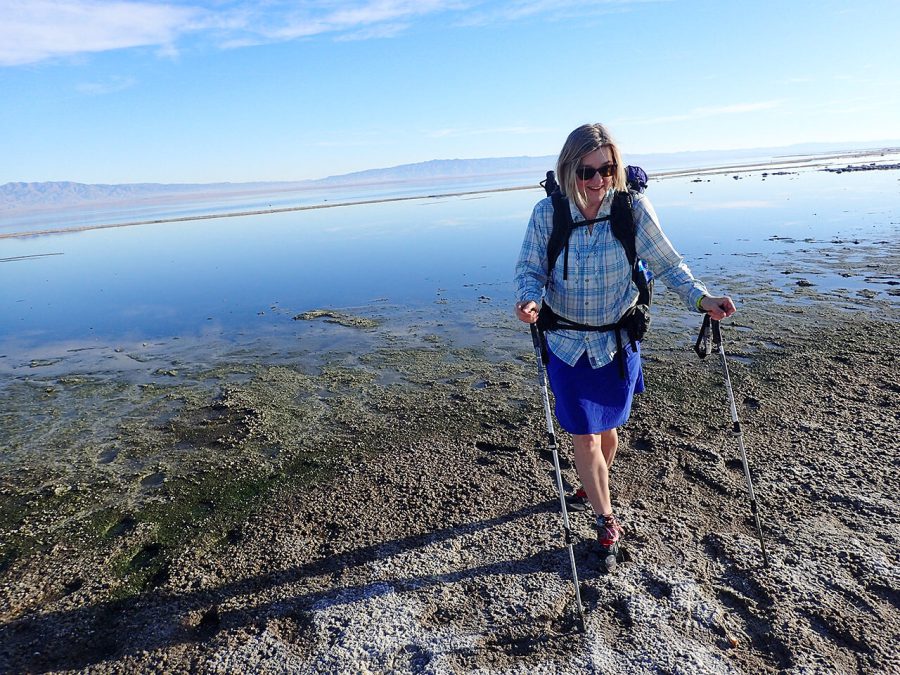 I prefer navigating from vantage points where I can get a view of where I am headed. But here in the desert wash, I had to trust my map, even when all the canyons felt like a maze.
My friends were visiting because they wanted to get away from the winter in Portland, but they got more sun than they expected. The sun beat down on us and the heat was exhausting. We'd take breaks in the shade of one canyon wall or the other as the sun moved. Unsurprisingly, no one else was out there.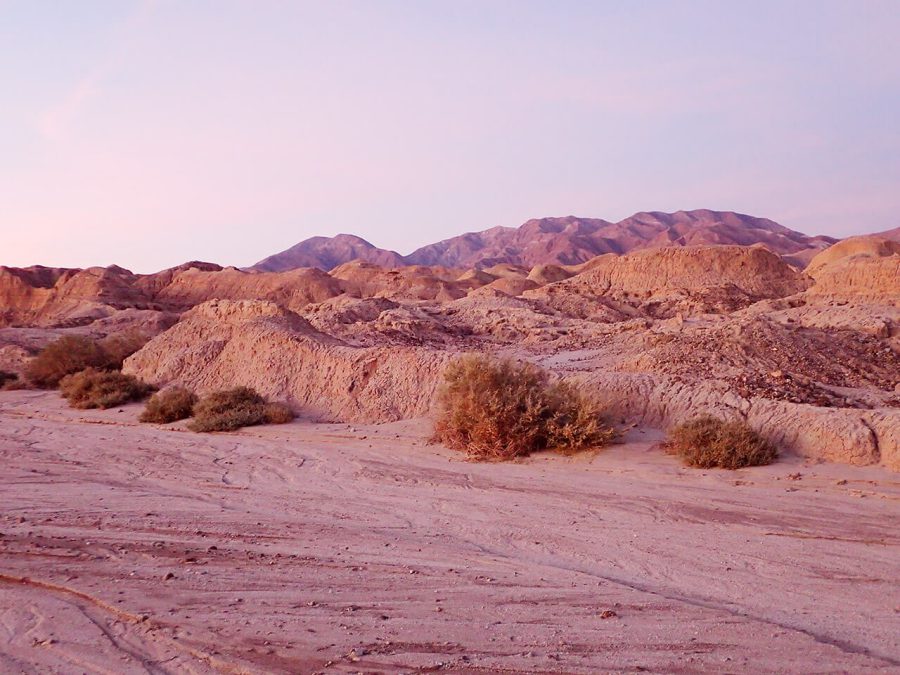 Late that afternoon, we reached my first cache but couldn't dally. In January, the sun sets at 5 pm. For hikers used to walking until 9 pm during the summer, this cramped our style. We nighthiked the canyons for a bit until we dead-ended at a steep canyon wall unable to tell in the dark which way to turn. Defeated, we scrambled up the canyon wall and cowboy camped under the vast stars.
Anza Borrego Desert is considered by astronomers to be one of the best starwatching places in the U.S. The nearby town, Borrego Springs, is a certified Dark Sky community meaning that all their lighting fixtures only illuminate the ground without projecting light towards the night sky. We were in a vast plain of desert. Mountains didn't block our view. We were so little against the sky.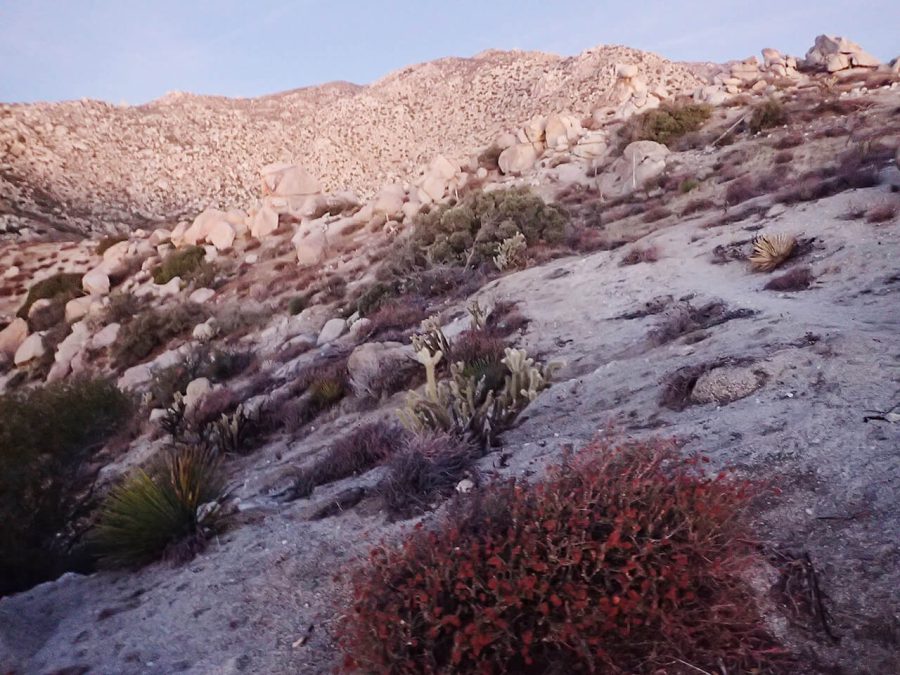 Day 2:Anza Borrego State park eastern edge to near Culp Valley Campground
Yesterday was a cruel reminder that winter hiking means shorter daylight hours. This morning, we agreed to start at first light—just enough to navigate ourselves out of the canyon maze mess we'd gotten into the night before. But somehow, our "trail" disappeared and we ended up cross-country over the vast desert land.
We reached a cliff. Below us was a series of hoodoos, sand pinnacles and spires found in badlands. Soft rock erodes away forming columns that stand like totem poles, kind of like what you can see in Bryce Canyon.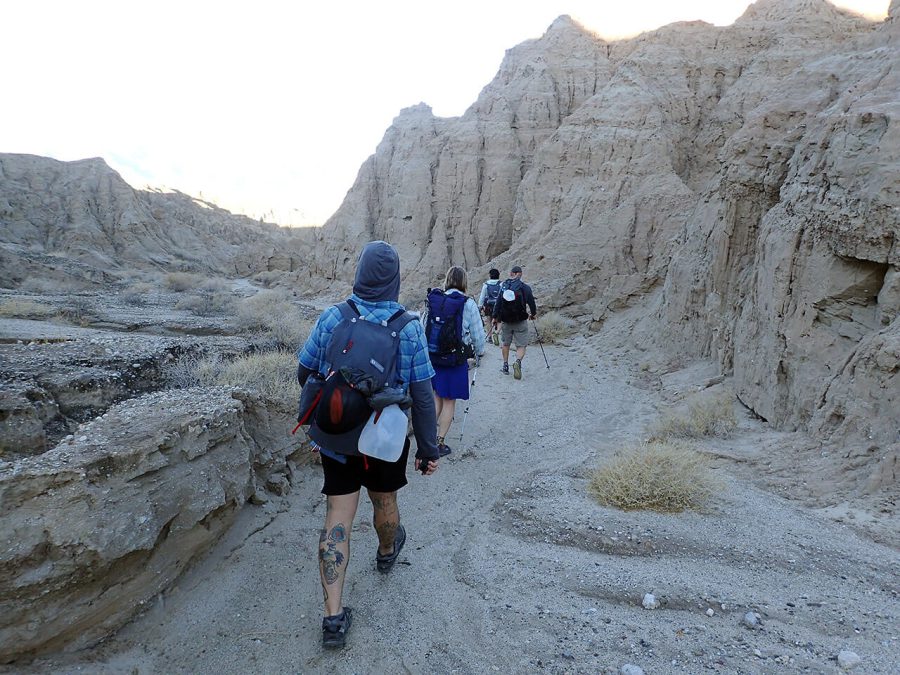 The problem was we had to get down from these. They're beautiful, so we didn't want to destroy their soft sand sides as we descended. Finally, we found a way down. The trail spit into a chute that felt like a hallway until we emerged, a bit disbelieving, that we'd found our way out.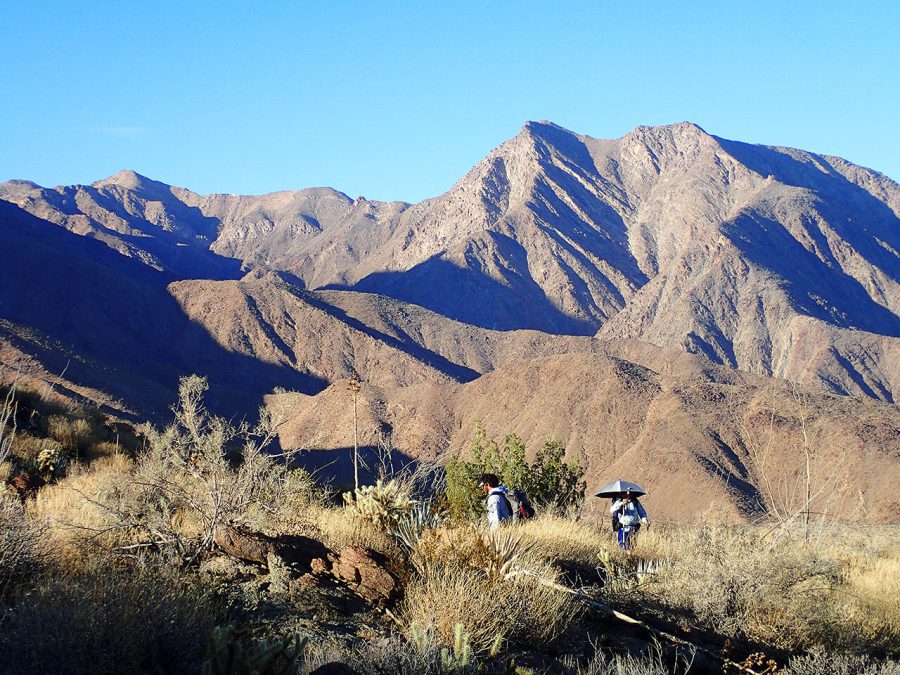 The rest of the morning was an easy trail and roadwalk into Borrego Springs. There, we got burritos, resupplied, and topped off our waterbottles. It was hot and we dreaded going into the shade-less desert. But finally we dragged ourselves away to a huge climb in the heat of the day. Lunch churned uncomfortably in our stomachs. Though the trail was in good condition, everyone was moving slow.
Here in the mountains, the trail was as nice as the PCT with views of a valley below with no houses and no roads. We felt alone in these mountains. But because we had lingered in town and moved slowly on the climb, we nighthiked to a wide, flat area with enough room for us all to cowboy camp among the boulders and cacti.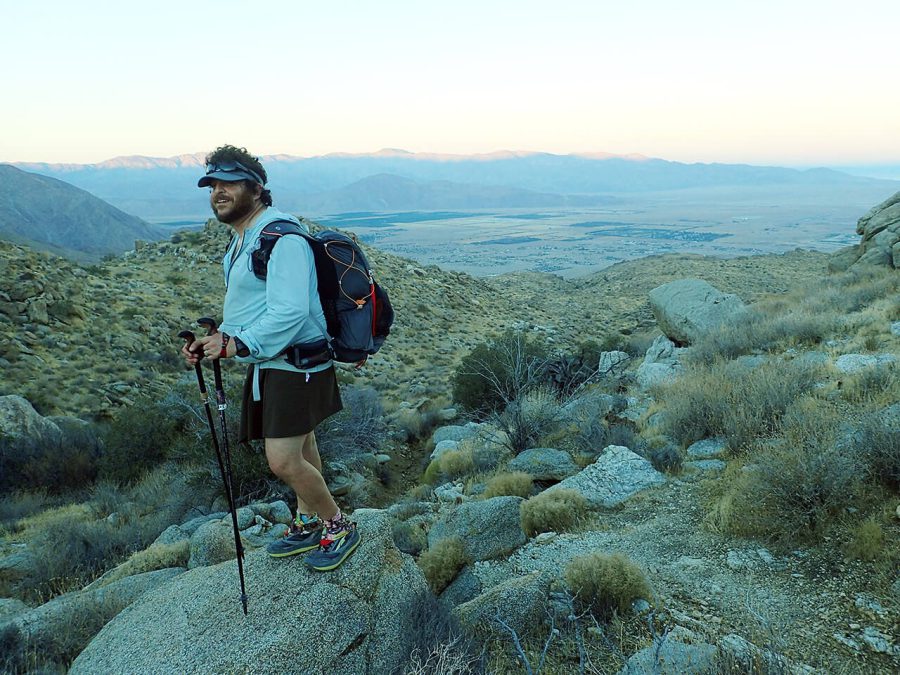 Day 3:Culp Valley Campground to Oriflamme Camp
That morning, we woke to a sunrise over the desert mountains to continue on good trail through the Grapevine Hills. Of the five of us, four had hiked the PCT. We were all reminded of those early desert mornings when we were so new on that long trail.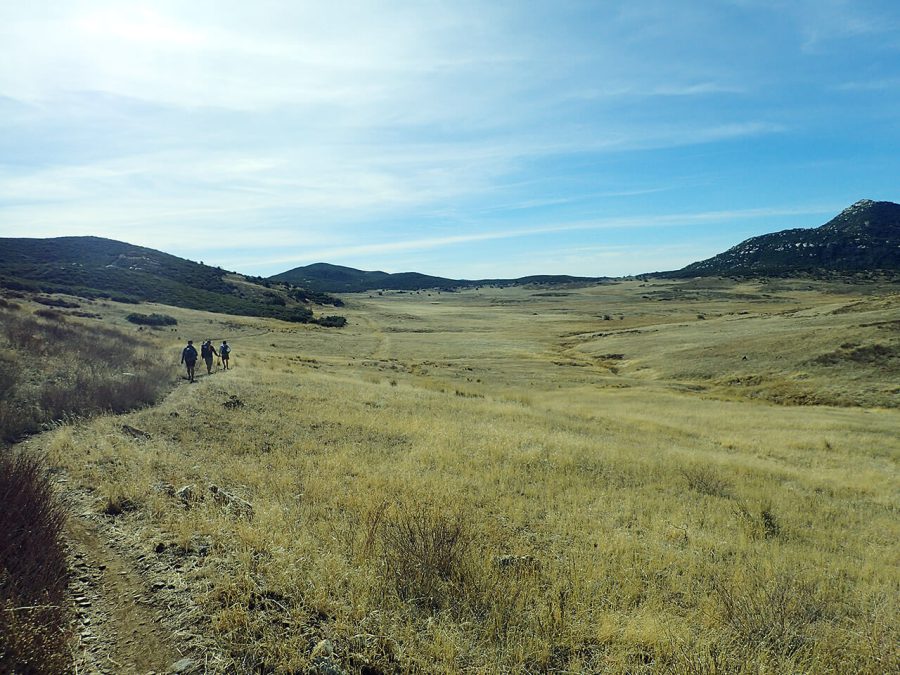 For the first time, we encountered natural water, running from a Sulphur-y spring near the trail. The others were running low on water, but I refused to drink any. My justification: the next water cache was 6 miles away at a road crossing.
We hiked among cacti, only a few of which were blooming. It had been a dry winter so far and if it hadn't been for a storm last week, I doubt the funny smelling springs would have been flowing. My friends from Portland marveled at how different this climate is than back home.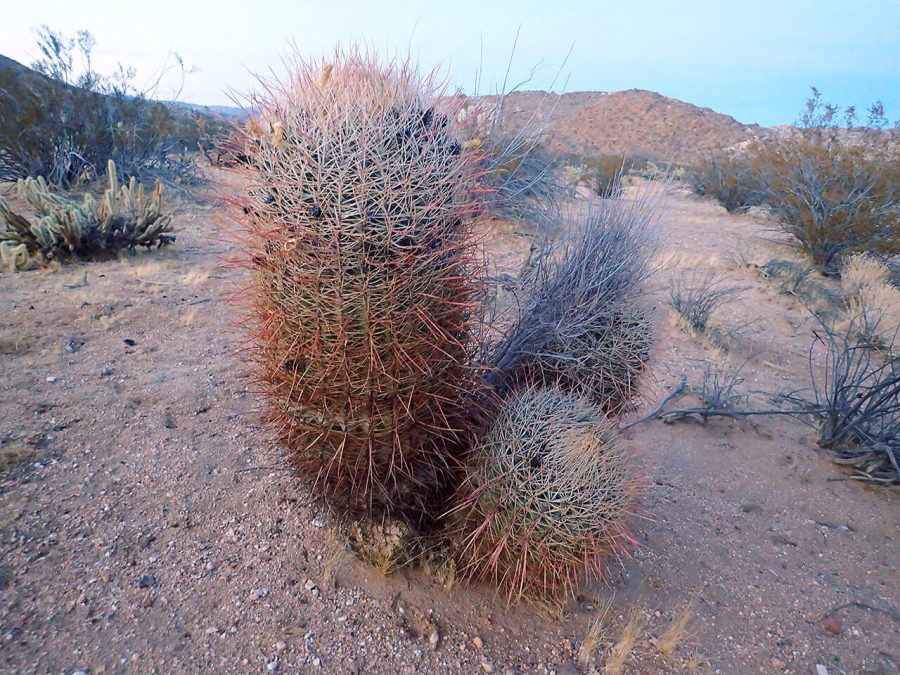 When we reached my next water cache, it took me several minutes to locate the water jugs behind a tree by the road. We ate lunch in the shade of a trail sign kiosk. That afternoon, we crossed what was my favorite part of the Trans San Diego:Plum Canyon up to the North Pinyon Mountains. We were high above everything with views out over the vast, open desert on good trail.
We reached my last water cache at Foot and Walker Pass. "Pass" is an exaggeration. It's a pretty short and rocky dip in the mountains that looks deceptively dramatic given that the actual elevation gain on the whole pass can't be more than 100 feet. Most of us still had plenty of water leftover from lunch, but as I hate to waste water in the desert, I guzzled down as much as I could.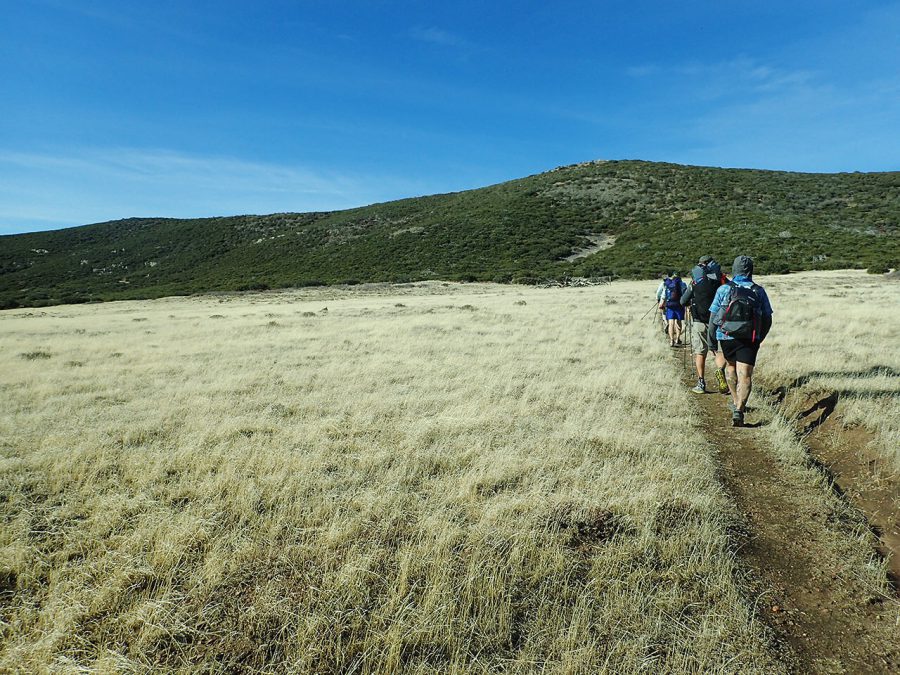 We walked into the night until the trail came into a box canyon paralleling the road. We couldn't see much, but we knew there was a decent spot to camp somewhere nearby. Suddenly, a car slowed down as if it had spotted our headlamp. We all flinched. Hikers are especially nervous of strange, unexpected cars stopping at night. "What are you all doing?" someone called, sounding mysterious and creepy.
As soon as the driver of the big, beat-up truck revealed themselves, we realized it was a friend and fellow hiker. Trans San Diego Trail champions "Hippie Long Stockings" and "The Bobcat" have hiked the trail many times. They offered us water (which we didn't need) and we were happy to talk trail with them before coming late to camp that night.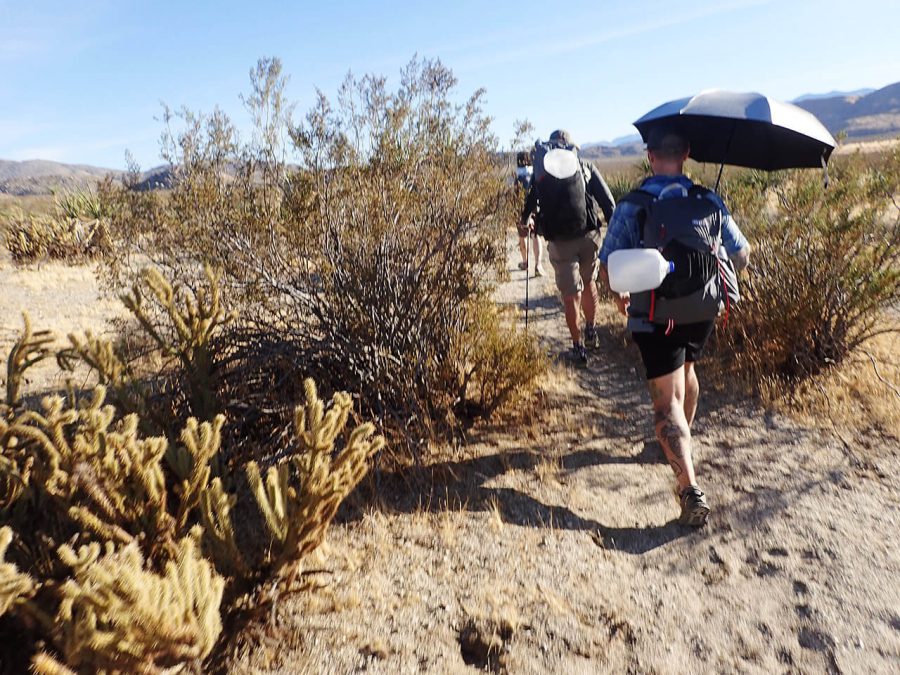 Related Articles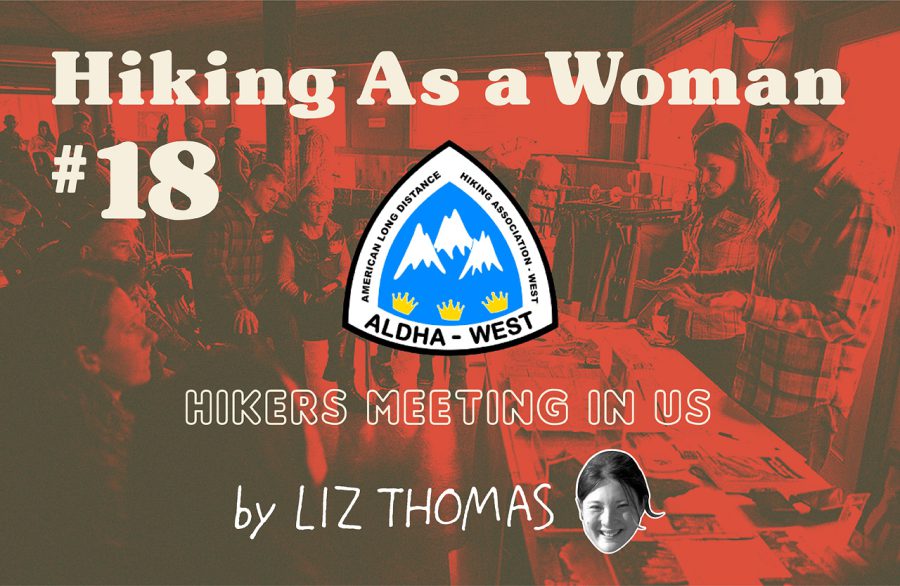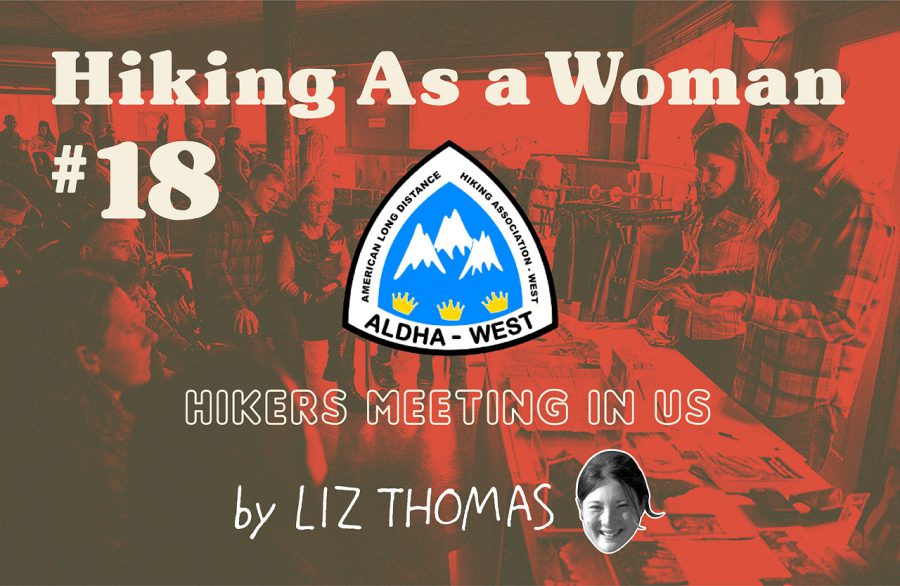 リズ・トーマスのハイキング・アズ・ア・ウーマン#18 / アメリカにおけるロング・ディスタンス・ハイカーのイベント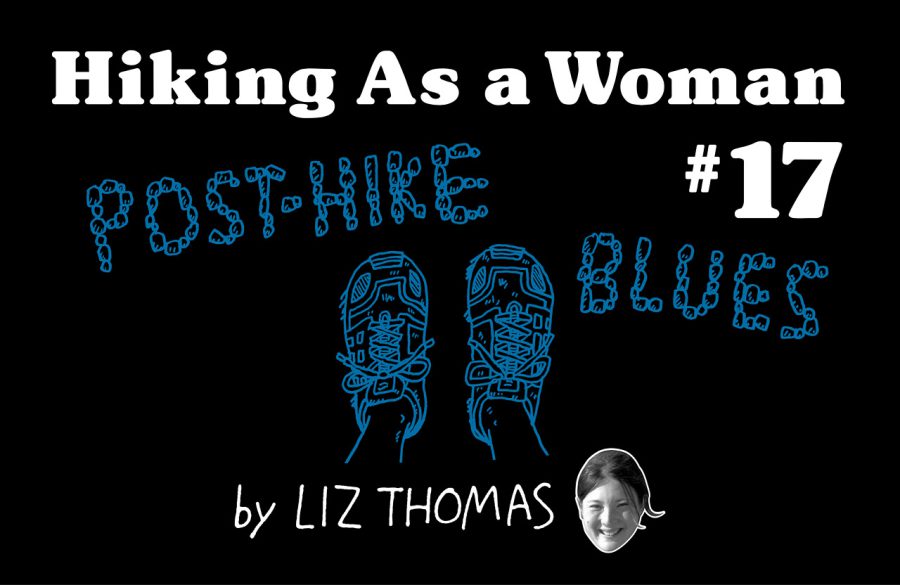 リズ・トーマスのハイキング・アズ・ア・ウーマン#17 / ロング・ディスタンス・ハイキング後の喪失感との向き合い方
TAGS: