AMBASSADOR'S
リズ・トーマスのハイキング・アズ・ア・ウーマン#25 / 冬の時期でも歩けるおすすめトレイル
2020.03.25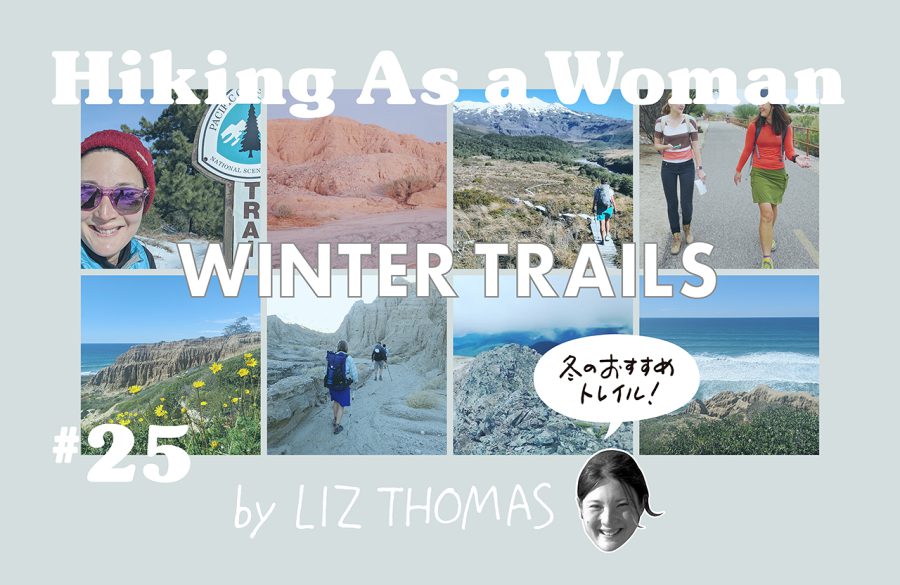 Recommended Winter Backpacking Trips

Just because it is winter doesn't mean that distance backpackers need a break. Many backpackers desire a snow-free (or snow-light) trail where they can spend a week or more exploring from October through March. Sometimes, it takes a little creativity, but winter trails exist—even for hikers who won't want to be on skis or snowshoes. This story explores some winter thru-hikes in the United States. Then, it will outline some of the more famous Southern Hemisphere thru-hikes, which experience summer when the northern hemisphere is in winter. Lastly, it will discuss urban thru-hikes, which are accessible even in the winter most places in the world.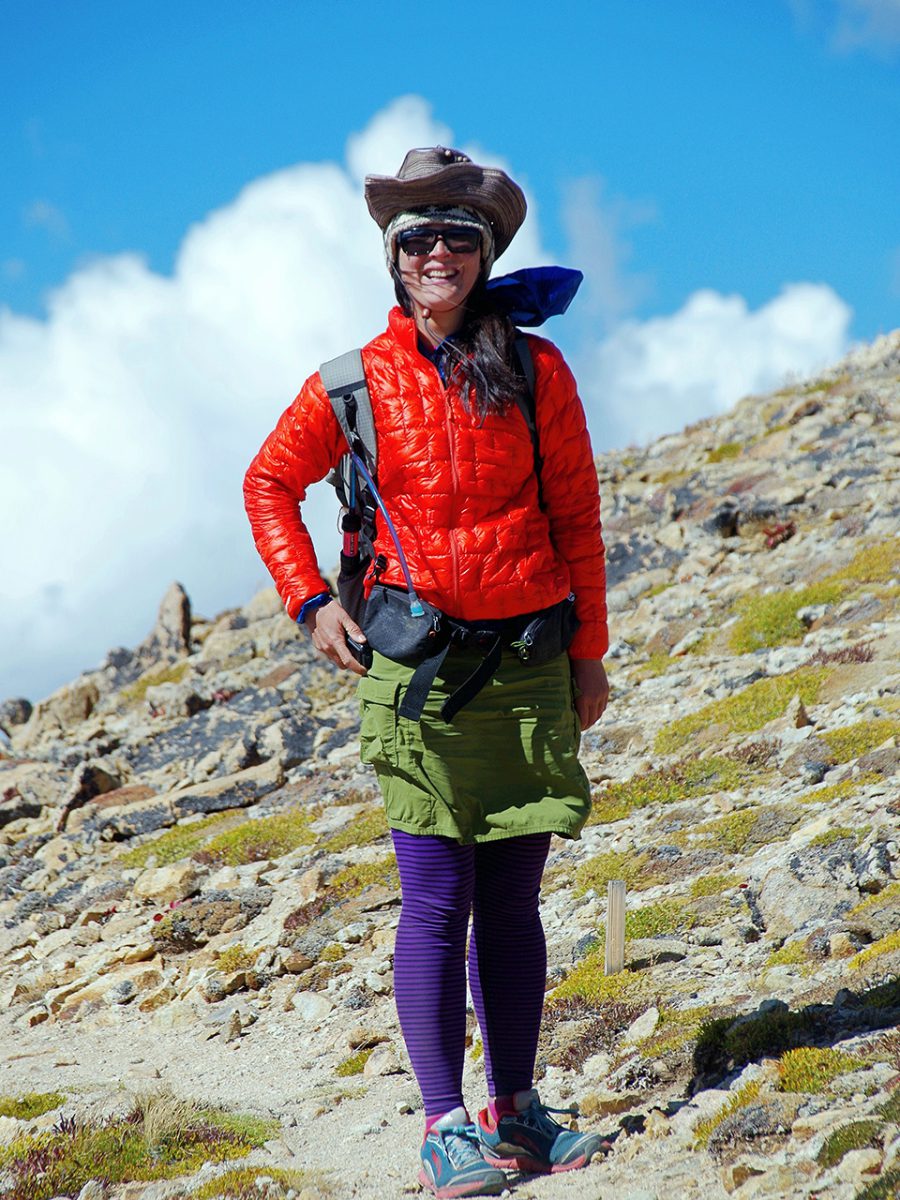 California:
As a Californian, one of the things I love the most about living here are the many places that are hike-able in the winter. Sure, the Sierra are covered in snow, but there are plenty of mountains, foothills, canyons, and deserts to explore during the wintertime. While Southern California mountains aren't all sunshine and warmth (temperatures can get below freezing and snow, hail, sleet, and rain are all possibilities), a prepared hiker should be able to manage the trails listed below under normal October to March conditions. Here are a few of my go-to backpacking spots in California.

As a thru-hiker, I'm always drawn to the Pacific Crest Trail. There's a special excitement that thru-hikers get whenever they "return home" to the PCT. Luckily, big sections of the Southern California portion of the PCT remain snow-free or still accessible even in the winter.

1 PCT Campo (Mile O) to Paradise Café (Mile 151.8): 151.8 miles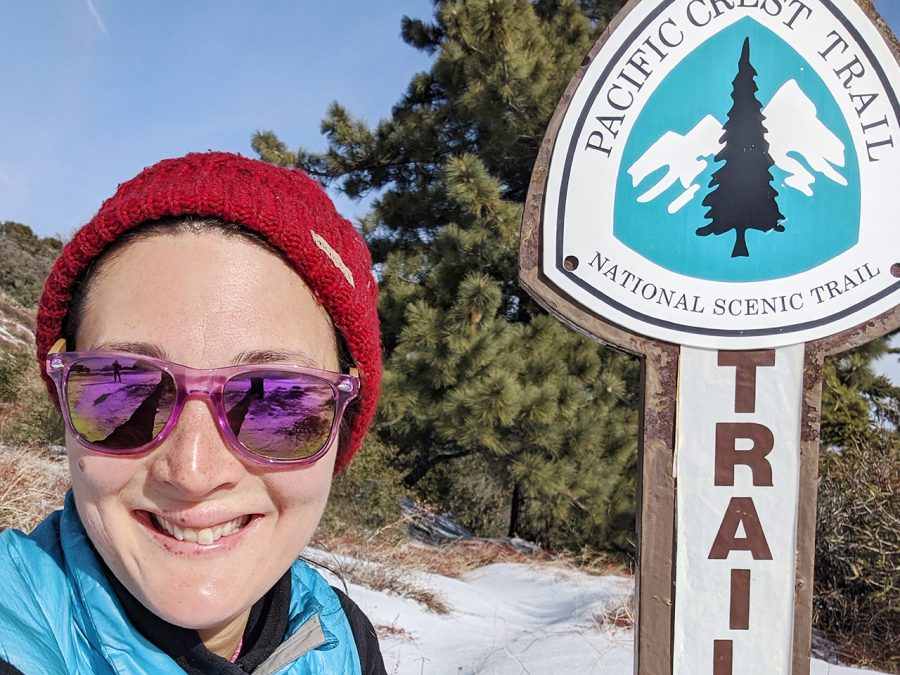 From the Mexican border at Campo all the way to Paradise Café (mile 175) remains mostly snow-free during winter times. There may be a few flurries—and occasionally there can be a very big rain storm. Near Mt. Laguna may also have some more serious snow, although that section tends to be short. Other than that, backpackers can expect temperatures must milder than the usual northbound thru-hiker experiences. After Paradise Café, the PCT gains some significant elevation as it nears Mount San Jacinto, an 11,000 peak that develops its own weather cycle. San Jacinto can be quite dangerous in the winter—in fact, even during early thru-hiker season, it's taken the lives of a few hikers. That's one reason I'd advise backpackers to end their trip at Paradise Café, at least for the winter.

2 PCT Acton (Mile 444.5) to Highway 58 (Mile 566.4): 121.9 miles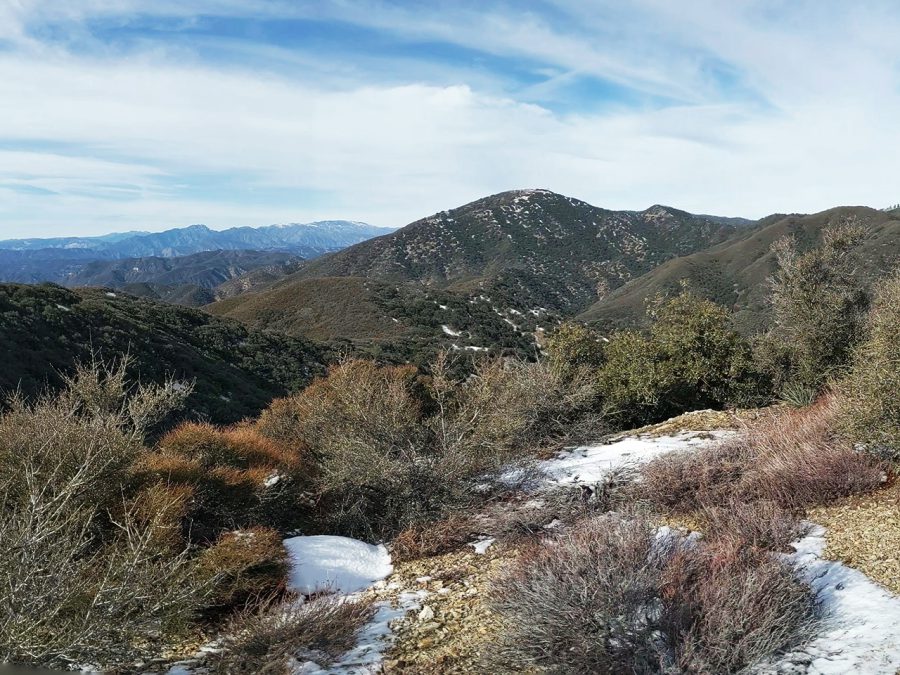 Luckily, the PCT re-enters in the lower elevations in the desert giving hikers another good 100 miles of snow-free hiking. From the Acton KOA at mile 444.5 to Highway 58 near the trail towns of Tehachapi/Mojave, hikers can expect just a little manageable snow. I recently hiked this section and found some snow around the Sierra Palona Mountain Range. The Ridgetop Junction concrete tank is at 5,296 feet is one of the highest points on this section and had some snow—though not enough to feel dangerous. The trail climbs up to near 5,700 feet near Liebre Mountain. As someone who has thru-hiked the PCT during the spring, I remember this section being very hot and dry with little water. It was so strange to walk it in the winter with snow and mild temperatures. Plus, because there aren't other PCT hikers on trail at this time, there was no competition for campsites.

3 Trans San Diego County Trail: 140 miles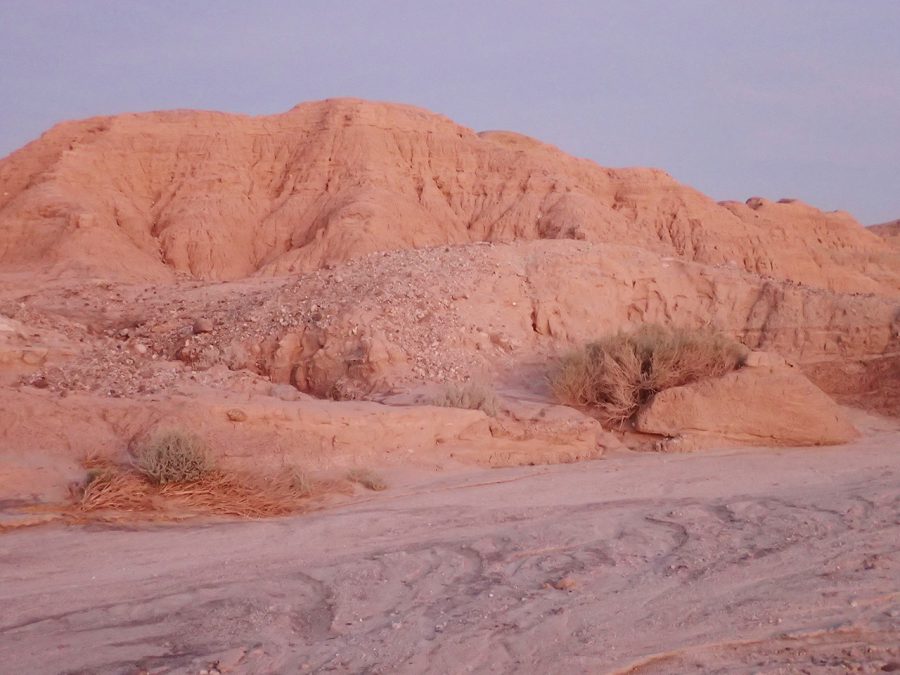 This end-to-end thru-hiking route starts in the Salton Sea and ends on the Pacific Ocean at La Jolla beach. It gives hikers a taste of desert wilderness, the Pacific Crest Trail, suburban trails, lagoons, and of course, the beach. It starts at a giant alkaline lake at the edge of Anza Borrego Desert near Palm Springs and the Coachella music festival site. The first section of the trail takes hikers through slot canyons and hoodoos in Anza Borrego Desert State Park. This route leads to the palm tree-filled artsy town of Borrego Springs, an international Dark Skies certified town. The desert and this town are popular with professional and amateur astronomers as its one of the best places in the world to see the stars.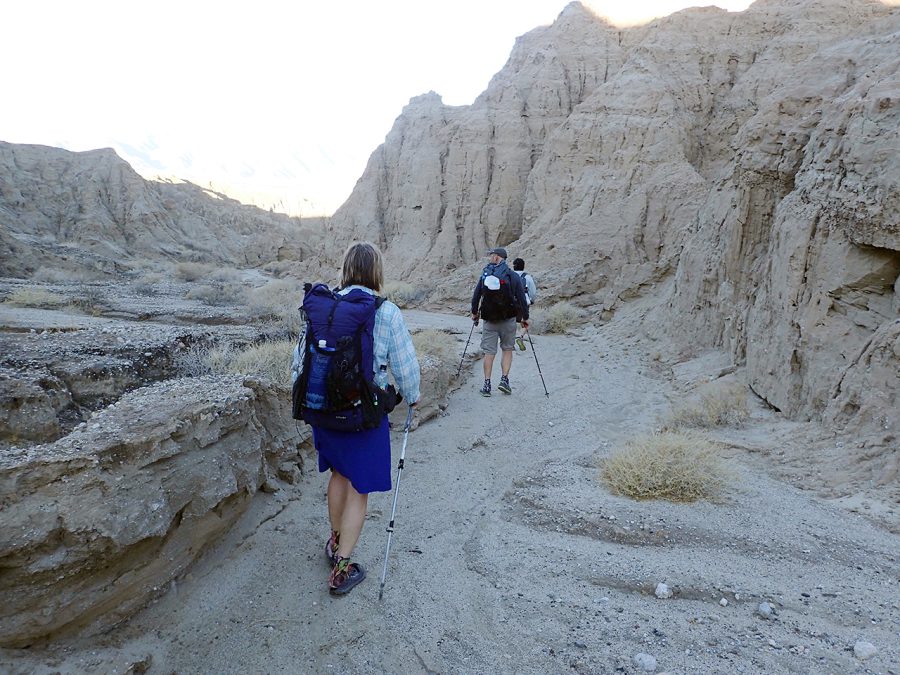 From there, hikers take good trail through the desert mountains until it meets the PCT Mile 64 to the high mountains of Cuyamaca State Park near Julian (a popular PCT resupply town). There are pine trees, lakes, and high grasslands and the trail climbs up to Cuyamaca Mountain, the highest peak around. From here, it descends to one of the most popular waterfalls in San Diego before cross-countrying over to Cajon Peak, one of the most popular day hiking peaks in San Diego. From there, it takes a series of roads and trails popular with locals to Los Peñasquitos Canyon, one of the largest city parks in the world. This leads to a lagoon trail and then the grand finish at the ocean.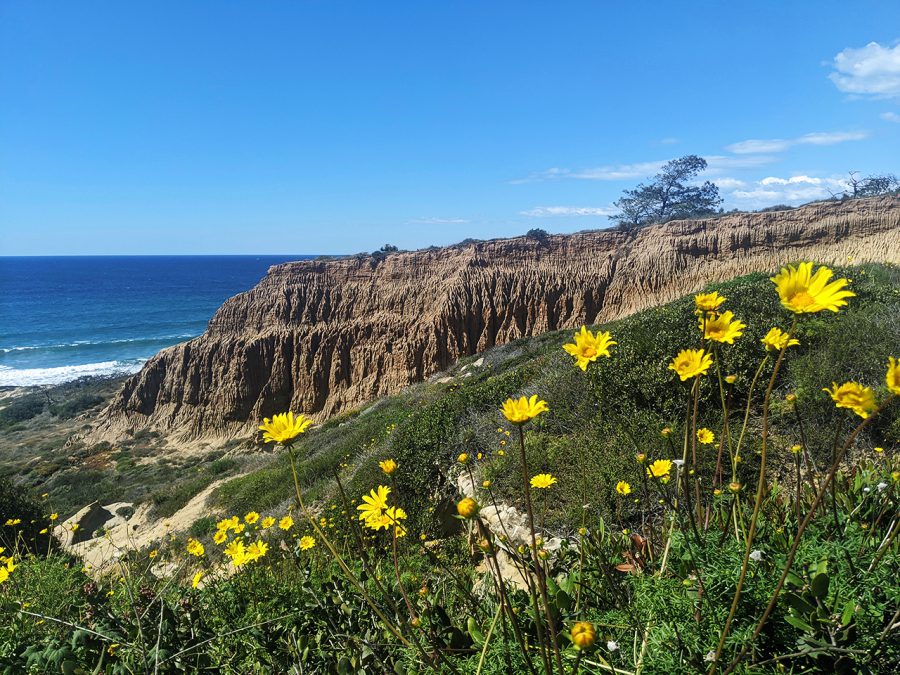 The Trans San Diego doesn't require any permits, but it is a trail best done by caching water at 3 points where the trail crosses the road. There's a Facebook Group where hikers who are not from the area can connect with locals who may be able to give them a ride to the trailhead or cache water. Hikers can also download maps and the route description there.

4 Hot Springs Trail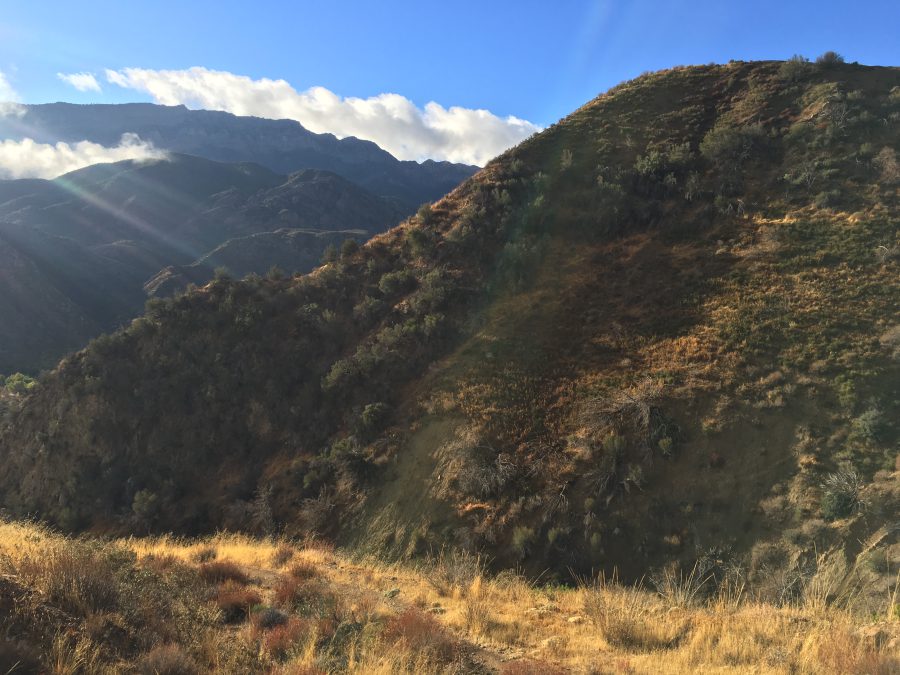 The Hot Springs Trail is a 2,421-mile route developed by Aria Zoner with the goal of connecting 100 wild and developed hot springs from the Southern California to the Canadian border in Idaho. The route has 4 sections. The first section, the 320-mile long Coast Connect Trail goes from Santa Barbara on the Pacific Ocean to the Sierra mountains. This section can be do-able during fall, winter, and early spring months. However, depending on how rainy the year has been, some of the river crossings may be difficult or dangerous. The Hot Springs Trail is a wild route that requires navigation skills and patience, but you'll see few hikers and have the added benefit of visiting many hot springs!

5 Big Sur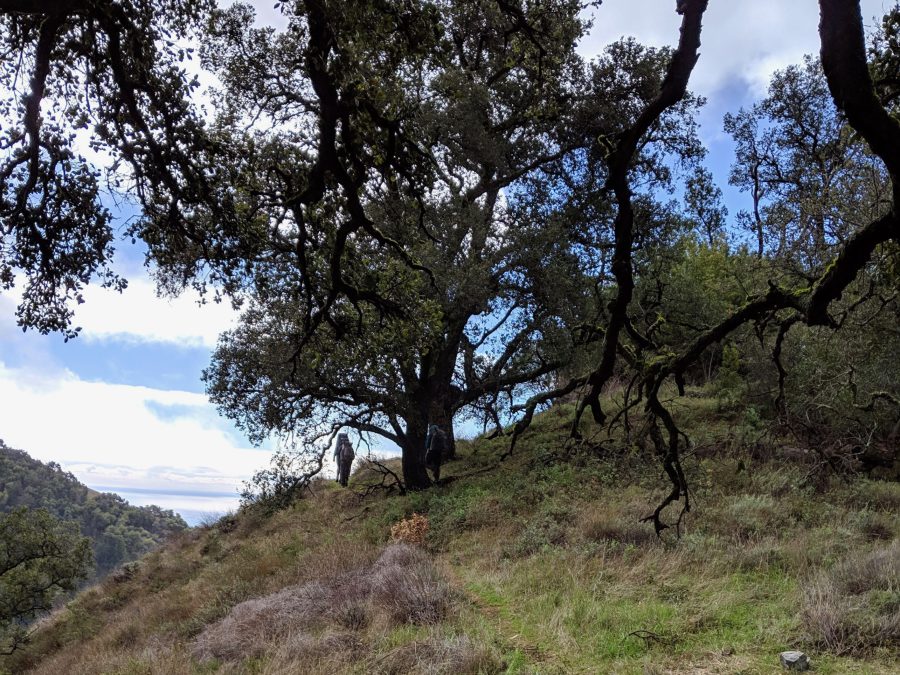 The California Coast is home to one of the most ecologically diverse backpacking areas in the world: Big Sur. Encompassing several wilderness areas, seven state parks, and two state reserves, there are hundreds of miles of trail that connect with one another in Big Sur. You can design your own route using local-up-to-date info from the Ventana Wilderness Association. I recommend creating a backpacking trip by connecting trails that are currently in good condition (Unfortunately, in this area, when trails are overgrown, they are almost impossible to use. I recommend bringing an ultralight handsaw to aid with removal of blowdown trees from the trail). No permits or reservations are required for backpacking in Big Sur—so the route is your's to design to whatever length you desire.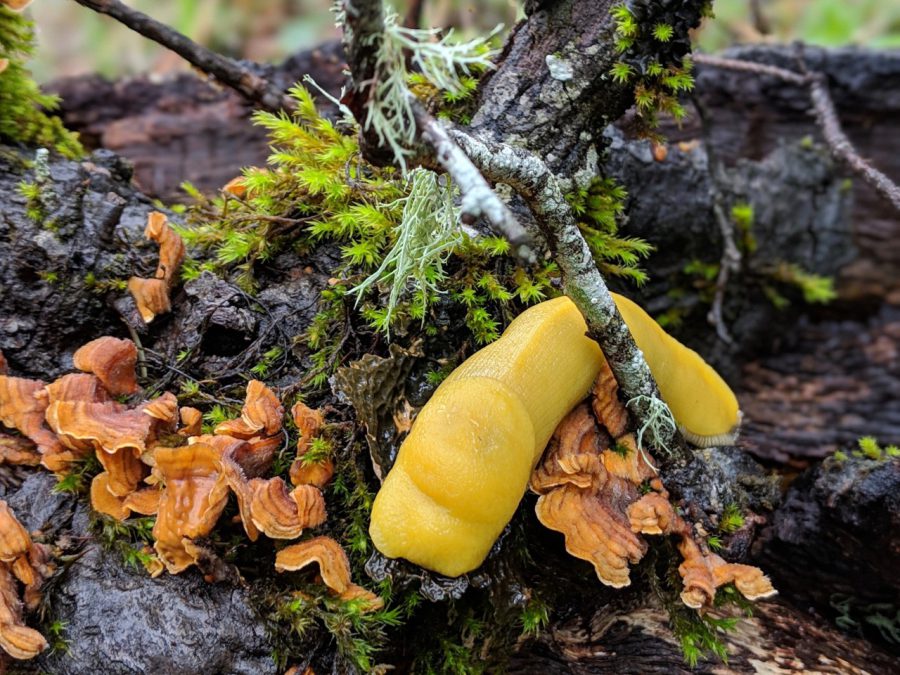 Most routes will start at the beach and climb through desert-like yucca, to mossy oak forest, past giant sequoia redwoods and temperate rain forest before reaching chaparral mountains home to the endangered California Condor.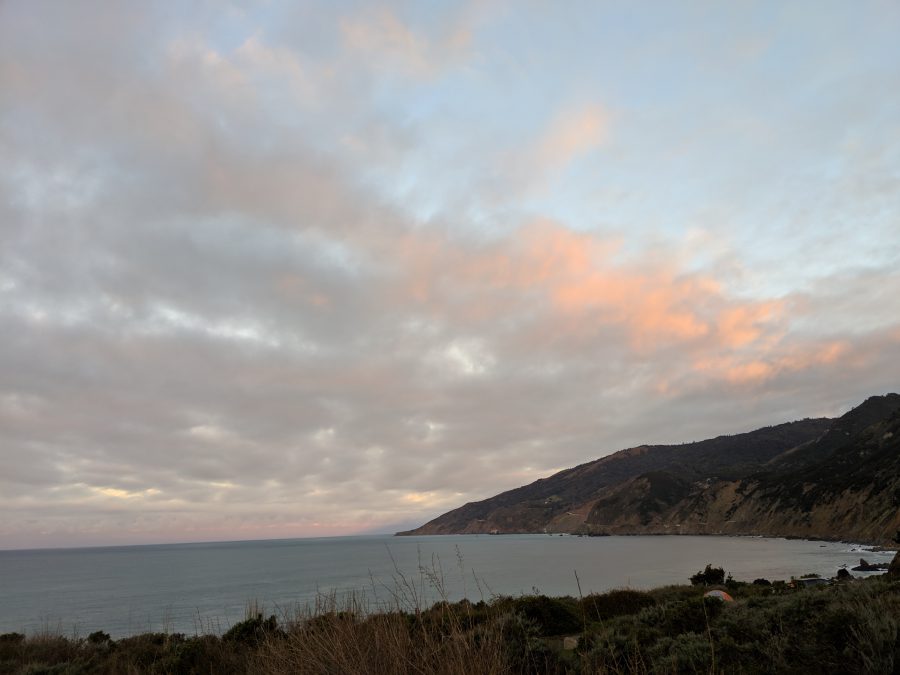 Some hikers are attempting to design a new 411-mile long distance hiking route through Big Sur and the Los Padres National Forest called the Condor Trail. It requires advanced navigation skills, bushwhacking, potential for snow and flash floods, and numerous fords of rivers. It can be easy to get lost on the Condor Trail and it travels through rugged and remote wilderness. I've hiked a few portions of this route and found them to be among the most difficult hiking I've ever done. But for the right hiker, it could be the adventure of a lifetime.

6 Hawaii
Napali Coast: The Kalalau Trail: 22 miles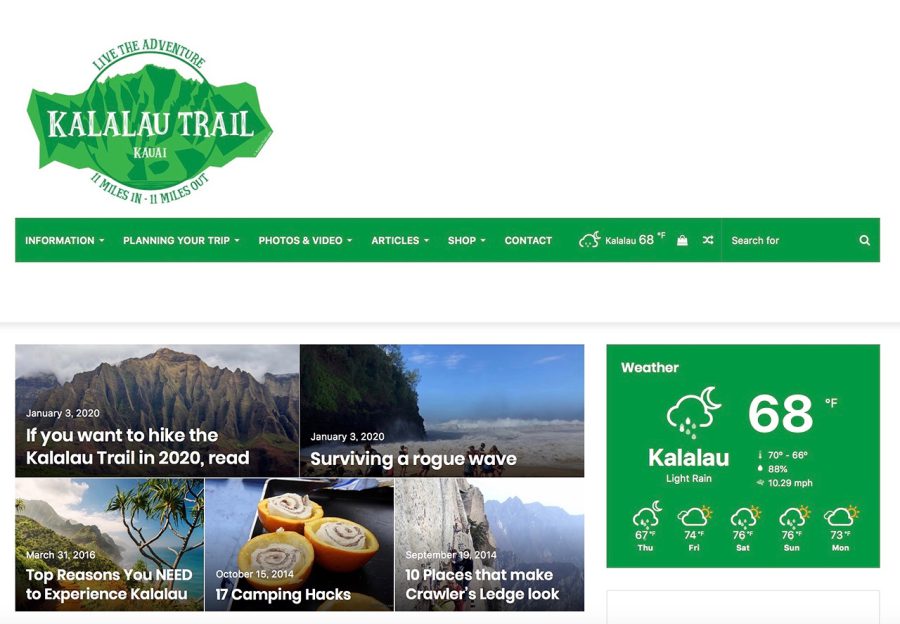 While the Kalalau Trail isn't the longest backpacking trail, it is scenic, rugged, and memorable. The trail is the only access to this rugged coast and traverses 5 valleys, sea cliffs, and a waterfall. You'll need to time you trip with the tides. I've heard of even very advanced hikers getting trapped on one side of a bluff during high tide. The Kalalau Trail requires permits to hike and to stay at the two designated campsites—and camping is only allowed in those areas. Still, despite its shorter length, this is one of the more memorable and unique trails in the world. Plus—with Hawaii's year-round warm weather, it can hike-able even when other areas are too cold for adventure.

7 Ouachita Trail: 222 miles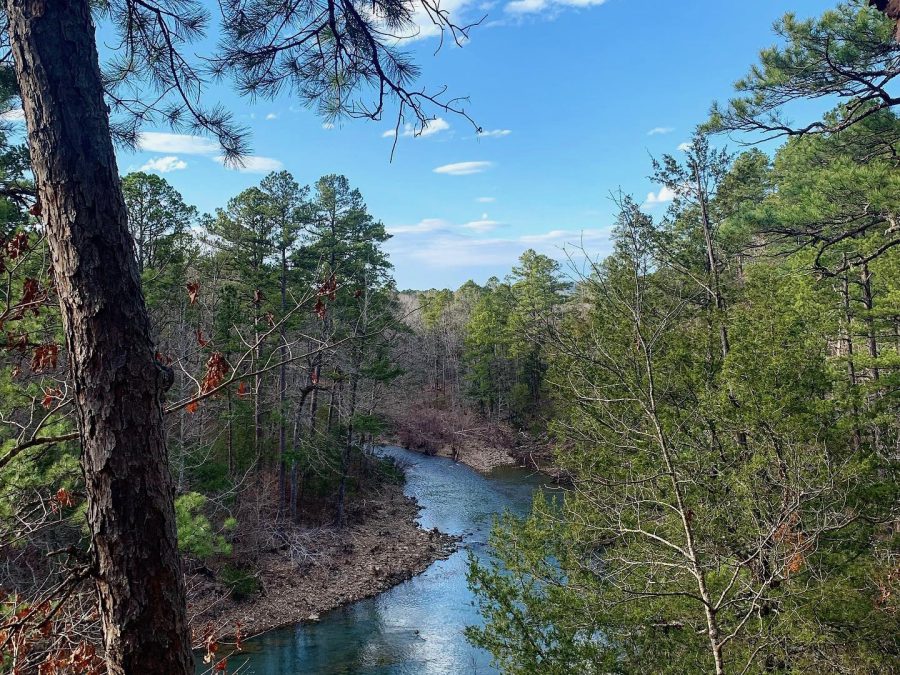 The 222-mile long Ouachita Trail travels through the lightly-trafficked mountains of Arkansas and Oklahoma. Many hikers find it easy to fly into Little Rock Airport and there's even a bike trail that leads to the trailhead.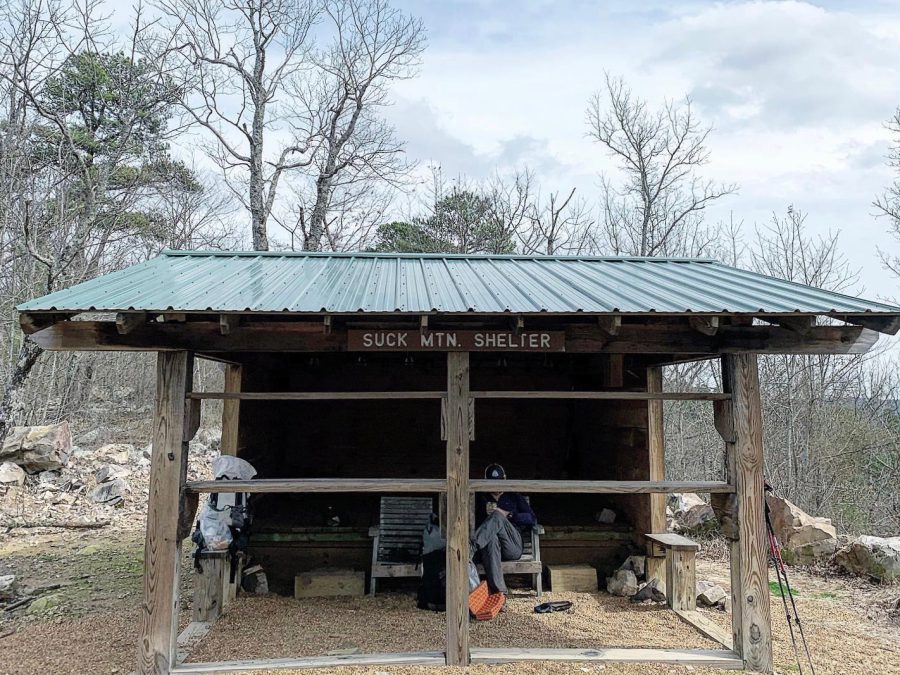 The Ouachita Trail itself is well-marked and easy to follow with numerous 3-sided shelters to sit out the rain and offer extra protection from the elements. This part of the country can get very hot in the summer, but February and March are ideal times to visit. The trail will take you through the Winding Stair and Rich Mountains. One thing that makes the Ouachita Trail different than many long trails in the U.S. and world is that it is an east-west hiking trail. While much of the trail is through pine forest, there's vistas of sweeping valleys, rock outcroppings, and historic sites along the way. While weather is manageable for skilled hikers, expect rain and below freezing temperatures if you visit in February or March. Water is abundant during the time of year, though, so you shouldn't have to worry about any long carries.

8 Lone Star Trail: Texas 96 to 129 miles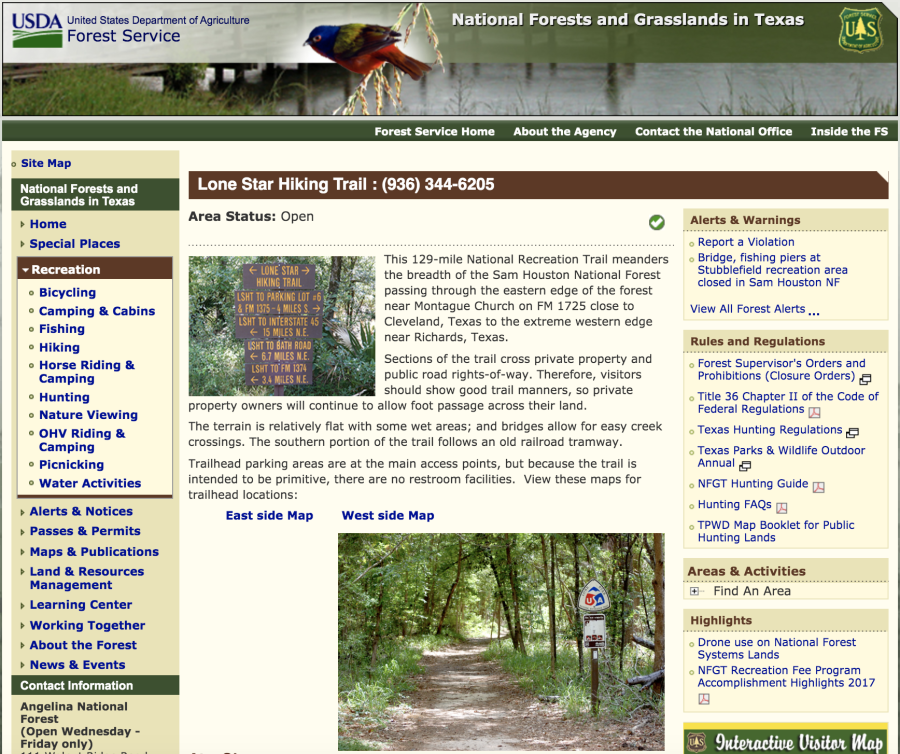 This Lone Star National Recreation Trail is 129-miles and runs east-west through the heart of Texas. This is a trail that is not only do-able in the "off-season," but is best suited for early spring or late fall. It's the longest continuous trail at 96 miles, but there's also an additional 32 miles of loops to make it even longer. It's relatively flat, but does not have much naturally occurring water along the way. The local land managers should be able to give you the status of creeks to let you know if they are flowing. The hikers that I've known who have hiked this trail set up a car shuttle between the two trailheads.

Southern Hemisphere Hikes
For many hikers seeking summer hiking conditions, the easiest way to make it work is to go to the Southern Hemisphere where their summer is our winter. The two more famous trails in the Southern Hemisphere are the Te Araroa and the Bibbulman Track.

9 Te Araroa Trail, New Zealand: 3,000 km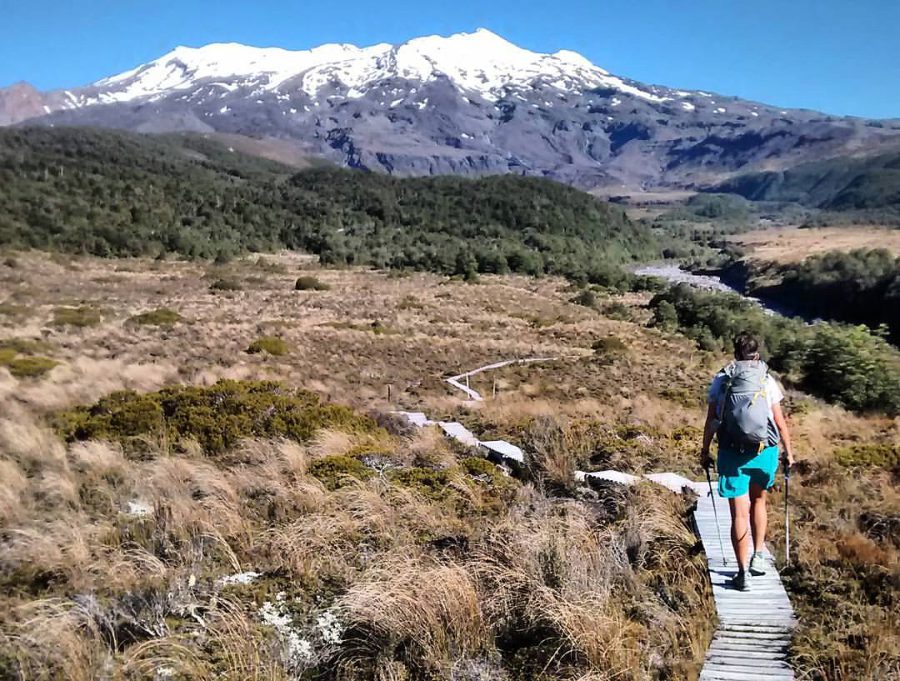 The Te Araroa track is New Zealand has become an increasingly popular hike for northern hemisphere hikers to tackle during their winter. The Te Araroa translates to "The Long Pathway" and is 3,000 km long going from the northern tip of the northern island at Cape Reinga to the southern tip of the southern island at Bluff. It's a route that combines trails (which they call "tracks") and roads. Along the way, there are a series of primitive backcountry huts. It also has a section on river that must be kayaked. Only one section, the Queen Charlotte Track on the South Island, require permits or fees. Most hikers get a 6-month Hut Pass to allow them to sleep in the shelters along the way.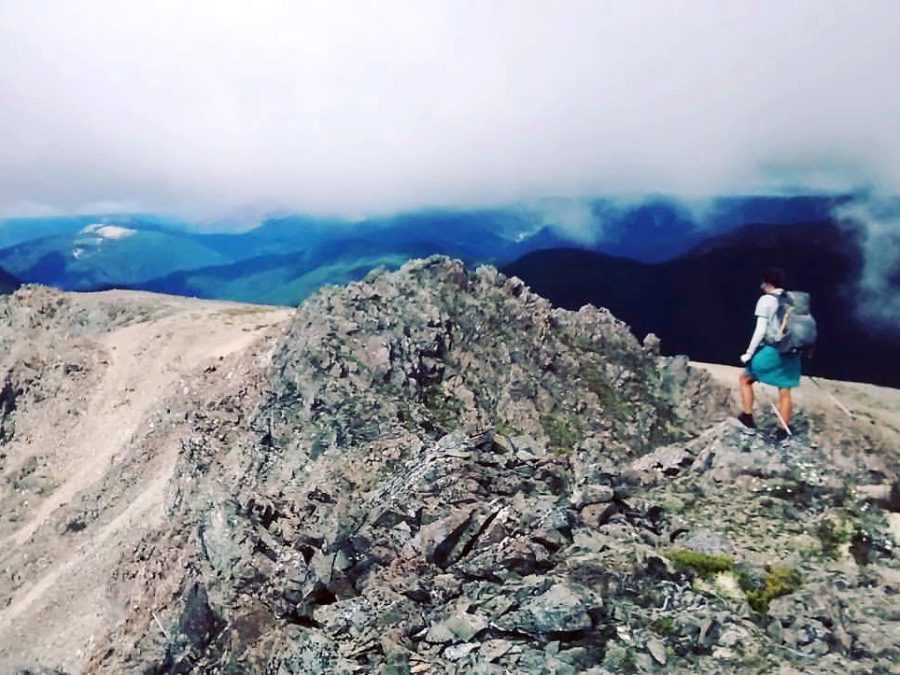 The river crossings are considered the most challenging part of the TA, but difficult weather is also a complication for thru-hikers. Additionally, the TA can be mentally challenging for many hikers who are accustomed to trails like the PCT. Many hikers dislike the roadwalking sections of the TA, wishing that it stayed higher in the mountains.

The TA attracts hikers from all around the world. Some hikers on the TA are ultralight. But many hikers, especially those from New Zealand, Australia, and Europe, tend to carry more traditional sized backpacks. Many thru-hikers say that the best part of the TA was getting to become friends with so many hikers who live all around the planet.

10 Bibbulman Track, Australia: 1003 km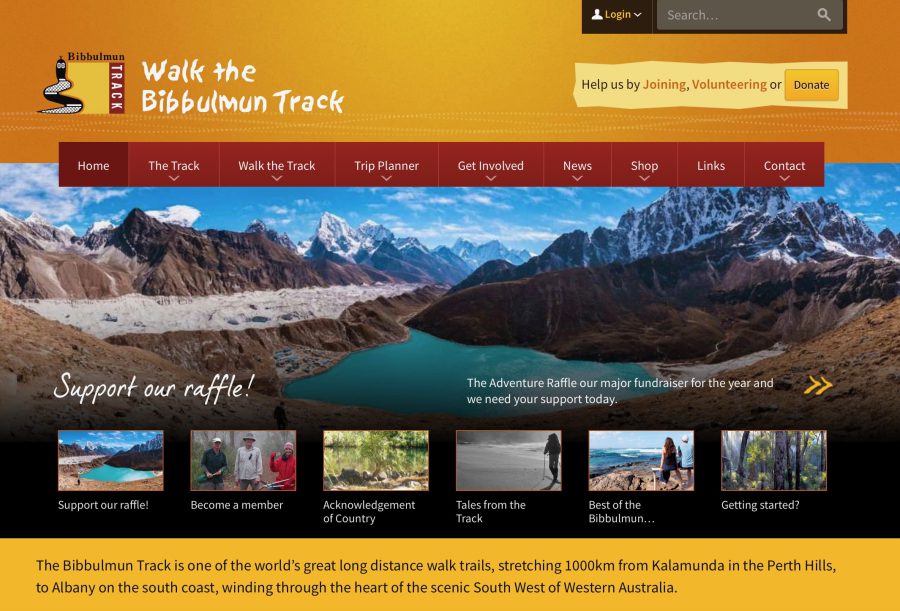 Considered the most famous distance trail in Australia, the 1003 km Bibbulman Track runs from Kalamunda to Albany, traversing the Darling Range. It's only open to walkers—so hikers don't have to worry about bikes. There are towns or shelters every day and hikers are required to stay at these designated camping areas (though each campground includes a water tank and pit toilet—so most hikers will want to do that).

The Bibbulman Track visits Jarrah forests, Karri Forests, and ends at the coastline following coastal forest and scrub and sandy beaches. September through November is the prime season for hiking. It also happens to be when wildflowers are blooming. The Bibbulman Track is considered a major tourist attraction in Western Australia and an international trail of significance. Challenges of this trail include limited water, snakes, large sections that have burnt from wildfires over the years, and sun exposure.

11 Urban Trails: Anywhere and any length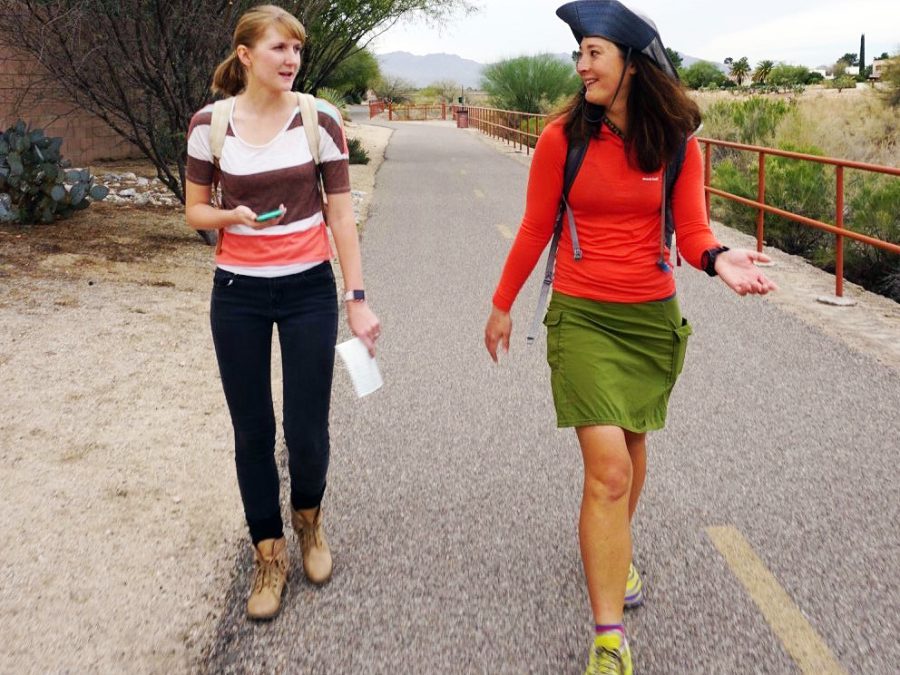 No matter where in the world you are, urban thru-hikes are a unique way to get in many miles of hiking during the winter. By designing your own route through your city or town, you can connect by foot areas of significance or curiosity to you. Routes can be as long or short as you'd like them to be. If you get cold or the weather gets bad, you can always duck into a café and warm up. Sidewalks are usually kept free of ice during the winter, so you won't need mountaineering boots or an ice axe to cover many miles of winter hiking.

I plan my route to stay at different friends' houses or hostels or AirBnBs each night. In this way, my route becomes a continuous foot path visiting new areas each day and never backtracking. I have walked routes that connect all the parks in my city, all the public stairways, and all the public art. The world is your place to explore. Creativity and the ability to plan ahead is the most important thing.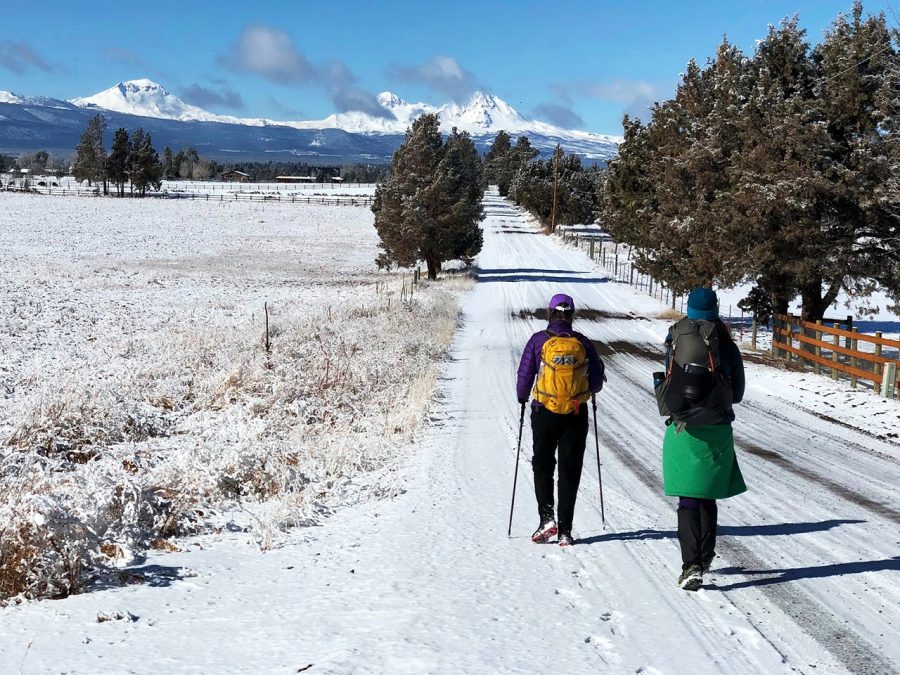 I've completed urban thru-hikes in October, November, February, and March—all times when the mountains have too much snow for extended backpacking. Because I sleep indoors each night, I don't have to worry about carrying a 4-season tent or waking up in the snow or rain—two of the most difficult parts of winter hiking. Instead, at the end of the day on an urban thru-hike, it's easy to dry out my wet gear and even warm up in a bath.

While urban thru-hiking doesn't take you to as many natural areas, it is surprising how much peace hikers can still experience while on an urban hike. Just the act of moving with purpose for so many hours each day helps clear the mind.

The one downside of urban thru-hiking is that there are many temptations to slow down your hike. It's difficult to walk past so many cafes and restaurants all day and not want to stop and enjoy. For this reason, urban hikes can also be expensive.

But one of the best things about urban thru-hikes is that logistics to and from a trailhead are often easy. You can design your start and end points for your trip to be accessible by public transit. Or, you can design the start and finish to be just out your front door.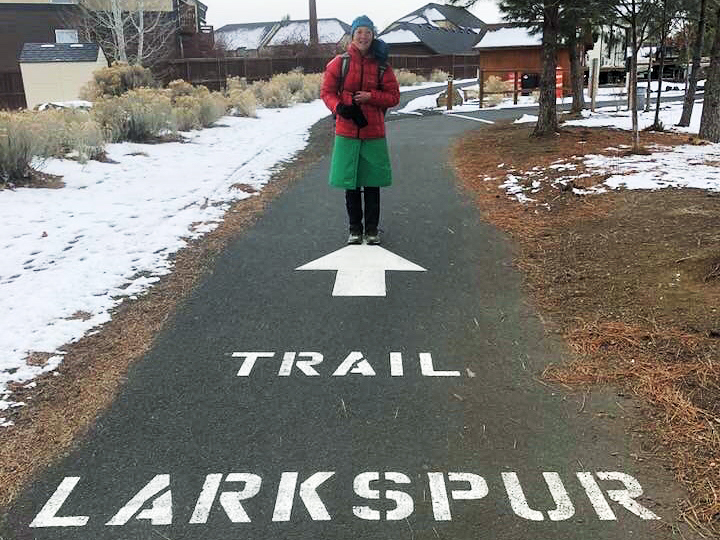 Each year, I meet many thru-hikers who are sad that it is winter and miss being on long trails. But with some creativity and flexibility, there are long trails, backpacking trips, and exploration to be done everywhere. All you need to do is plan, prepare, get together your gear, and get walking.

Related Articles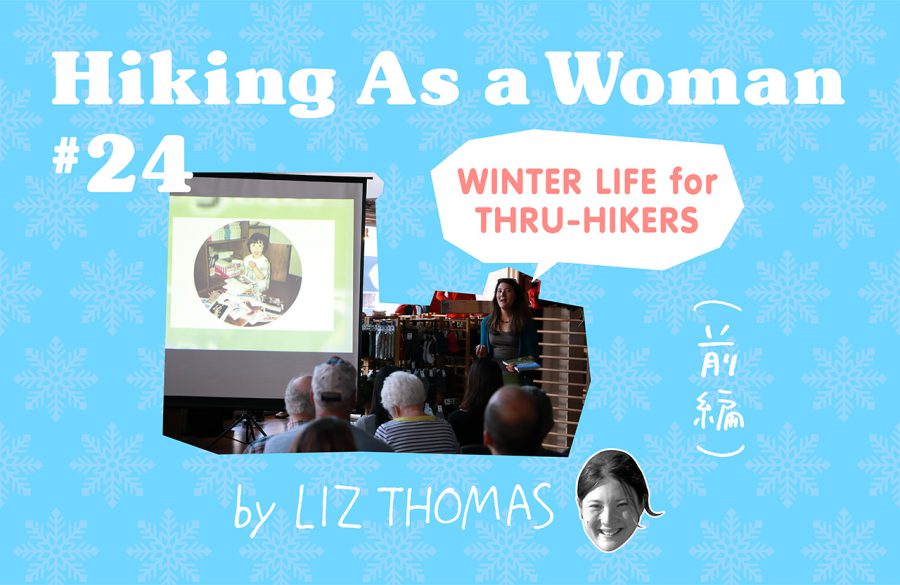 リズ・トーマスのハイキング・アズ・ア・ウーマン#24 / スルーハイカーは冬に何をしているの?(前編)ハイカーの冬の仕事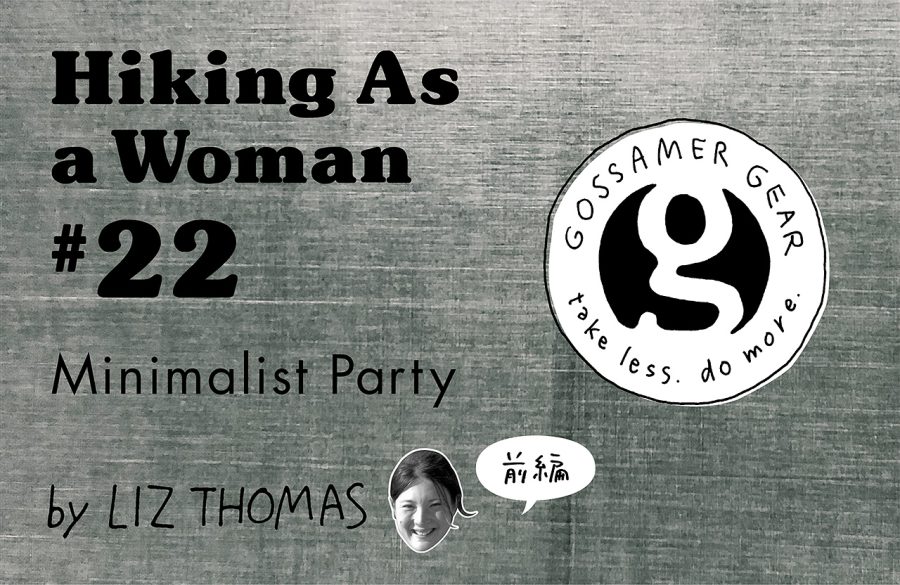 リズ・トーマスのハイキング・アズ・ア・ウーマン#22 / ULブランド創業者3人のミニマリズムの思想(前編) Gossamer Gear