AMBASSADOR'S
リズ・トーマスのハイキング・アズ・ア・ウーマン#21 / Outdoor Retailer Summer 2019〜ロング・ディスタンス・ハイキングのULギア
2019.08.02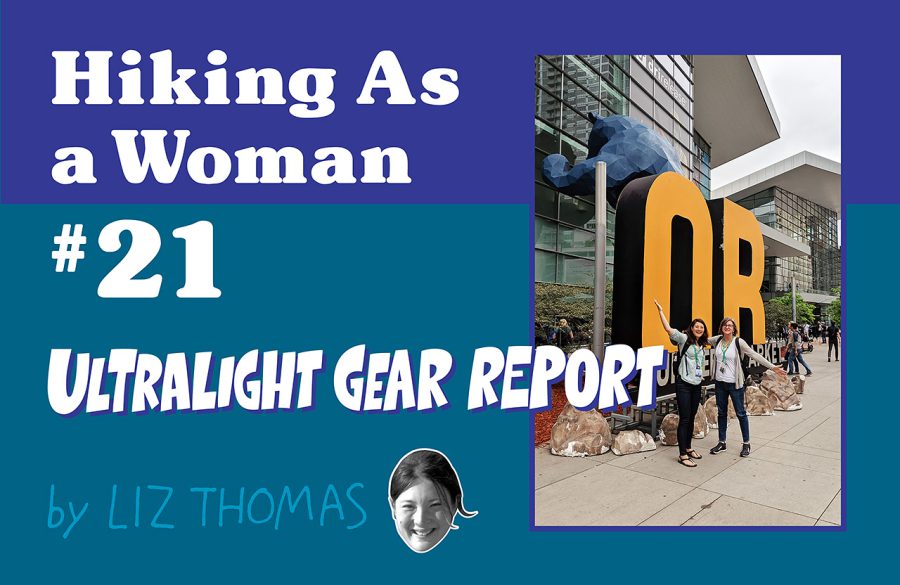 Outdoor Retailer Summer 2019: Searching for Ultralight Gear for Long Distance Backpacking
I am recently back from the Outdoor Retailer trade show in Denver, Colorado. This three-times-a-year show attracts up to 30,000 people in the outdoor industry.
Brands show off the newest designs, technology, and innovation in outdoor gear.
Reporting for TRAILS Magazine, I met with over a dozen outdoor companies. I was looking for gear to be released in 2020 that would be of interest to long distance backpackers and ultralight gear enthusiasts.
Here are some of the trends and interesting items that I found.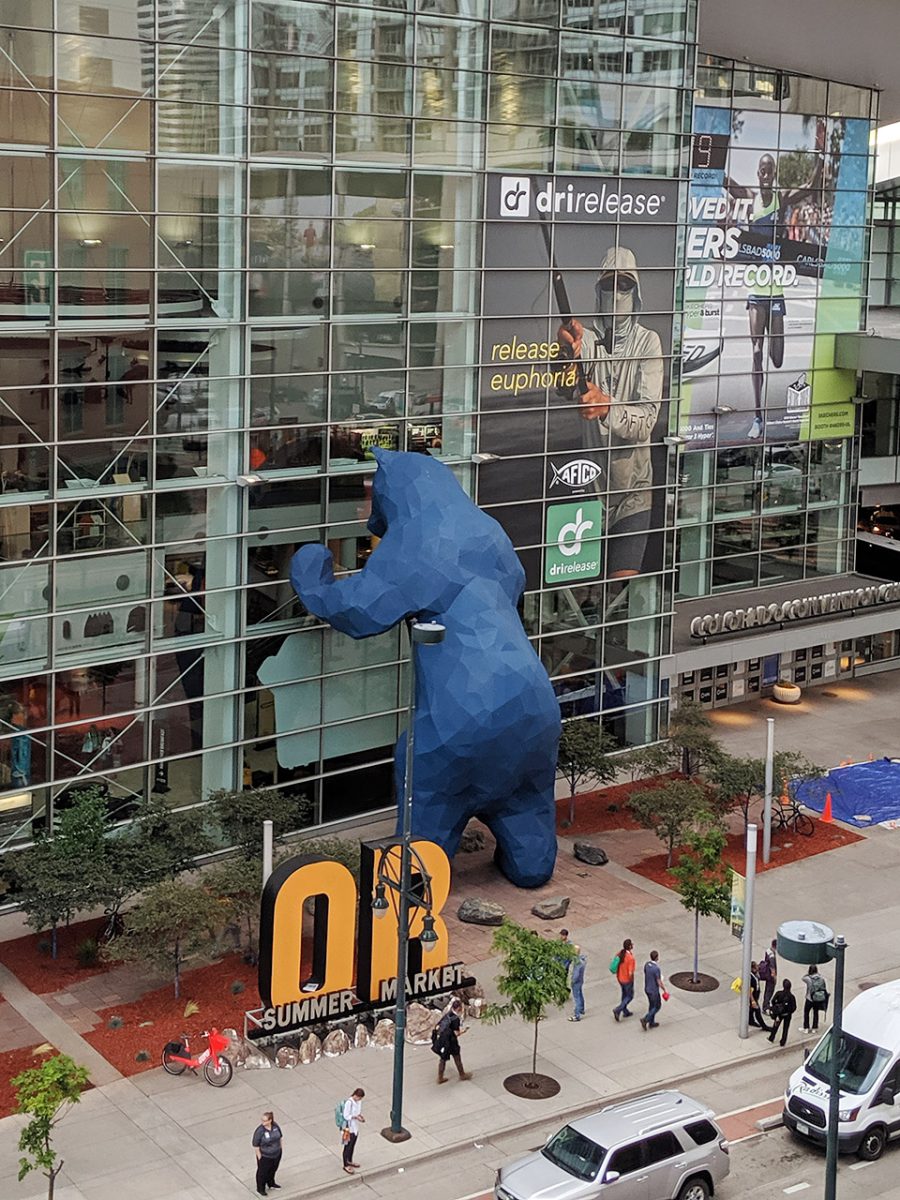 Comradery in Minimalism
For the first time in almost a decade, the Minimalist Party was revived at OR. Previously held by Evernew, this year's party was hosted by Six Moon Designs.
Attendees included representatives from brands dedicated to ultralight gear and thru-hiking including: Anti-Gravity Gear, Atlas Guides (a thru-hiking phone app), Gossamer Gear, Hennessey Hammocks, Mountain Laurel Designs, Pa'lante Packs, Sawyer Products, and TOAKS Titanium.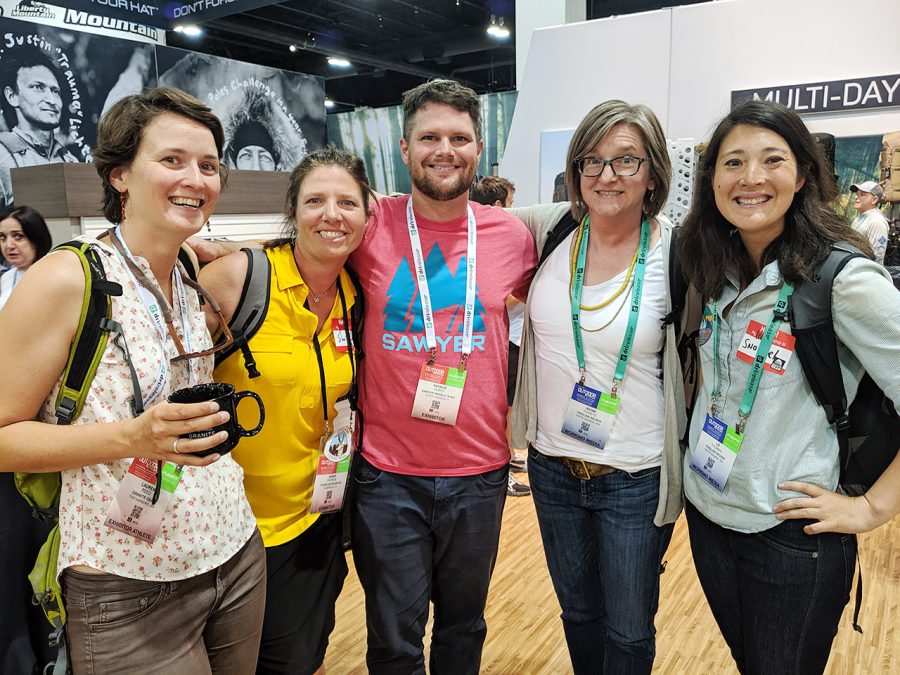 With the exception of Hennessy Hammocks and TOAKS, most ultralight companies cannot afford the expenses of having their own booth at Outdoor Retailer. While each of these cottage companies may seem major in the typical thru-hiker's eyes, compared to the major brands at OR, they are very small. That's one reason why the small cottage industries have historically stuck together at OR. Being small, the only way they can thrive is by gathering and share resources.
At this year's Outdoor Retailer, I saw far fewer ultralight items that I have in other years. This year's show has general themes that applied across the show, but lightweight gear was not one of them. That makes it all the more important that the ultralight brands stick together to continue to push the industry towards creating items suited for distance hiking.
Versatility
Brands appear to have reached a threshold on how low in weight they want to go. Instead, the focus this year seems to be on comfort and versatility instead of reducing weight.
Before I got to the Show, I read that versatility would be a main theme and was excited. For long distance backpackers, having versatile items isn't a bad thing. It means that one item is designed to address multiple needs in the backcountry. Multi-use is one of the tenets of lightweight backpacking.
However, many of the multi-use designs I saw at OR are created for lifestyle and outdoor use. Having lifestyle clothing that is as functional as outdoor clothing is actually a nice improvement. Too often, outdoor brands make their lifestyle clothing out of cotton or rayon, the type of fabric typical in normal fashion. But if there is weather or if people want to go from work or home to the outdoors, they must make a wardrobe change. Now, it seems as if more lifestyle clothing is going to be available in outdoor-specific fabric.
Still, I'm not expecting to use this versatile lifestyle clothing on most distance backpacking trips in nature. But as an urban long distance hiker, I could see this lifestyle/outdoor crossover being useful for long hikes in a city. I could also see a benefit to technical lifestyle clothing on a casual day hike with friends.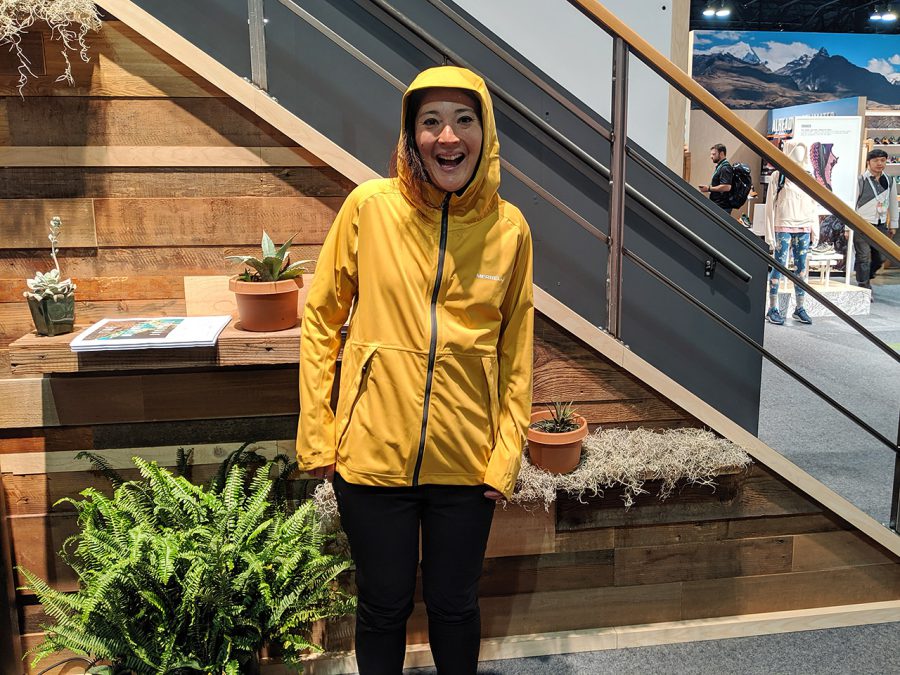 My favorite example of versatile lifestyle clothing was the Merrell Whisper Rainshell, a sweatshirt soft rain jacket that doesn't come with the associated crinkly noise of traditional rain jacket material. Still, I think most lightweight backpackers will prefer to have dedicated outdoor clothing, even if it is less stylish.
Plastic Free and Sustainability.
One of the other major themes prevalent at this year's OR was sustainability. More than 200 brands signed the Plastic Impact Alliance pledge to eliminate single-use plastic from their show booth at Outdoor Retailer. This reduced the amount of plastic cups and water bottles usually thrown away as trash at the show.
Similarly, many brands that I met with are introducing backpacks into their 2020 line-up made of recycled materials. Patagonia has always been at the forefront of recycled materials, but their newest program turns old fishing net into plastic brims for baseball hats. Camelbak, PacSafe, and Eagle Creek are also introducing recycled plastic into their backpacks, bags, and luggage.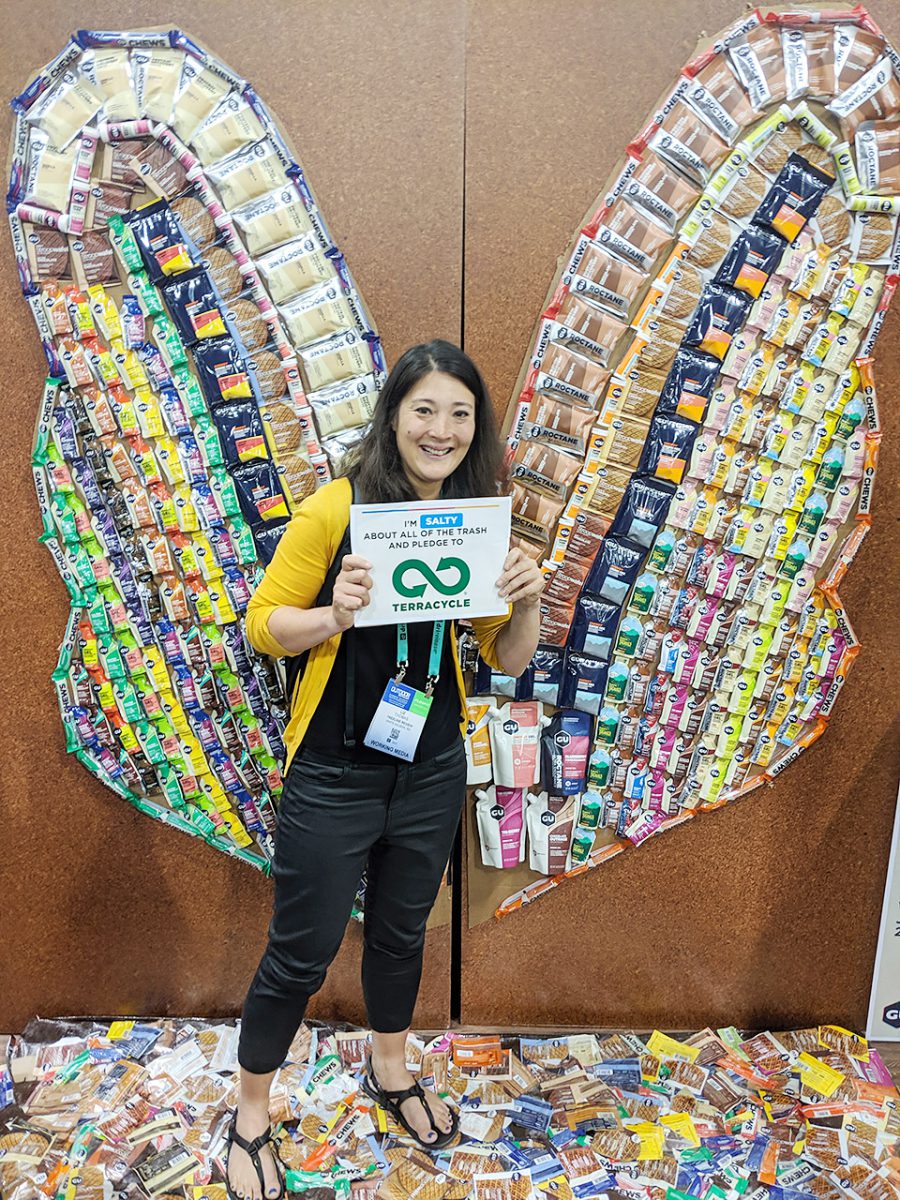 My favorite new recycling program launched at OR was created by GU, a sports energy gel. They partnered with a recycling company who will accept empty energy bar and gel packets and turn them into plastic. There's no need to clean the sticky gel off the wrapper. GU will send you a pre-paid shipping label and you can load a container or envelope filled with empty wrapper to the recycling company. My favorite part of the program is that you can send in any company's empty wrappers.
While recycling and reducing plastic isn't strictly related to long distance hiking, as outdoors people, it is important we do our part to reduce our impact on nature.
Some Innovation in Clothing
Among the big name brands at OR, Marmot seemed to be the major brand pushing weight savings in gear. They announced at 113 gram two-layer rain jacket. At that weight, the rain jacket is even lighter than the Z-packs Vertice Jacket, considered to be the lightest rain jacket commercially available.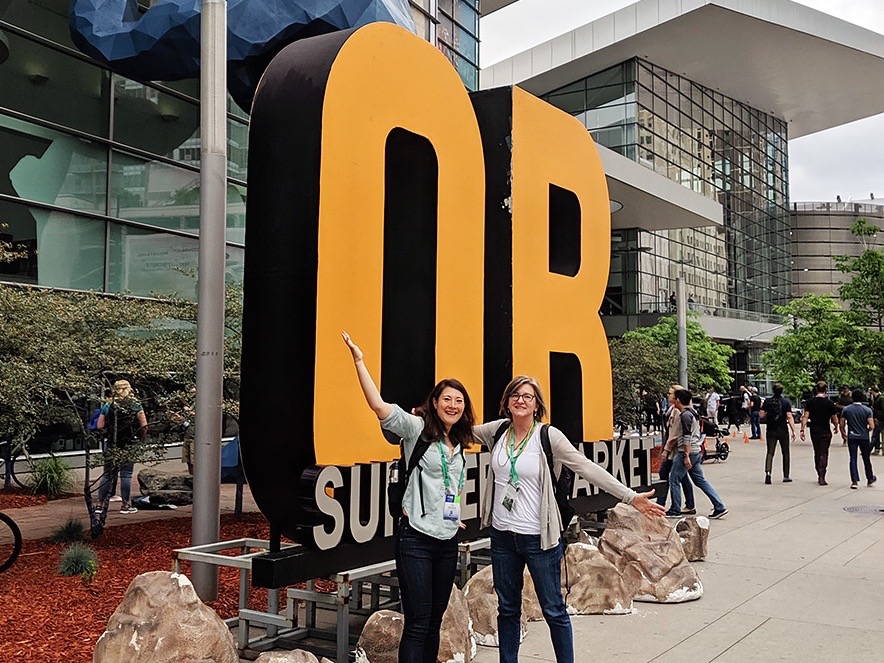 Patagonia also released a double zip version of its popular lightweight Houdini windshirt, a staple among distance hikers. The target market is fast and light ultramarathon runners who don't have time to remove their windshirt. The Double Zip Houdini stuffs into a pocket in the back easily without having to stop to take a backpack off. It also has two zippers in the front for increased ventilation and to regulate temperature. I can see these features appealing to some distance backpackers, but with two zippers, it weighs more than the one-zip traditional Houdini.
Hammock Innovation
TRAILS specifically asked me to keep an eye out for hammock innovation at Outdoor Retailer. Among the major hammock brands at Outdoor Retailer were Eno, Bliss Hammock, and Hennessy Hammock. Eno, founded by an Appalachian Trail thru-hiker, has been a longtime supporter of distance hiking and trail organizations. Hennessy Hammock is also popular with distance hikers and is the maker of the shelter I used on my two Appalachian Trail thru-hikes as well the Long Trail in Vermont. I hadn't heard of Bliss Hammocks, but they appear to make backyard hammocks as well as affordable camping hammocks for those who are less weight sensitive about their gear.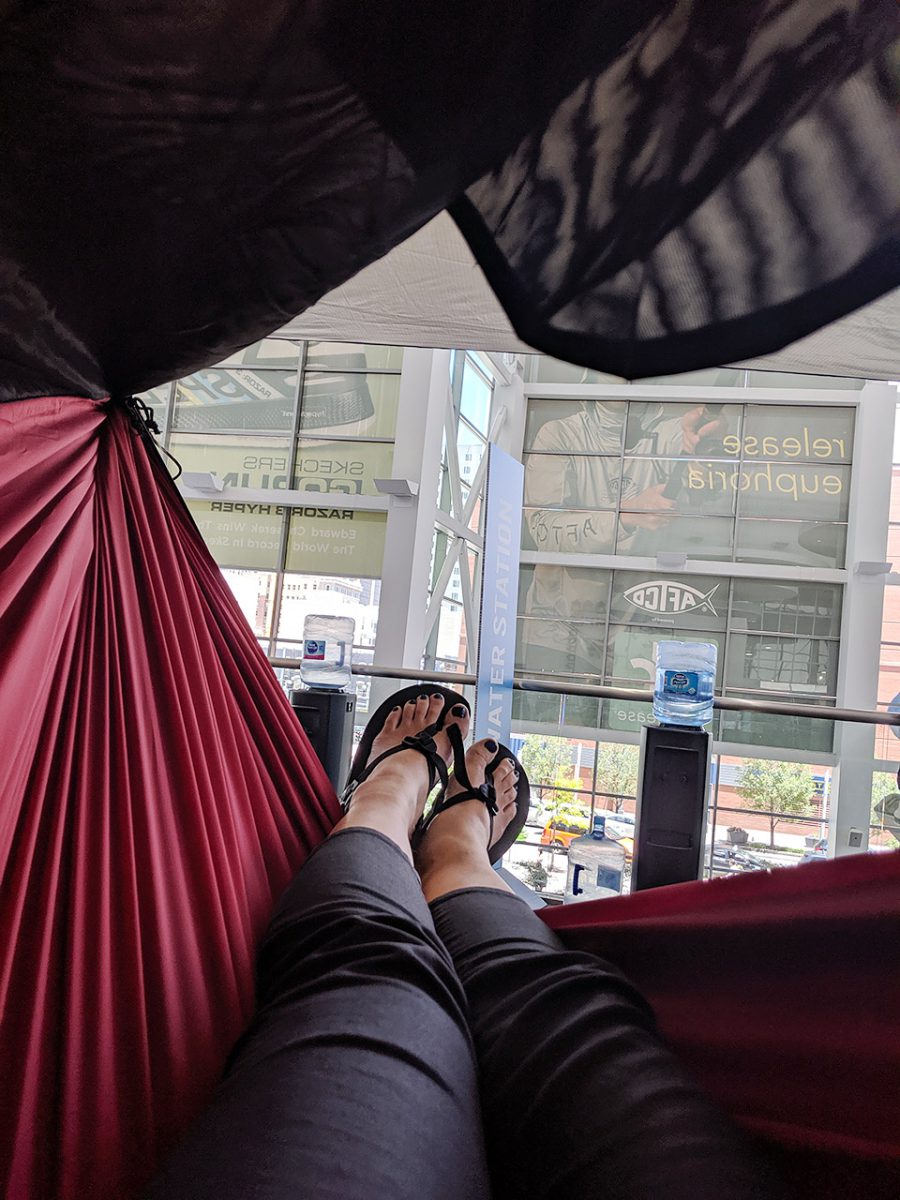 Eno's booth featured their newly released Eno Skyloft, a hammock designed to keep your back straight as you lie in it. Some people don't enjoy sleeping in hammocks because they don't like being "folded in like a taco." This design allows people to lay flat. However, it isn't as lightweight as their other models, weighing almost 1300 grams. This is in contrast to their Sub7 model which only weighs 184 grams. I still think most distance backpackers would prefer the 184 gram version.
Hennessy Hammock announced the release of their first four-season hammock, the 4Season Expedition Zip and 4Season Explorer XL. These are winter camping versions of their most popular hammock models. The four-season hammocks are designed to be a less expensive and less bulky alternative to using an underquilt on your hammock.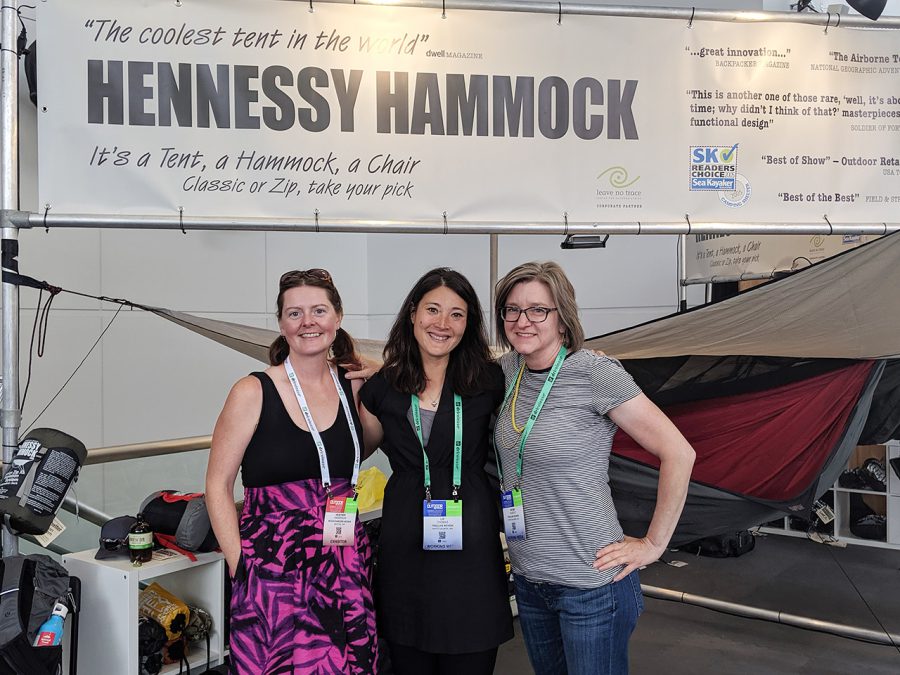 Hennessy says the winter hammocks are comfortable down to 4 C, although I have often used my Hennessy with a foam pad and no underquilt down to -4 C, so I imagine the right person could use this hammock in much colder temperatures. I took a short rest in the 4Season Expedition and found it felt like heat was radiating from under me. However, I was trying the hammock inside the Conference grounds, so even with air conditioning, it probably was no cooler than 19 C.
There will always be innovation in electronics
I think that when it comes to gear, the category that will see the most change in weight is electronics. Only a small subset of the population wants backpacking gear. And only a small subset of that population wants ultralight gear. But everyone uses electronics and everyone wants electronics that are lighter weight, more compact, and more powerful.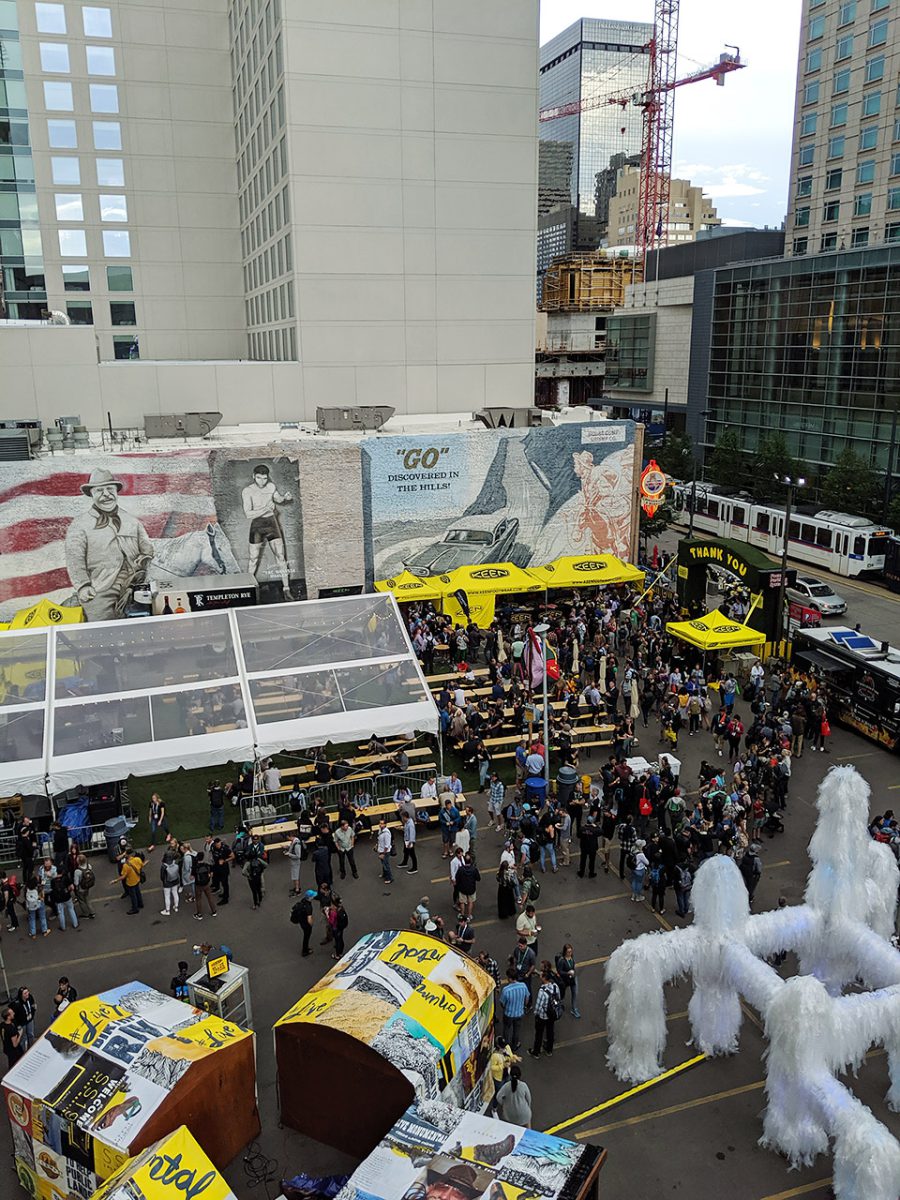 With that principal in mind, it was no surprise that I found a brighter, lighter weight headlamp at OR. Biolite released a new 45 g headlamp that runs for 40 hours and can be recharged via micro-USB. The Headlamp 200 comes with a cantilever design to reduce bounce when running or backpacking with the headlamp. It also has a white spot, white strobe, red flood, and red strobe light. I don't like it when headlamps have too many features, so four features seemed to hit a sweet spot of functional while not too many. At 200 lumens, it puts off some serious light. It is one of the lightest headlamps I've seen that doesn't just feel like an emergency light or keychain LED light. I'll be trying this one out in the future and am excited to see how it works while backpacking.
Conclusion
While OR didn't yield as much ultralight innovation as I was expecting this year, I'm looking forward to seeing what minimalist manufacturers are capable of when they partner together. I think the small companies working together again may be able to create something larger. Together, they can be a force working within the outdoor industry. I also look forward to the next OR show in November when cooler weather gear will be exhibited. Gear will always become stronger and more functional. As a distance backpacker, I hope that it will also continue to get lighter.
Related Articles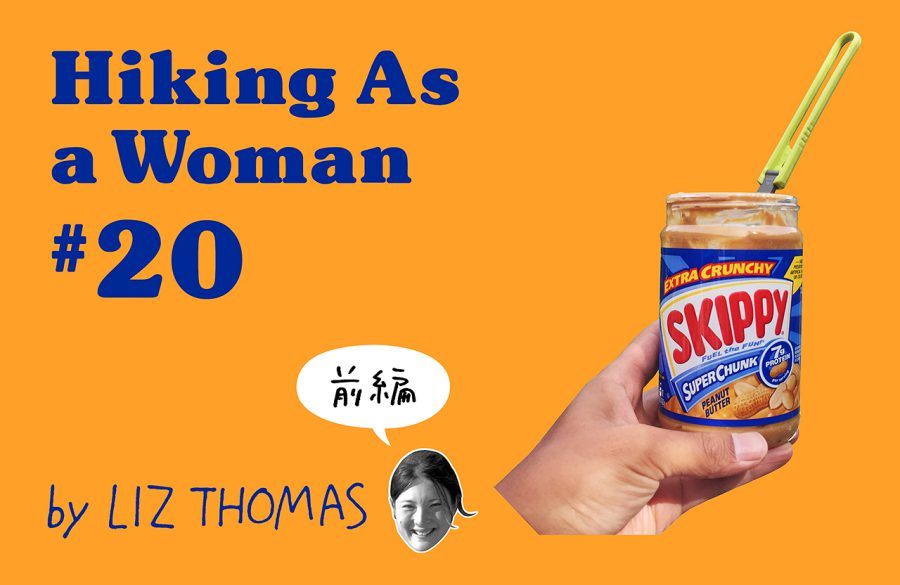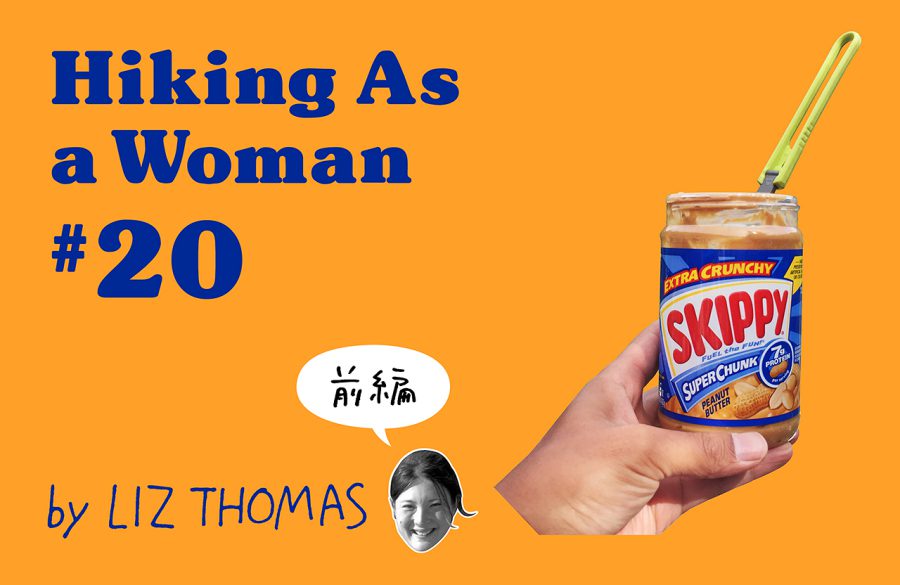 リズ・トーマスのハイキング・アズ・ア・ウーマン#20 / より長くハイキングするための方法(前編)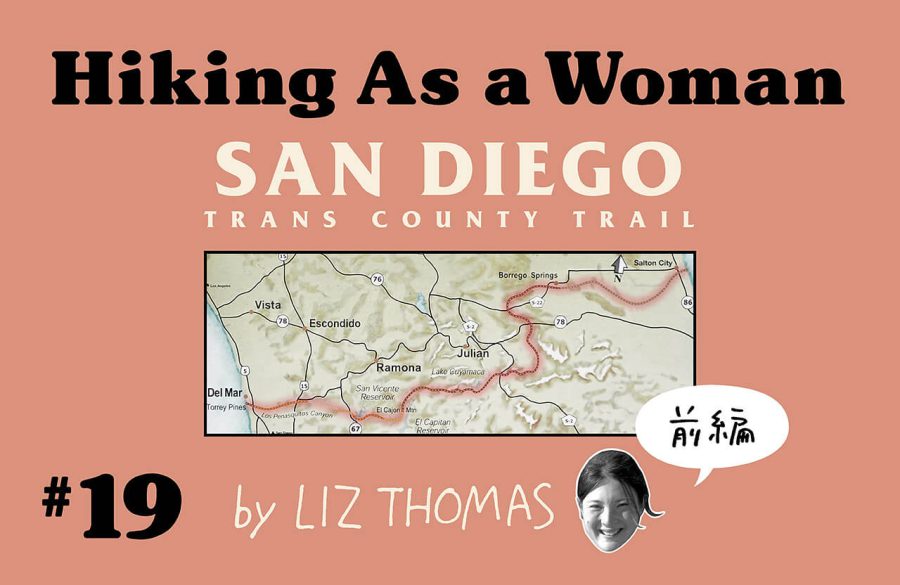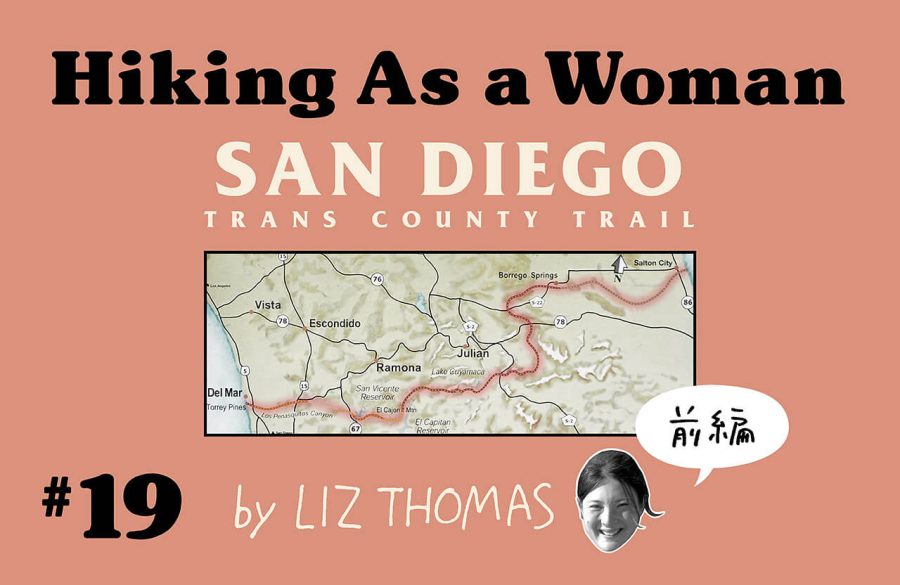 リズ・トーマスのハイキング・アズ・ア・ウーマン#19 / サンディエゴ・トランス・カウンティ・トレイルのスルーハイキング(前編)
TAGS: