TRAILS REPORT
パックラフト・アディクト | #45 ボレンストレーク(球根地帯)のチューリップ畑を満喫するパックラフティング
2021.07.16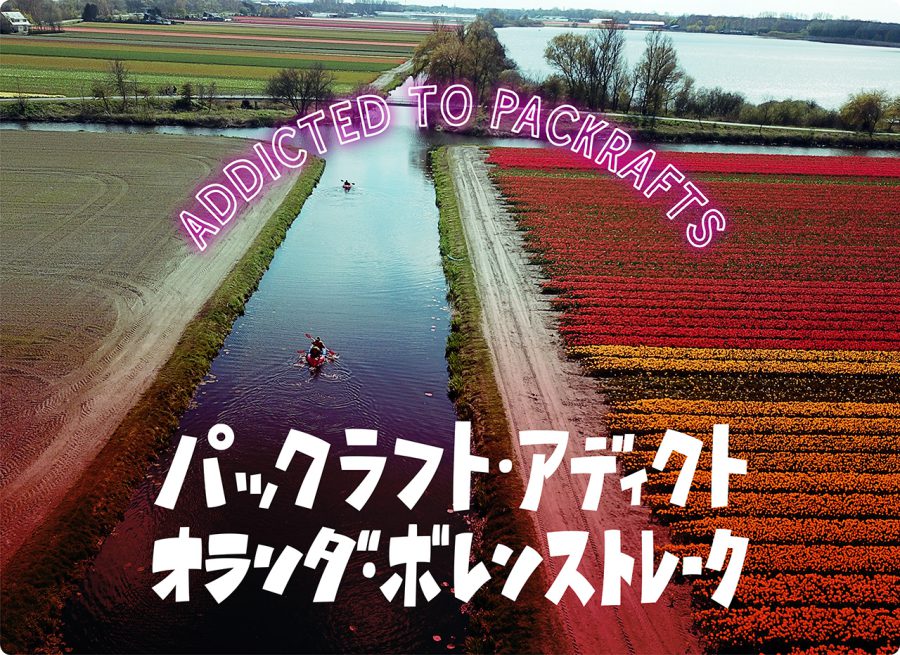 Ultimate Dutch Packrafting Experience: Flower watching in a packraft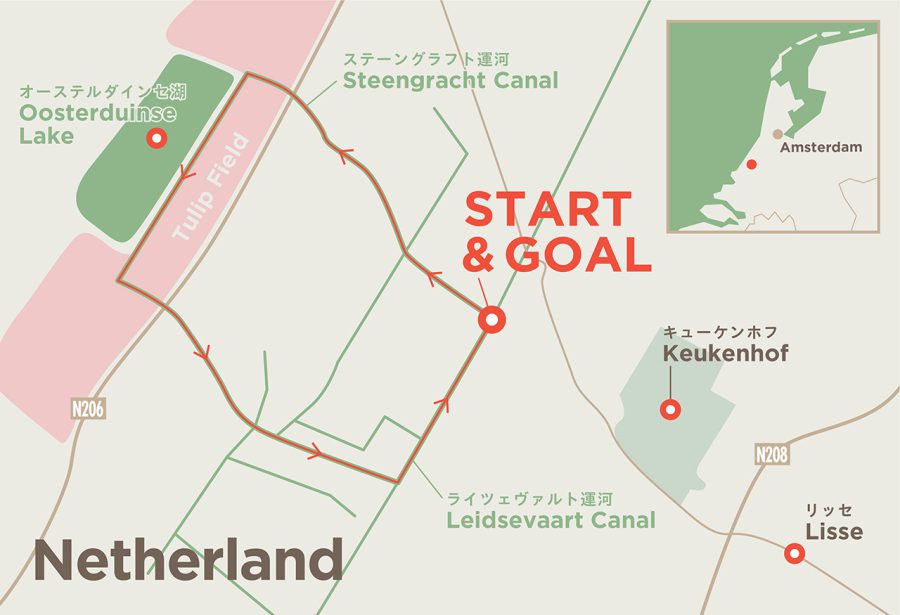 When people think of the Netherlands, there are a few things that come to their minds. This could be world-famous Dutch cheese, iconic windmills, never-ending canals or even traditional wooded shoes – the clogs. However, the #1 Dutch 'icon' is undoubtedly the tulip. Brought to the Netherlands in the middle of the 16th century, over the last several centuries this flower inspired artists, brought and destroyed people's fortunes and is still the reason why millions of people flock to multicolored fields each spring to enjoy the spectacle of color in this uniquely Dutch flower-viewing way.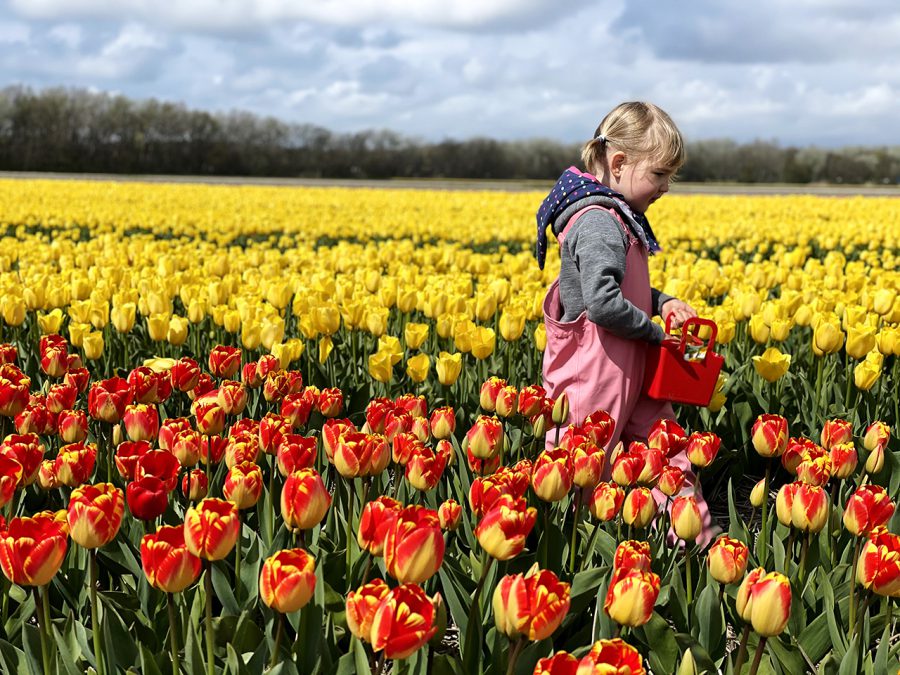 This year I decided to join them too, but unlike the myriads of people who came to view the flowers by car, bike or on foot, I used my packraft to do it.
I had this idea to packraft through the tulip fields for a while already – as there are so many big and small canals or ditches that go through and next to tulip fields, it was just natural to combine the two. I even made an attempt to do it two years ago. And while it was a nice day out with my family, I failed to find a nice route through the fields. That's why it did not feel like a complete success, which left me wanting me.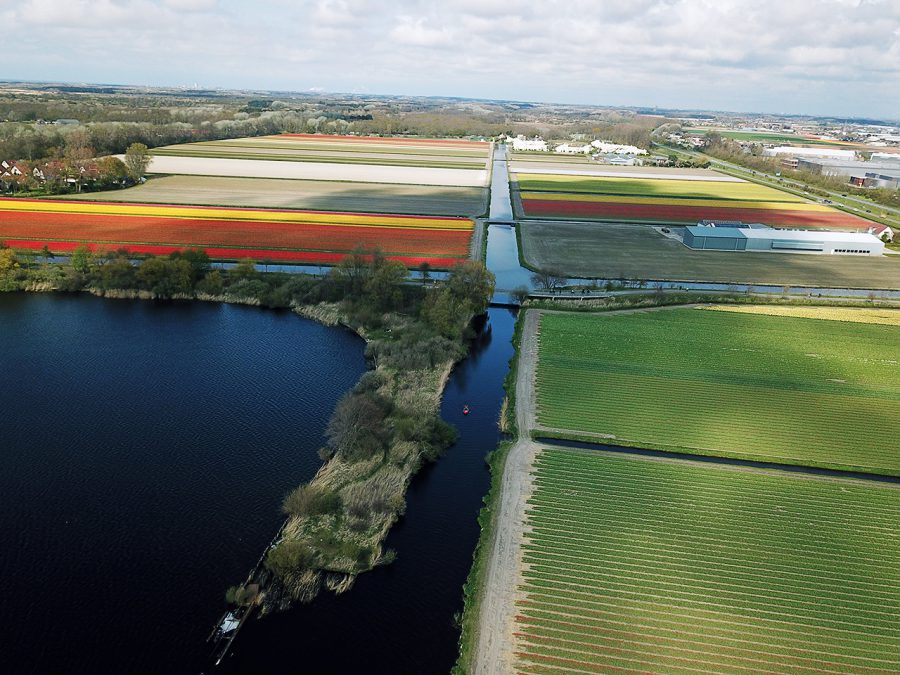 So, earlier this year, during our trip on the Dinkel (please see the article about this trip), I shared my idea with Didier, one of my Dutch packrafting friends, who liked it at once. As he happens to live in the province of South Holland, which is one of the places with most tulip fields in the Netherlands, he proposed that later this spring I would visit him, and we would go paddling together. "This will be an ultimate packrafting experience," we agreed.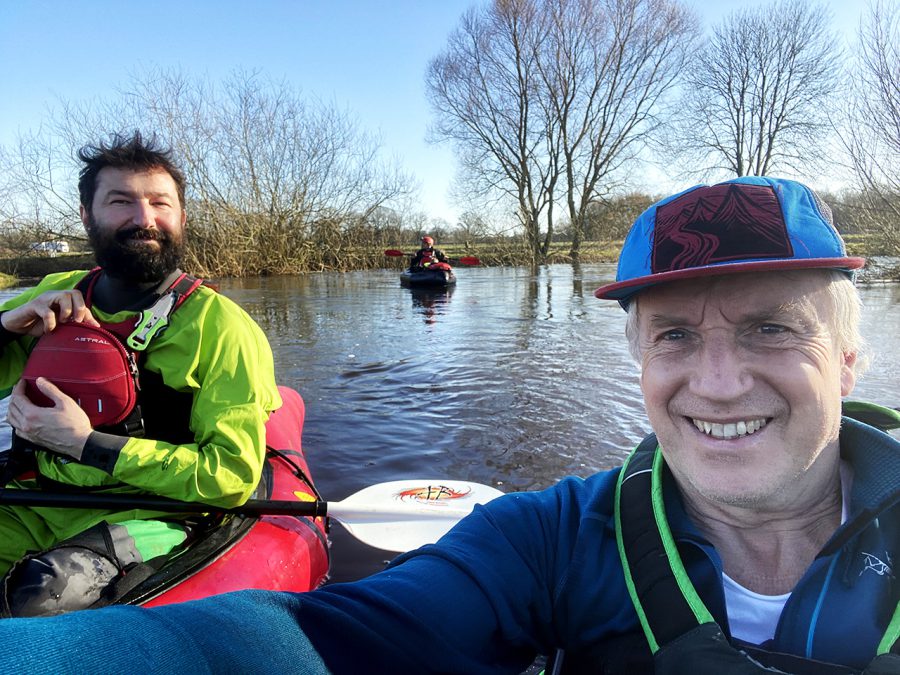 Usually, the tulip season runs between late March until mid-May, with the best time to view the flowers being the middle of April. However, as this spring was rather cold, the flowers were not in any hurry to bloom and even in the middle of April there were hardly any to speak of. "Not yet," Didier would write to me in the chat as he could see the tulip fields not far from where he lives. Finally, at the very end of April he wrote to me "The coming weekend would be a good moment to do it. The tulip fields look really nice." And so, we made a plan to meet on Sunday, May 1 in the vicinity of the town called. And of course my daughter Helena and my wife Marta came with me as well.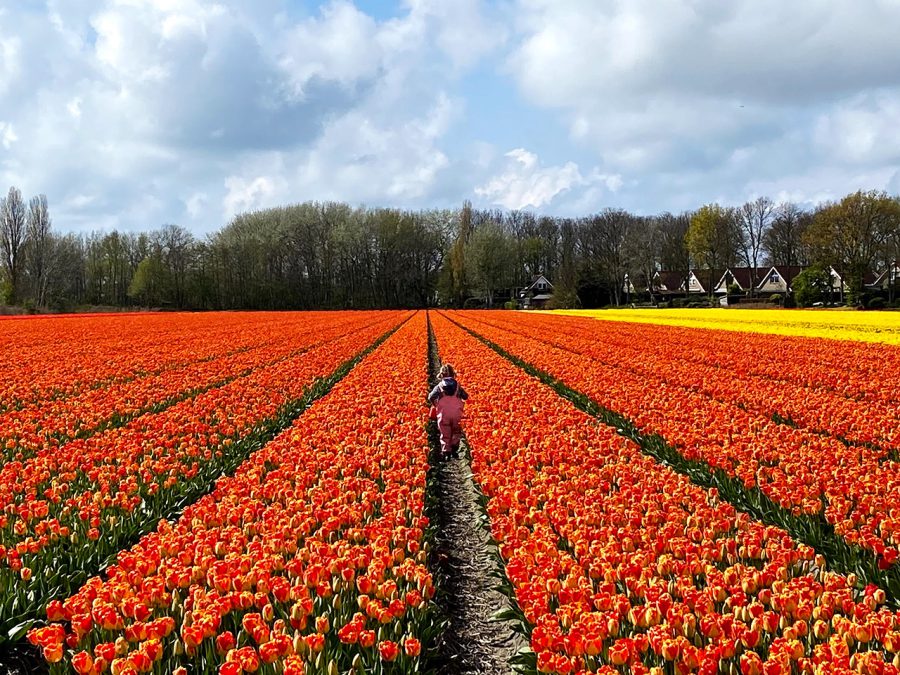 Even though this is a relatively small town, Lisse is known for the Keukenhof gardens – the world-biggest flower park where annually around 7 million flower bulbs are planted. While open to the public just for 8 weeks each spring (with the exception of Spring 2020, which was due to the Corona pandemic), it attracts close to 1.5 million visitors, which makes it one of the most popular tourist attractions in the Netherlands.
To see tulips, however, you do not need go to Keukenhof itself as the whole area is called the Bollenstreek (Flower-bulb Region). That is why, to be able to enjoy the tulips in a less crowded setting, we made an agreement to meet on a small road next to the Leidsevaart canal, where we could leave our cars.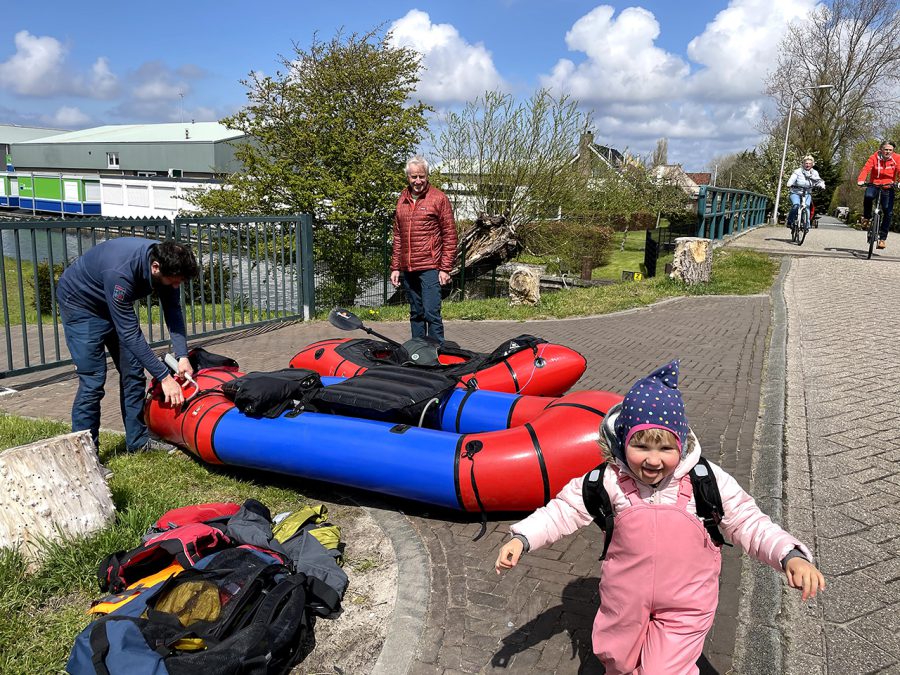 When we arrived there, Didier was already waiting for us, his packraft already inflated. To explain the route that he had in mind, he showed us a paper map of the Bollenstreek, which also had indications of where the tulip fields could be. The idea was to paddle north-west along the Steengracht Canal, then turn south-west and paddle next to the Oosterduinse lake, before taking some small canal to paddle south-east up to the Leidsevaart canal, a short paddling distance away from where we parked our cars. "It is just a short route and should take about two hours," apologized Didier. For us, however, it was perfect as we were not sure if Helena, who was just about to turn three and a half, wanted to spend more time in the boat. While we were inflating our Oryx, she was happily running around, excited about the trip.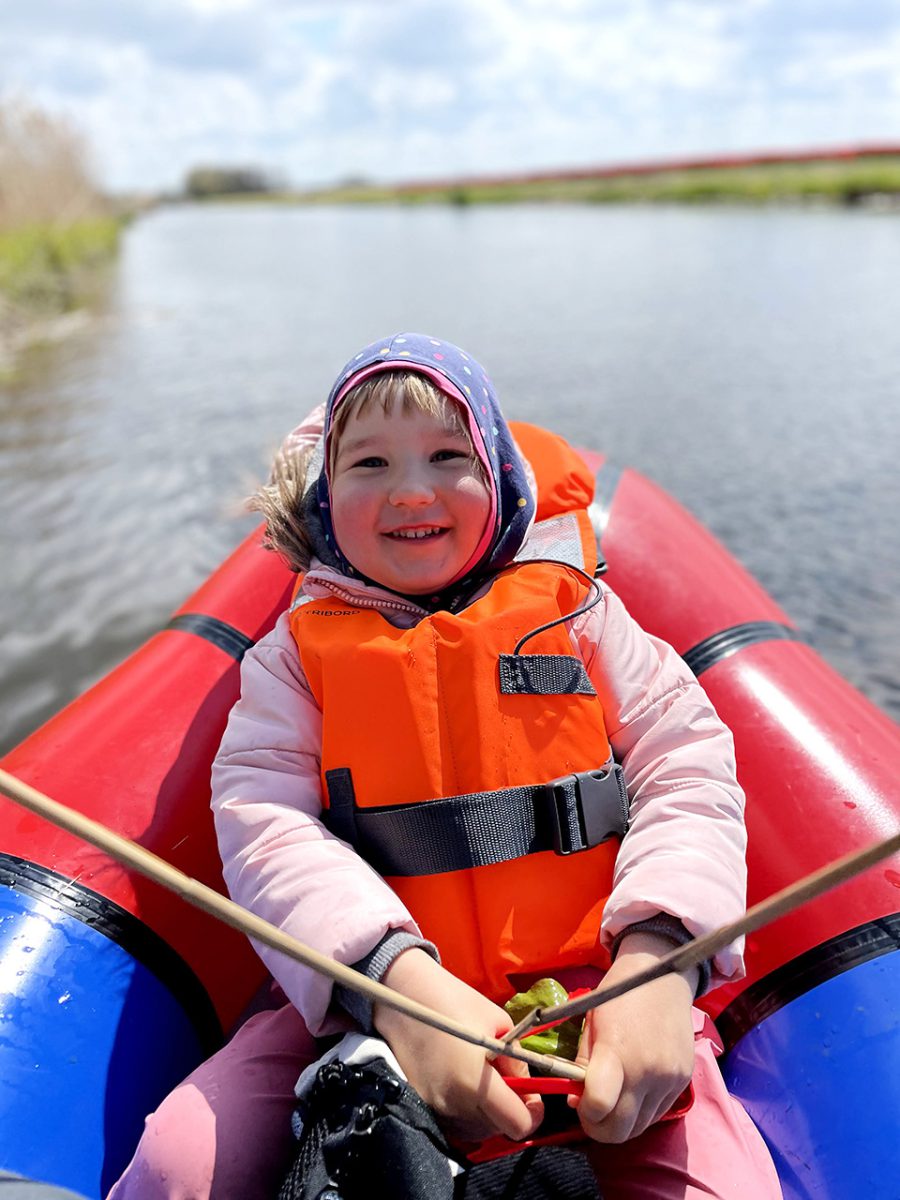 Even though it was sunny, it was relatively cold as the wind came from the North. It also made our progress rather slow. Still very soon we were already next to our first tulip field. More fields followed. Beautiful cumulus clouds floated in the bright blue sky over yellow and red sea of tulips. A huge smile never vanished from Helena's face. She picked a stalk from rushes that grew on the side of the canal and was teasing her parents (us) with it.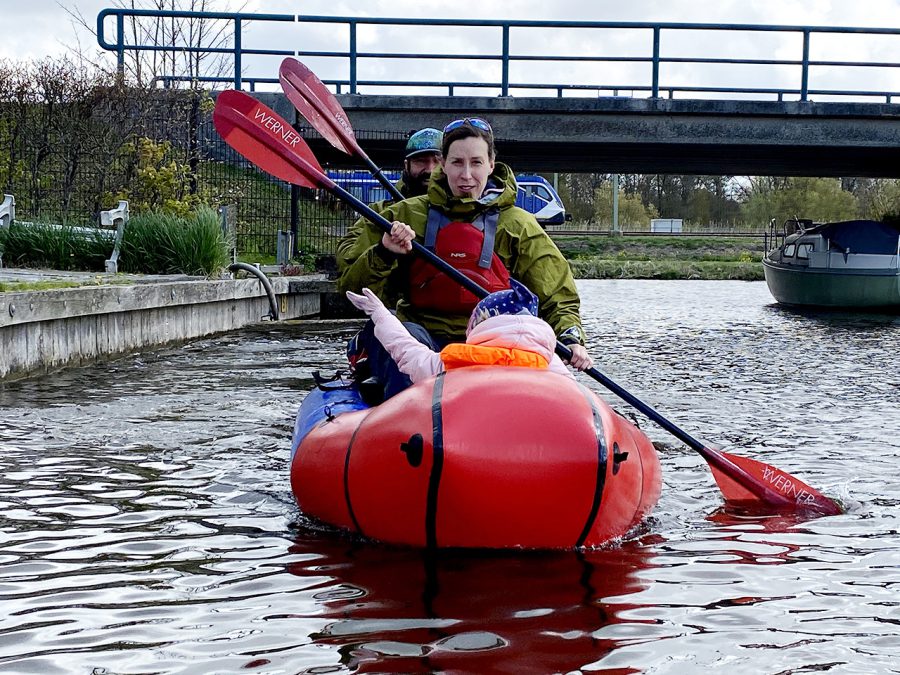 Just half an hour into the trip, we came across our first obstacle – a low car bridge that connected a farm to the road on the other side. It was the first bridge of many that we have encountered on this trip, and we were very grateful that we had packrafts and not heavy canoes. Portaging over that bridge gave Helena a chance to run around a bit and get rid of pent-up energy.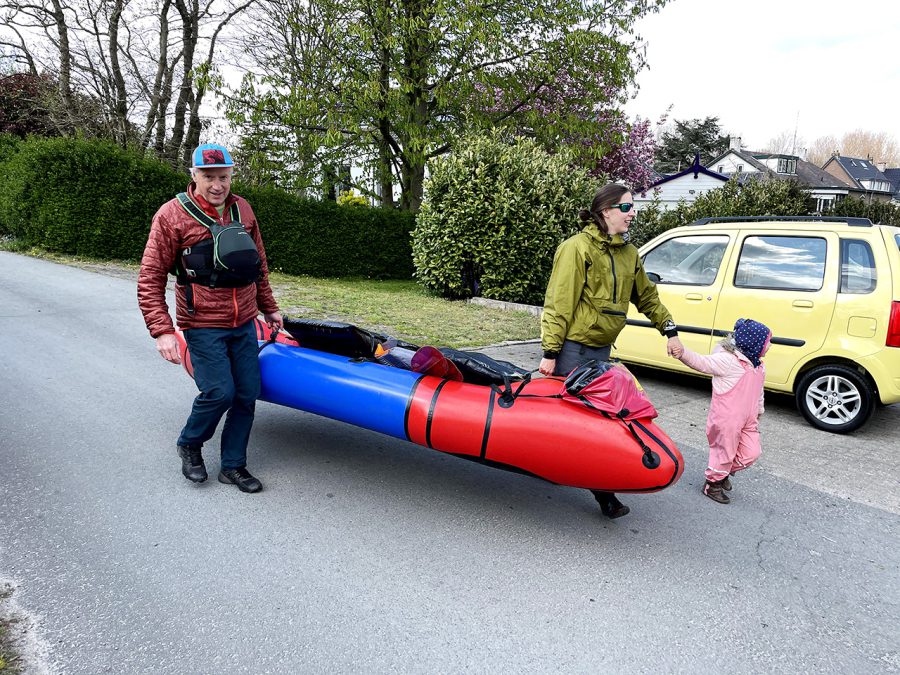 Just a bit further, we paddled under a large car bridge over to the other side of an expressway. Immediately after it there were some tulip fields, where we decided to stop for a picknick. Tulips of different types and colors were planted in long narrow rows. We all thoroughly enjoyed this view. Helena, especially, seemed to enjoy herself a lot. She walked between the rows collecting cut flowers and petals putting them in her 'treasure' basket. (As most tulips are grown for bulbs, it is parts of the process to cut off flowers and leave just stems and leaves.)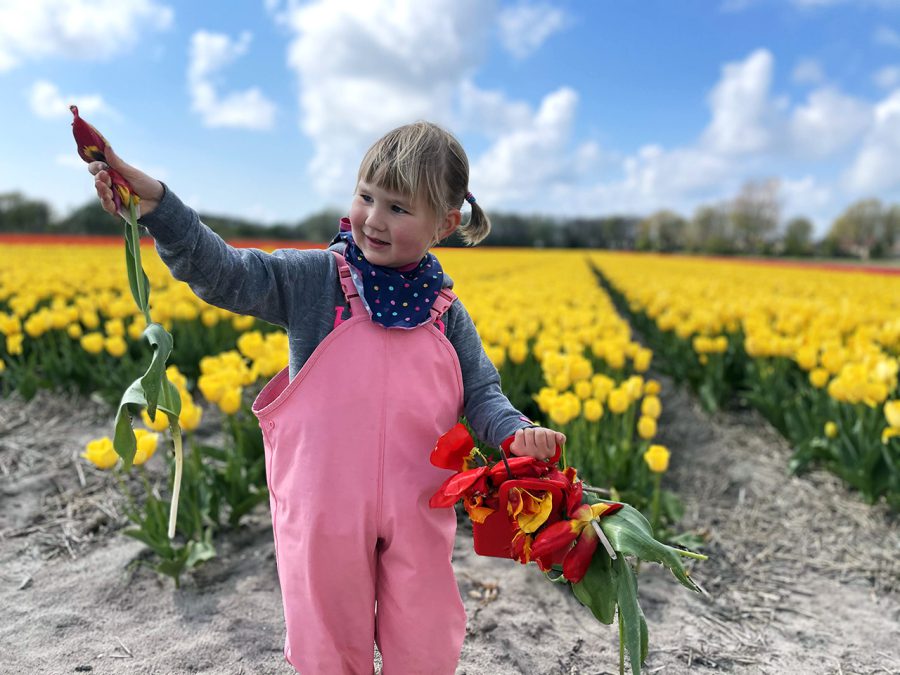 While Helena in her pink waterproof trousers was busy looking like a happy farmer, Didier surprised us with a lunch that he prepared for all of us (including some Dutch cheese). I took out a drone and tried to get an arial view of the fields.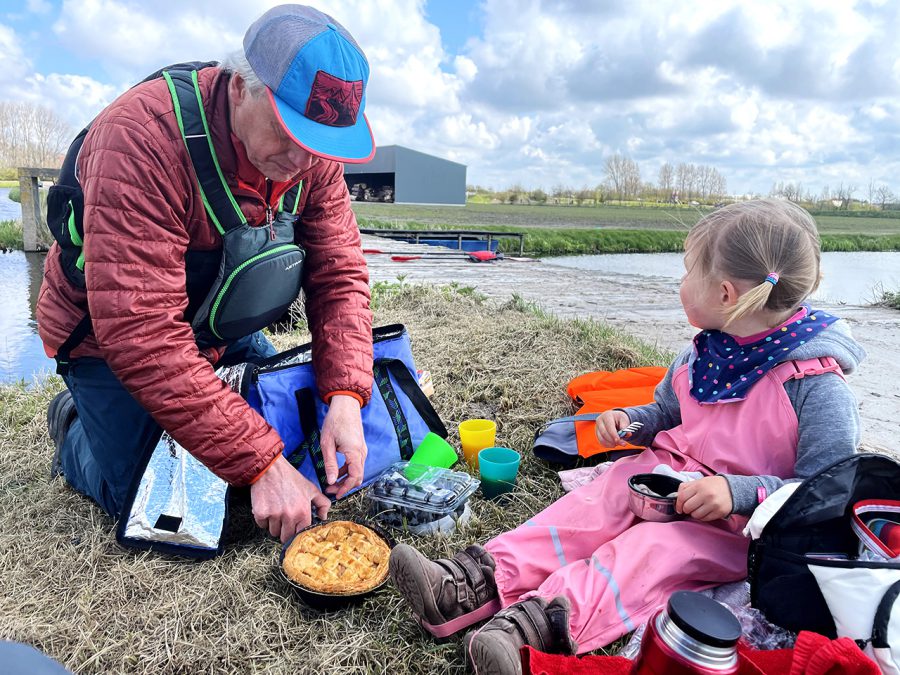 Our improvised flower-viewing party was interrupted by the wife of the farmer, who came out to pick a few tulips. At first, she was not very pleased to see us, as in the recent years tourists have been causing a lot of problems as they would trample and damage the fields to get their 'perfect shot' for the Instagram. However, seeing that we were not really damaging the flowers and were just having a picknick on a side of a canal, she changed her attitude and even answered some of my questions. Still, it was time for us to leave.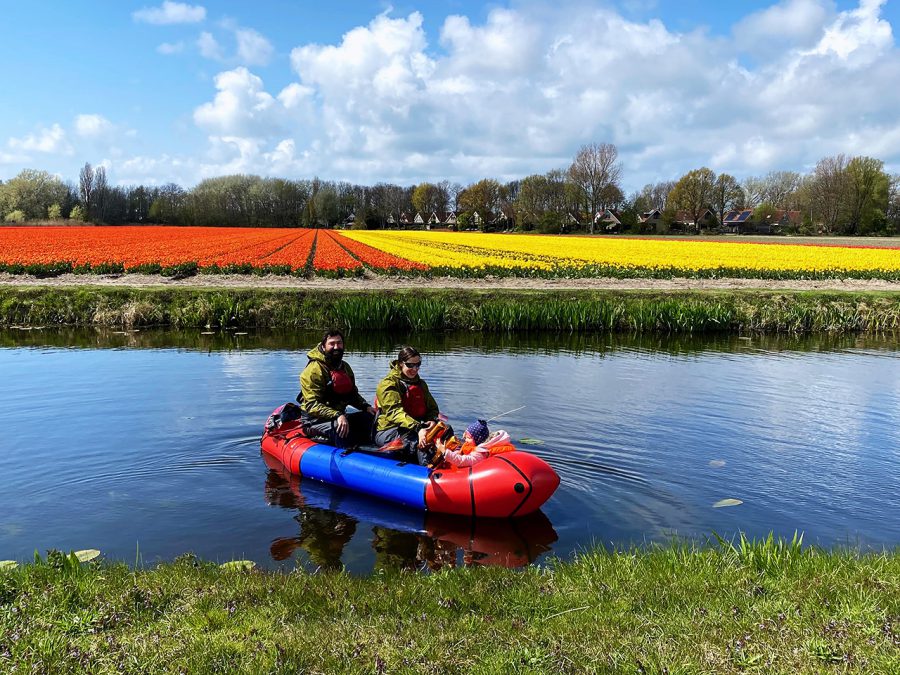 Having turned south-west, we paddled further with the lake on one side and more tulip field on the other. Didier, who looked at the map, proposed that we should take a shortcut. This presupposed that we would need to portage our packrafts over the expressway, take them through a village and to another canal on the other side. Helena, who got tired from the overflow of positive emotions, fell asleep.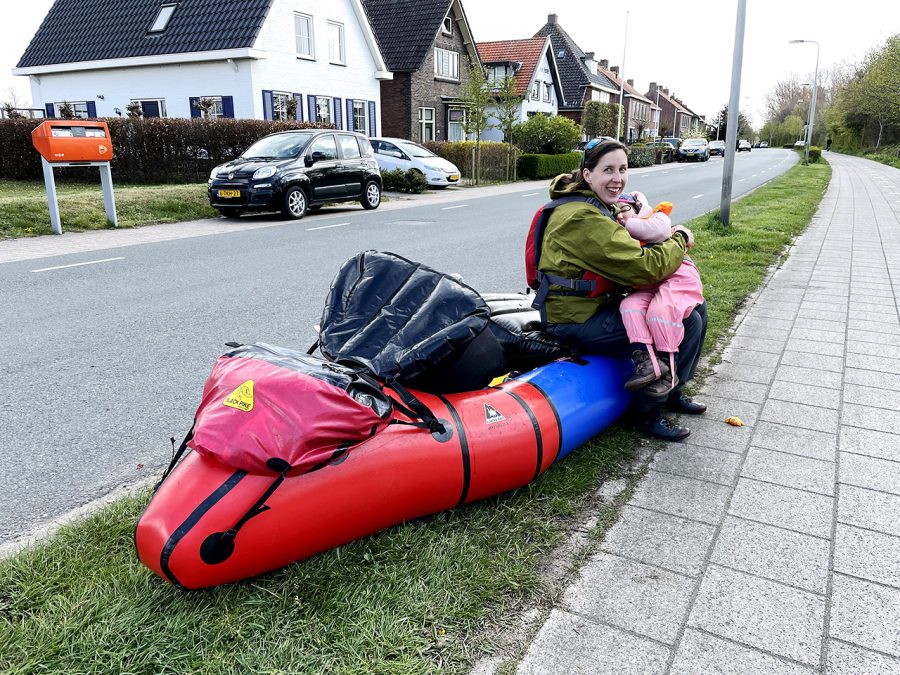 That is why, when we reached the point where we had to start the portage, we took our packraft out of the water together with her still sleeping in it. Just a short distance further we found a good place to cross the road and Marta took Helena in her hands, while I took care of the packraft with the help of Didier. Once on the other side, Helena woke up, which made getting into the boat and onto the water easy again.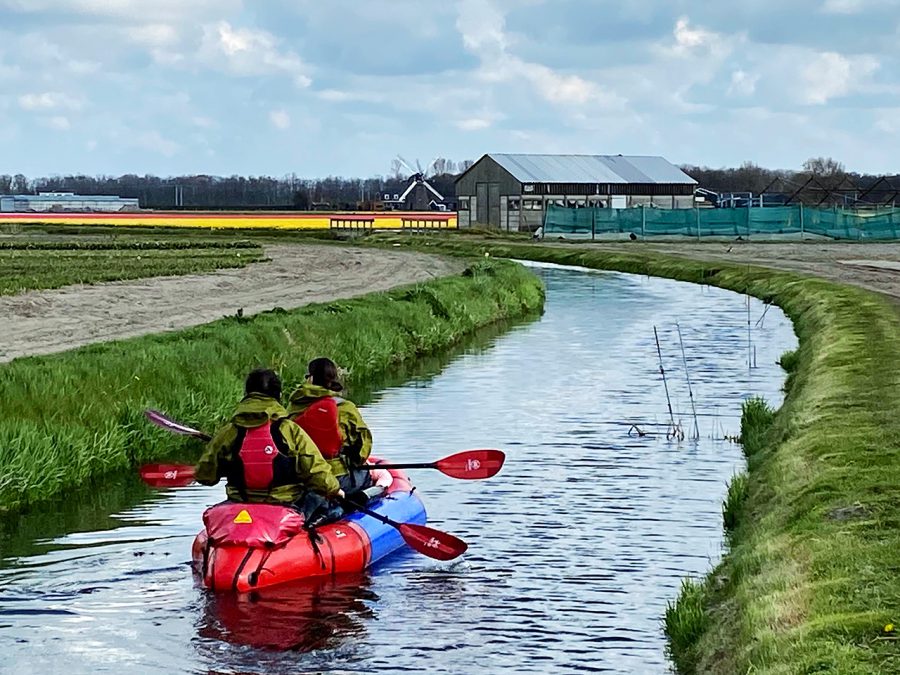 Further on, we had to portage over several more bridges and small sluices. We also saw a traditional Dutch windmill spinning in the wind.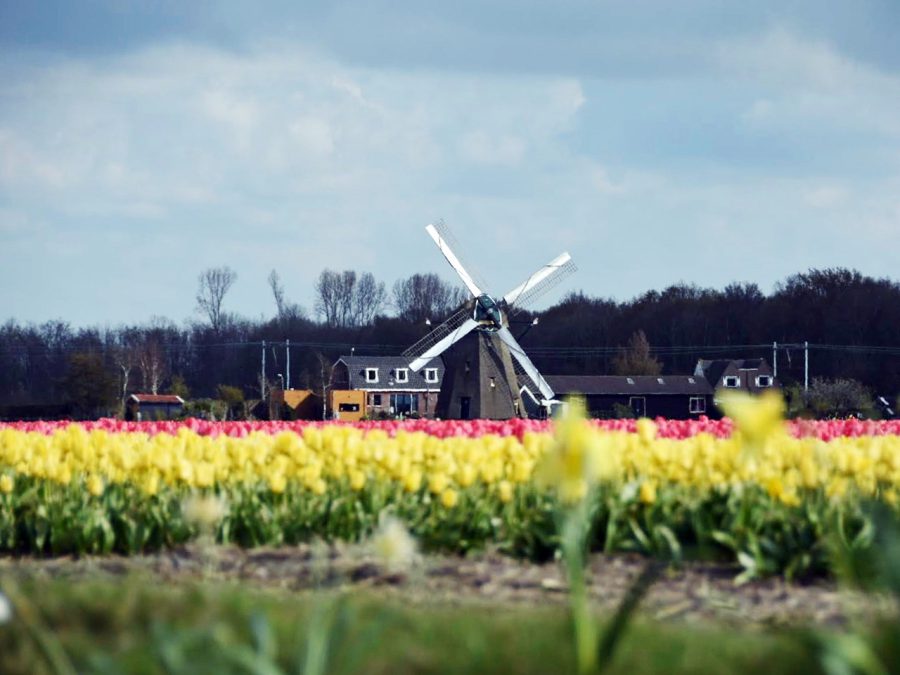 We got back to the starting point and our cars almost exactly four hours after we started. Even though it was just a relatively short trip of only 6.7 km, it was still truly an 'ultimate Dutch packrafting experience." We paddled packraft that resemble clogs (wooden shoes) over different canals, had some Dutch cheese for lunch, saw a windmill and enjoyed endless millions of tulips that shared the joy of color with us albeit for just a short moment.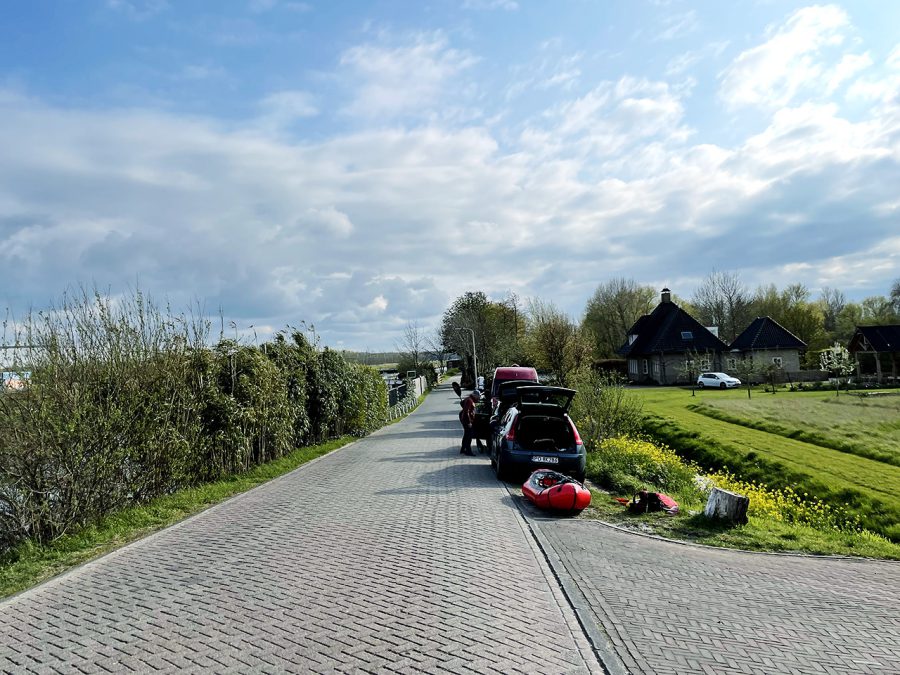 TAGS: