AMBASSADOR'S
パックラフト・アディクト | #53 ポーランドのブルダ川で、子連れのパックラフティング & キャンピング 3 DAYS
2021.10.06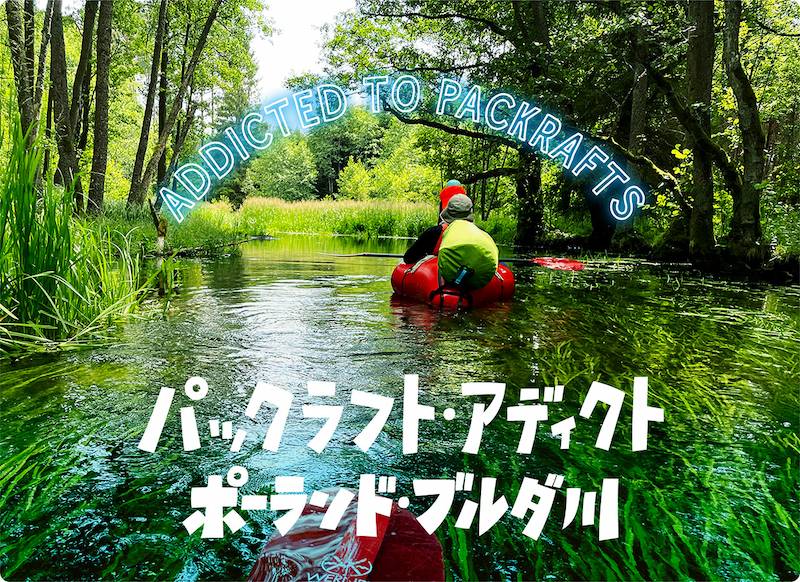 Three days on the Brda in Poland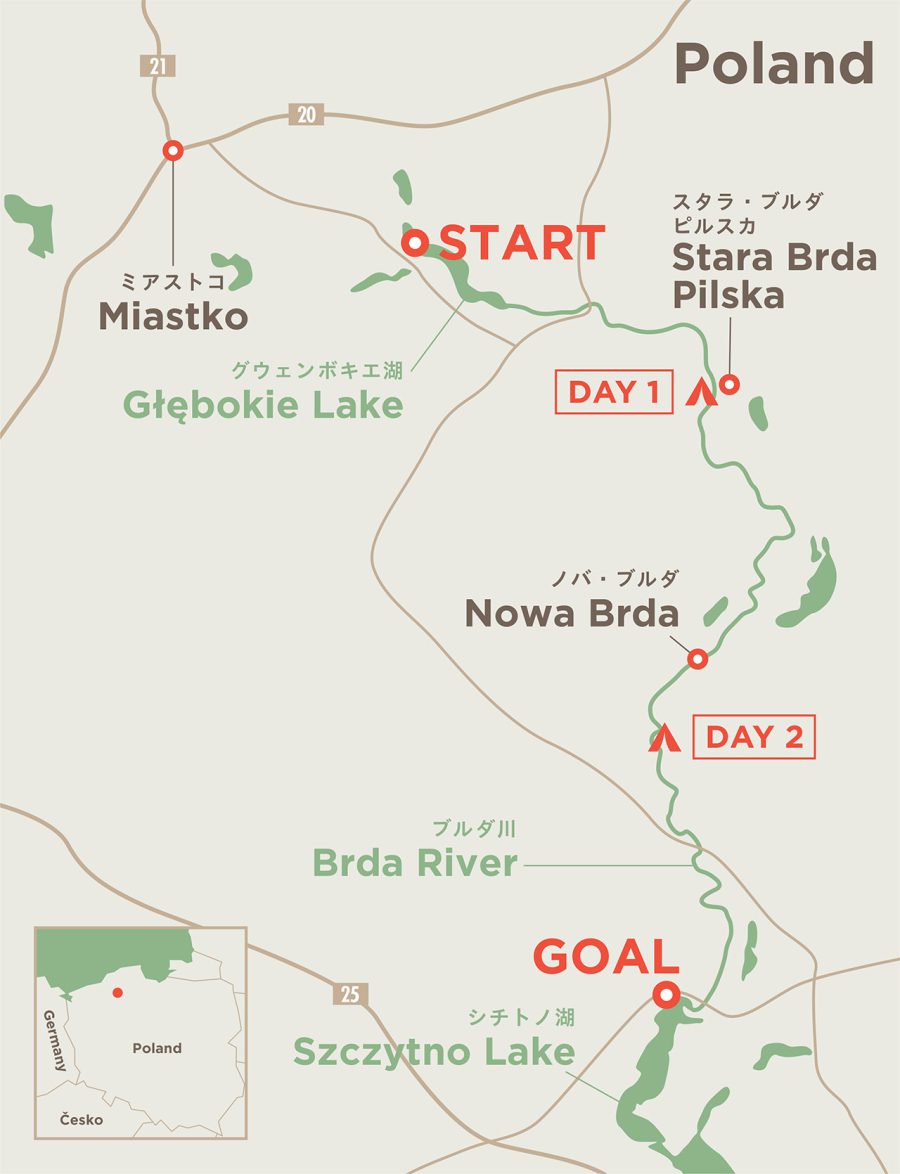 At the very beginning of September, I was contacted by Kasia, who asked me to send her a few pictures with her son, Jan, from the paddling trip on the Brda. "He is preparing a presentation for tomorrow's school," she explained.
Kasia is one of the best and oldest friends of my wife, who I also know for many years already. The trip that she referred to was a three-day packrafting trip that I had with her husband, Krzysztof, and their 8-year old son, Jan, in July this year, when both of our families spent a week together at a guest house in the Kashubian Lake District in the north-west of Poland.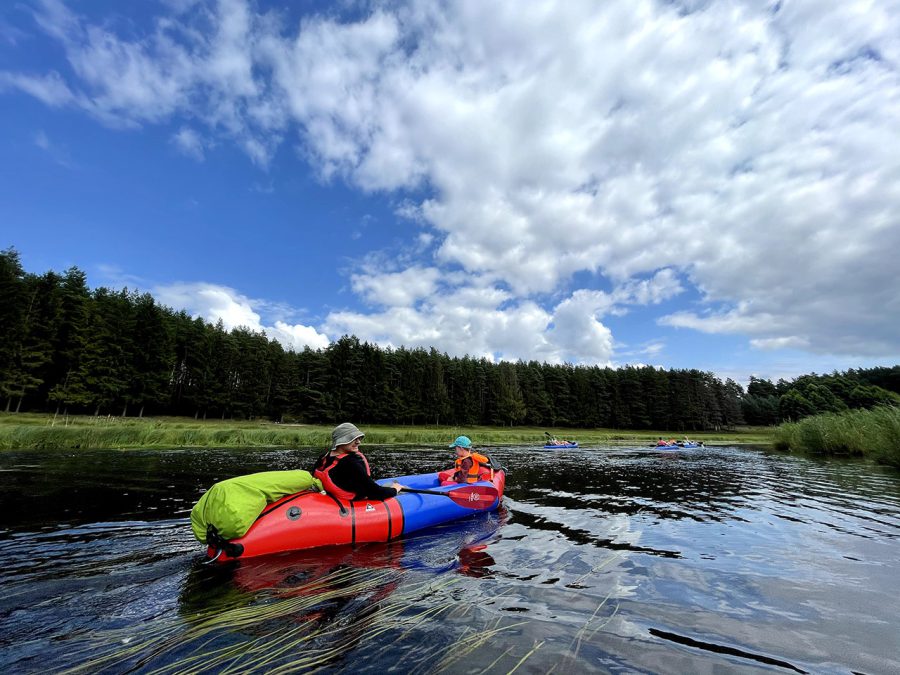 This beautiful rural area boasts over 500 lakes and is the place where a number of well-loved Polish 'paddling' rivers originate. One of these rivers is the Brda, which is believed to be one of the most beautiful kayaking routes in the country due to its diversified, winding course, abundant forests, picturesque lakes and primeval nature.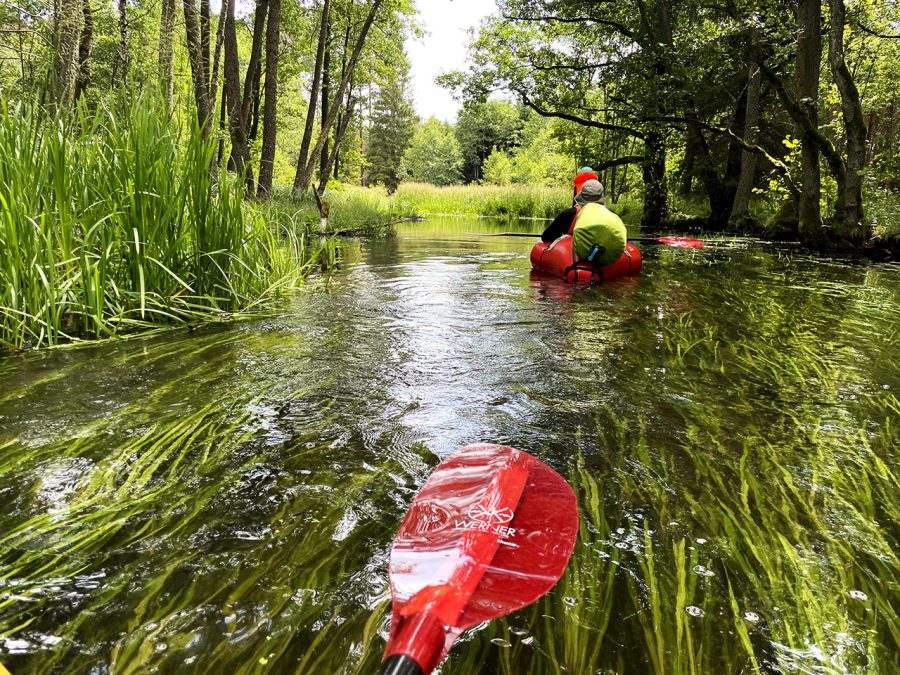 It is possible to paddle the river for over 233 km from from Świeszyno (the Brda flows into the Głębokie Lake there) to Bydgoszcz, at the mouth of the Vistula. There is also a very well-established infrastructure for water sports enthusiasts, with regular signposting and organized campgrounds. As most of the area the river flows through is not densly populated, the water is clean and there are a lot of species of fish that can be found there.
When planning our stay at the guest house, my wife, Marta, knowing how much I was yearning to go on a packrafting trip, asked me if I would be interested to take Krzysztof and Jan with me. I liked the idea a lot as I am always happy to share my passion for packrafting with others. And it also meant that I would have a good company as well – what's not to like?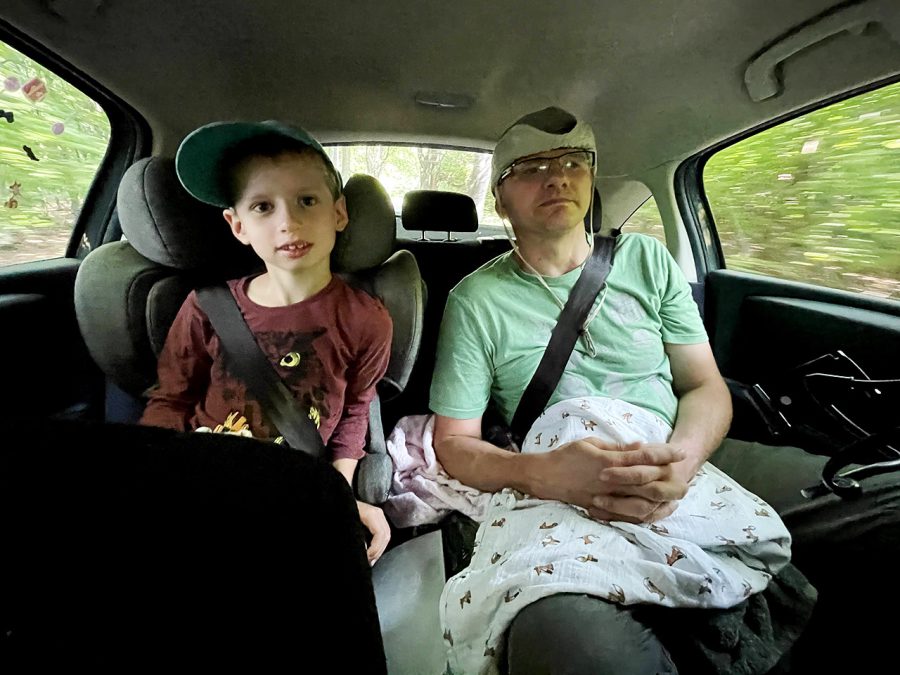 Even though in the past Krzysztof did a lot of kayaking (mostly flat-water as there is not much to choose from in Poland anyways), he hadn't paddled for more than ten years. Work, family, three kids and building a new house had taken most his time. That is why when my wife suggested to help Kasia to stay with their other two children (they wanted to catch up anyway) and let "the boys go play outside", Krzysztof did not have to be asked twice.
Originally, when preparing for the trip, I was planning to go paddling another river, which was flowing through the lake at which the guest house was located. However, Krzysztof, who was familiar with the area, suggested the Brda as he had paddled it some 20-25 years ago. Upon reading more about it on the internet, it seemed to be more suitable for paddling with a child as well (I did not want a repetition of my last year's struggles on the Lobzonka – please see my earlier article) and we decided to go with it.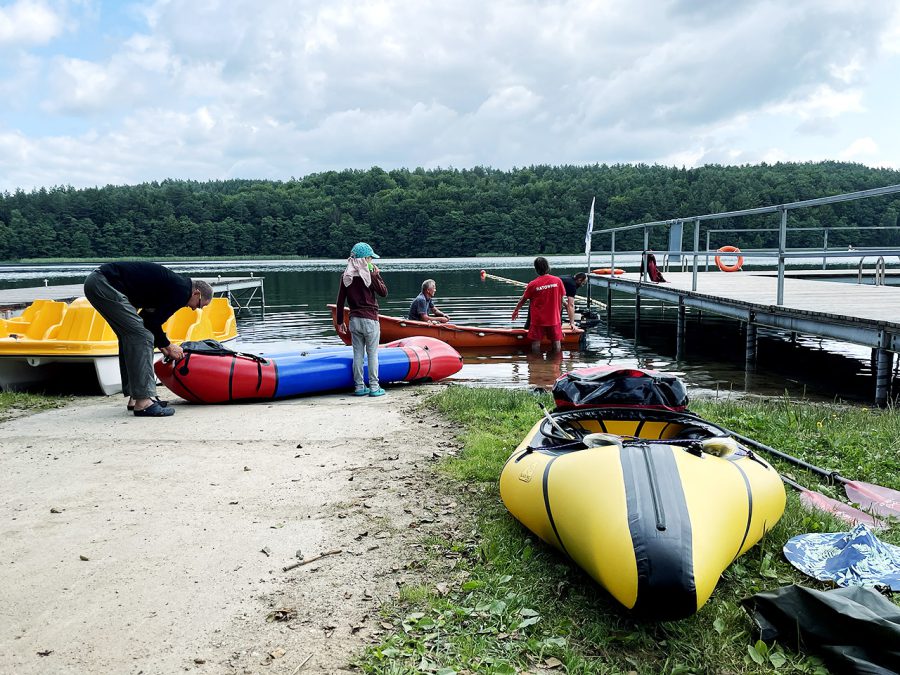 The idea was that the father-and-son duo would take my Oryx by Alpacka Rafts and I would paddle a one-person packraft – a Russian-made Black Pike Advanced. To make sure that Jan, for whom it was his first time to go on a paddling trip (and the first time to sleep in a tent), was ok with this, we went on a short paddle on the Głębokie Lake (which literary means "Deep" Lake), which Krzysztof remembered was the starting point.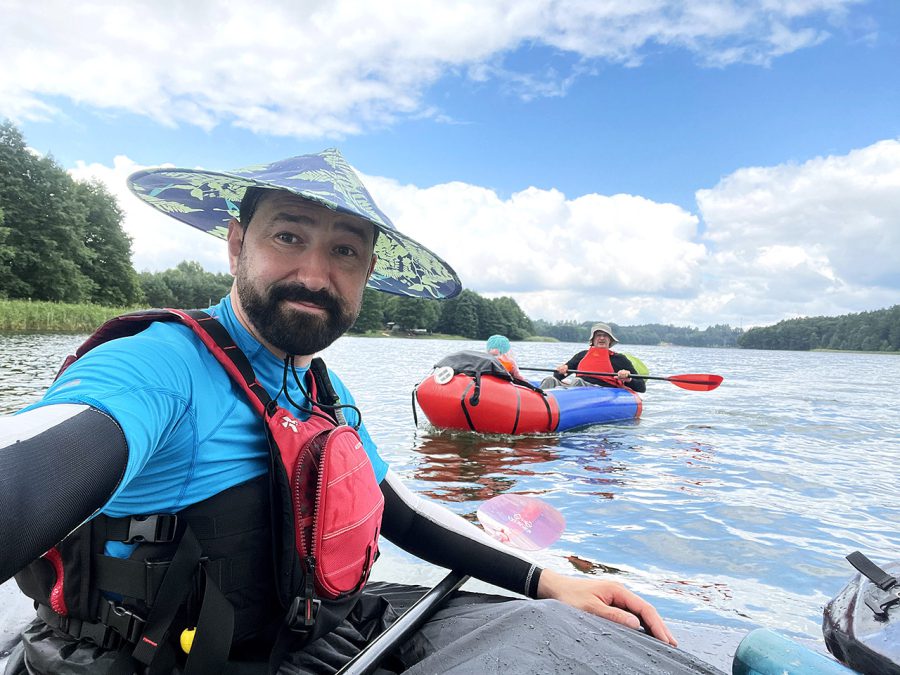 This test run also helped to fine-tune the sitting position for him as he did not really like to sit so high up and preferred to sit inside the packraft itself (we used a spare seat from a different packraft for it). Jan seemed to enjoy the experience (especially as he did not have to paddle) and it was decided to start the trip the next day.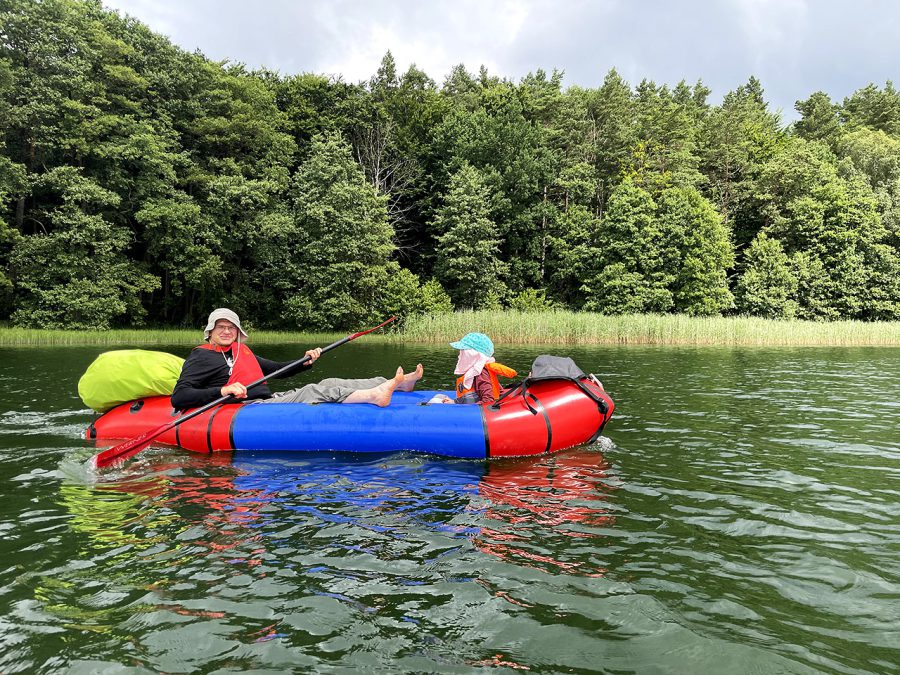 What we agreed on with our wives was that we would get two days on the water. As we did not know how fast and how far we would get, we agreed that we would contact Marta on the second day and let her know from where she should pick us up. And so, with this agreement in mind, we set off from the same point on the Głębokie Lake, where we tested the pachrafts the day before. The weather was nice, it was not too hot nor too cold, and it stayed that way for almost who whole trip – it drizzled a bit only once.
After we left the lake (we were lucky to go with the wind), we entered a forested area. The river here was rather shallow and we could hear and feel our packrafts scratching against the bottom. Often, my low-volume packraft designed for white water had more problems with this than a large two-person Oryx with one grown-up and one child on board.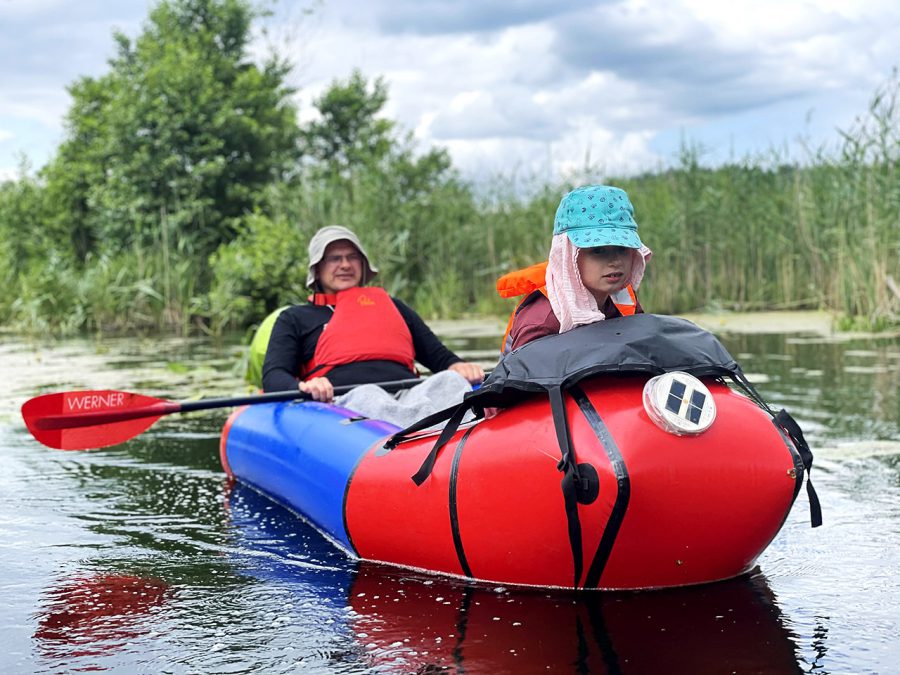 It also helped that Jan, who refused to paddle – we even left his paddle at the guest house – acted as a lookout and guided his father to where it was the deepest. In addition to the low water level, the river was often blocked by fallen trees, which we could either go under or, more often than not, had to climb over, which forced us (that is Krzysztof and I; Jan remained in the packraft) to step out.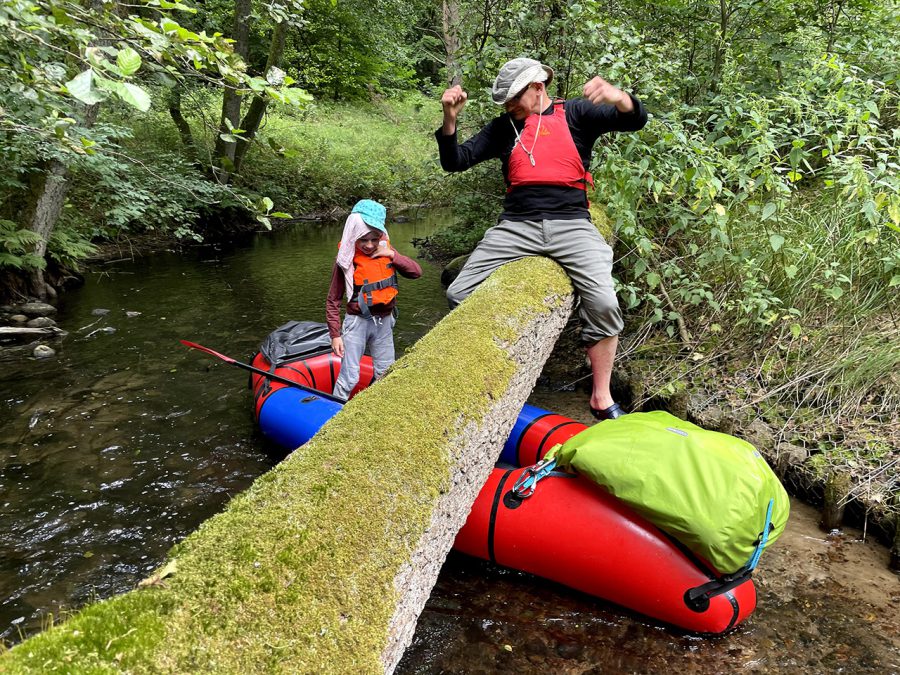 At a place called Wilkowo, we saw the first resting place/campground with an information board about the kayaking trail on the Brda, which was both in Polish and in German. According to it, we had covered 6km, for which it should have taken us 1.5 hours. It took us 2 hours instead, which is understandable as kayaks can be faster. The board also indicated that to the next campground it will be in 5km, which should take another 2 hours. In our case it was way more.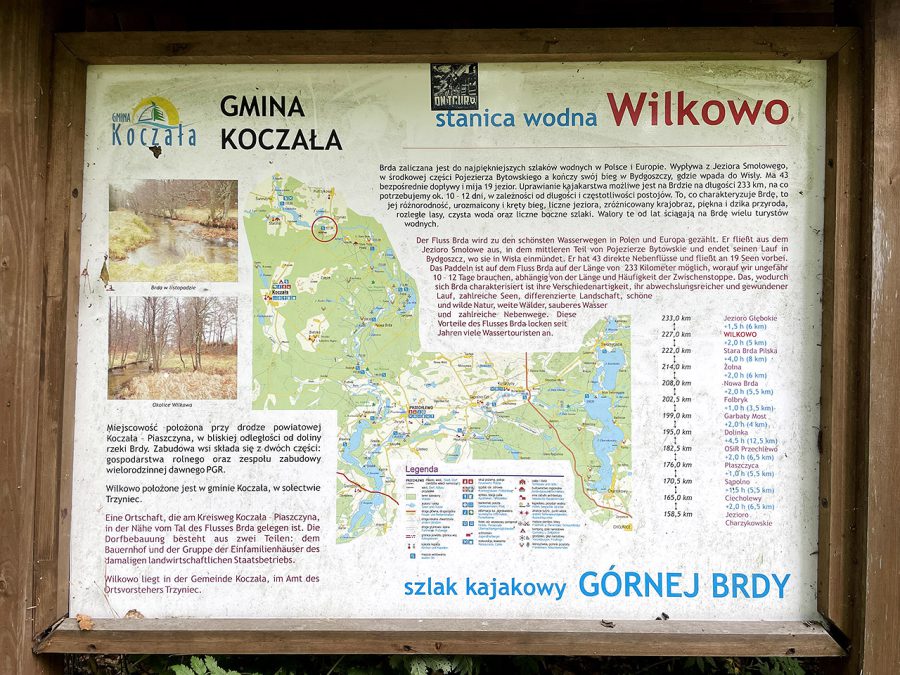 As the progress was very slow, after a while, it all started to get onto my nerves and I began to wonder if it was not going to be like that for the rest of the trip. I even asked if we should not finish the trip that day or try to find another river. Krzysztof and Jan however were having a good time and we decided to continue. After 4 more hours we reached a fish farm with a small dam where they bred trout. A bit further down the river there was second campground, next to a village called Stara Brda (Old Brda), were we stayed for a night.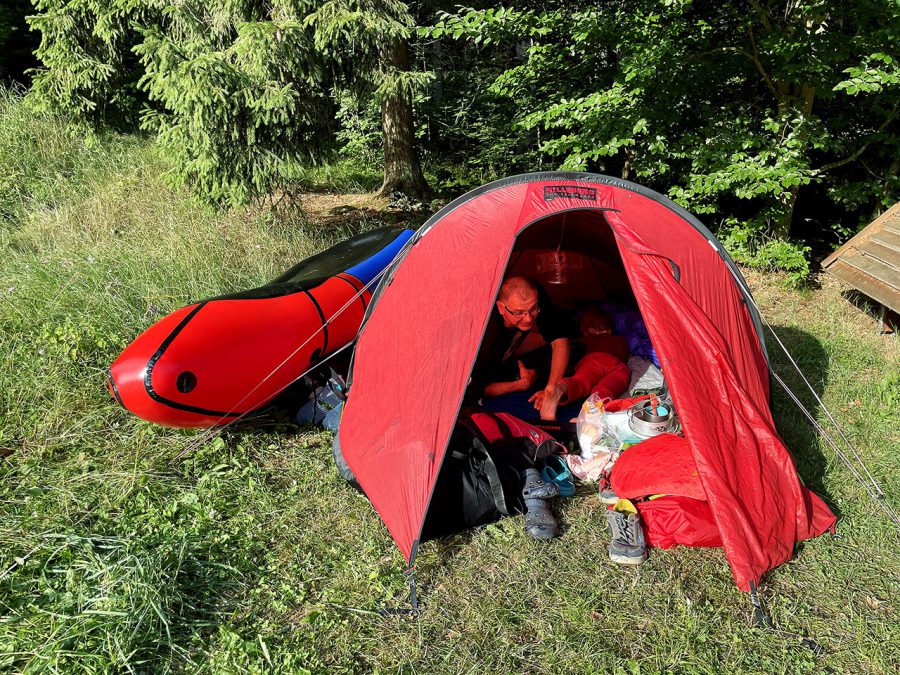 That evening, when I grumbled about our slow progress, Krzysztof told me that on one of his kayaking trips they had to get though a 6km passage between two lakes, which took them 3 whole days. In comparison to this, what we had experienced that day was nothing. "If you had packrafts, you could have just packed and walked around" I told him and he agreed. Still I was hoping that the next day on the river for us would be easier.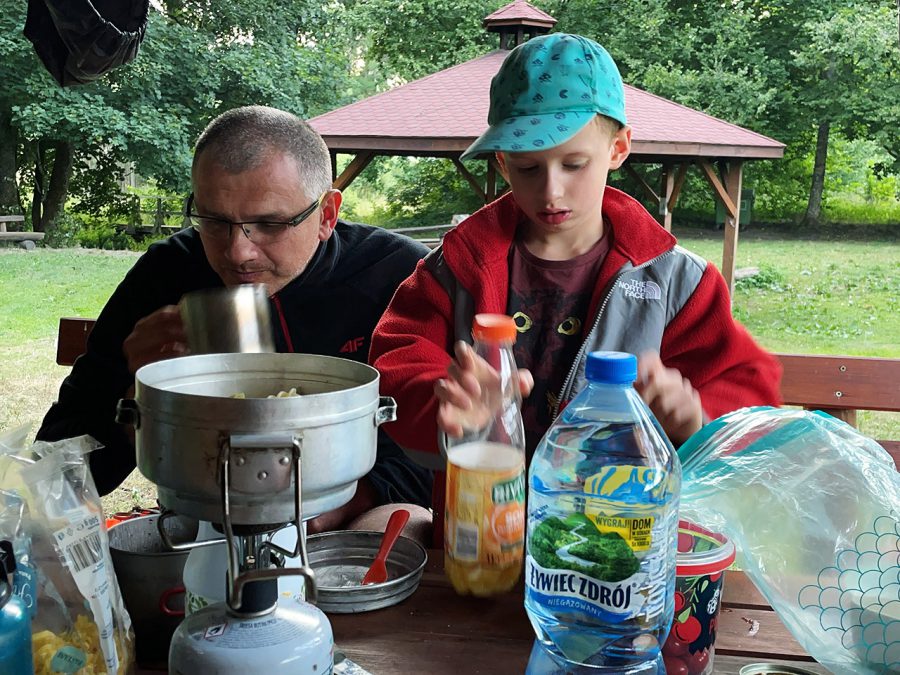 And it was. Already in the morning, when we were still packing, a couple cars with tourists and kayaks on a trailer arrived. We asked the guides and it turned out that Stara Brda was the starting place for commercial kayaking day trips. They were also surprised when we told them that we had come from the Głębokie Lake. As it turned out that fist stretch was not used much anymore. "This year there was a group that attempted to paddle it, but we had to pick them up halfway as they could not go any further," they told us. "But from here on it should be easier."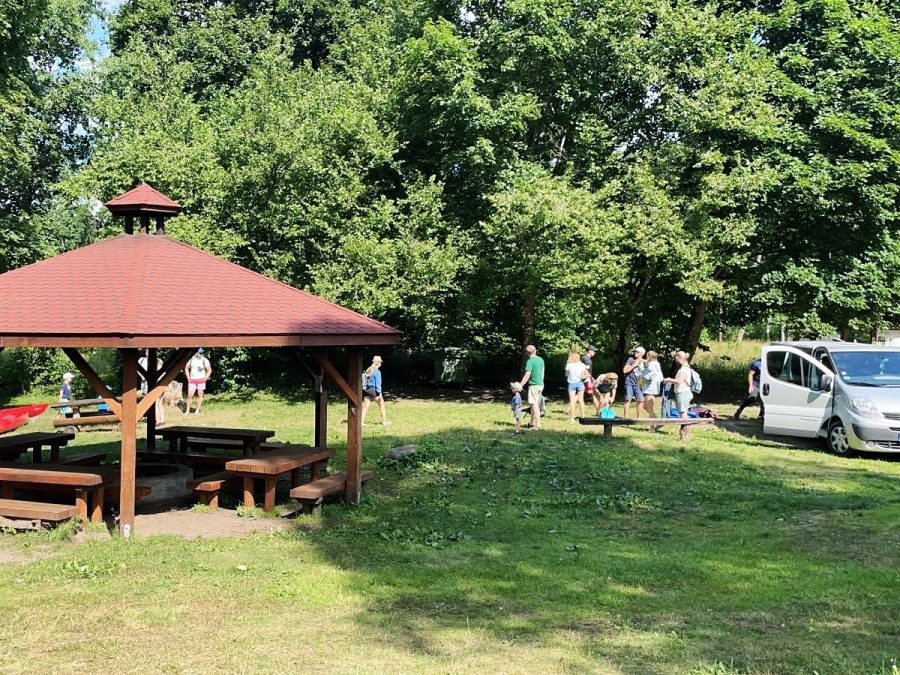 And indeed, that day we covered around 17 km in 7.5 hours, which was about the same amount of time that was indicated on the information board that we saw the first day. The river was deeper and there were fewer trees blocking the way. All three of us enjoyed that stretch a lot.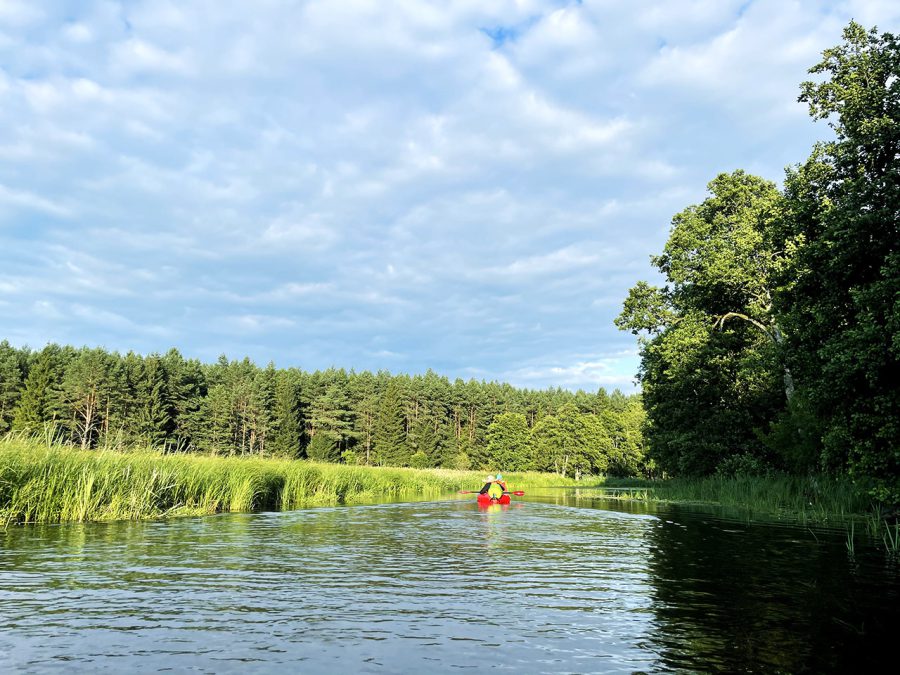 In addition, when we contacted our wives to make an appointment for them to pick us up, they told us that, if we wanted, we could have another day. And we did want to. The only problem we had was that we started to run out of food and there were no shops in any of the villages that we passed through. So, we had to resort to 'begging'. Well, almost. When we passed by the village Nowa Brda (New Brda) we asked some locals if we could buy some food from them and, luckily, we could get some bread, eggs, jam and milk.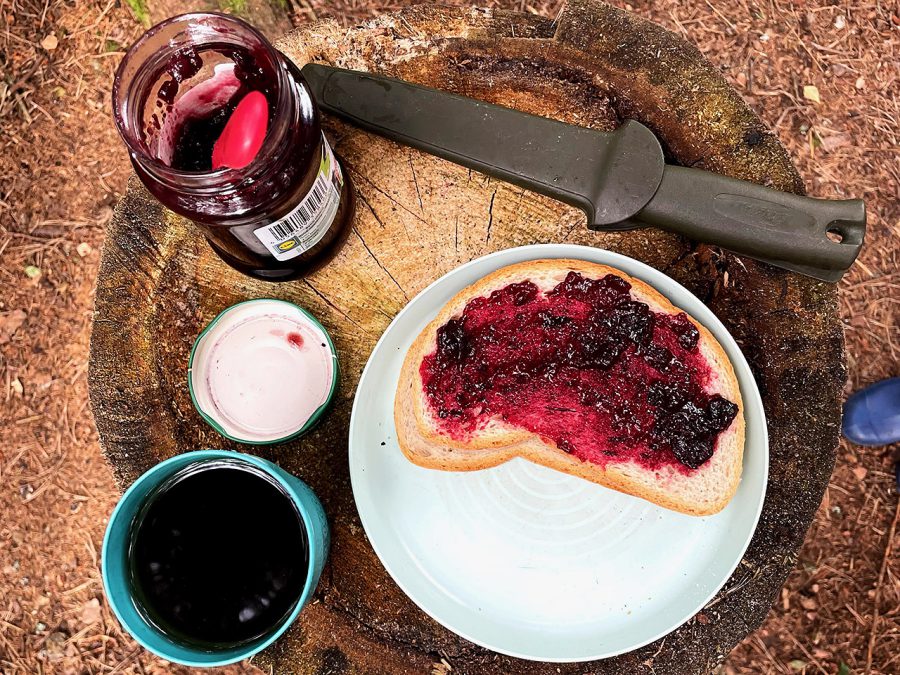 That night we camped wild. We found a beautiful spot next to the river, which, judging by the traces, was often used for camping. We boiled the eggs and ate bread with jam. Life was beautiful. At night we heard young owls – at least that was what Krzysztof said who knows a lot about birds.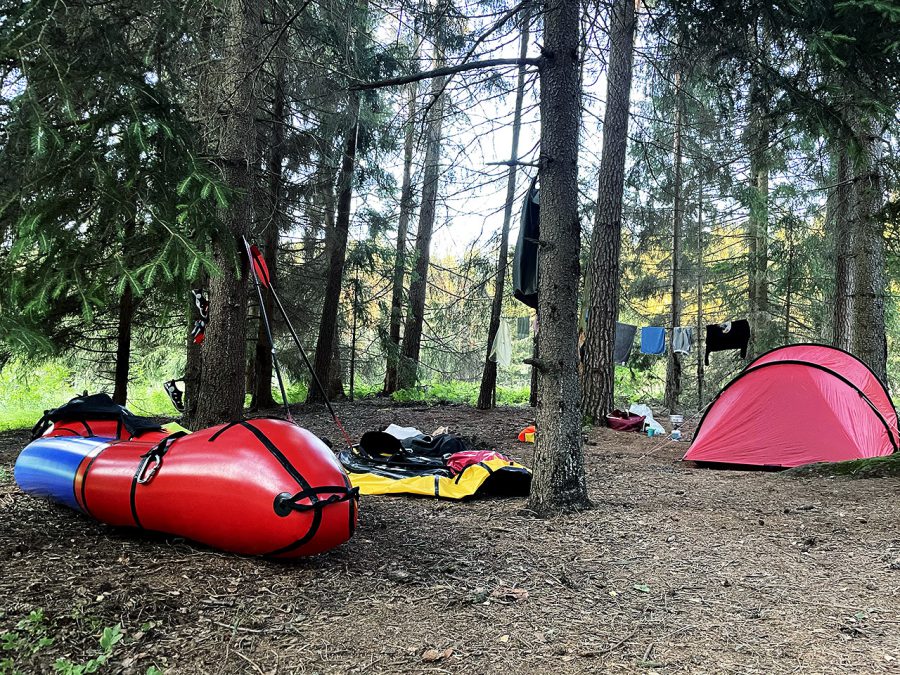 Our final day, we paddled another 12 km in roughly 6 hours. After about 1.5 hours of paddling we came to the next campground at Folbryk which was full of people. There was a family group with three younger kids in kayaks, a father with two sons on SUP boards, two Germans in a Canadian-style canoe… There was even a food truck from which we bought some really tasty grilled sausages. I talked to the guy who ran it and he told me that he had been doing it for over 15 years already. There seemed to be enough customers for him to make it worth his while.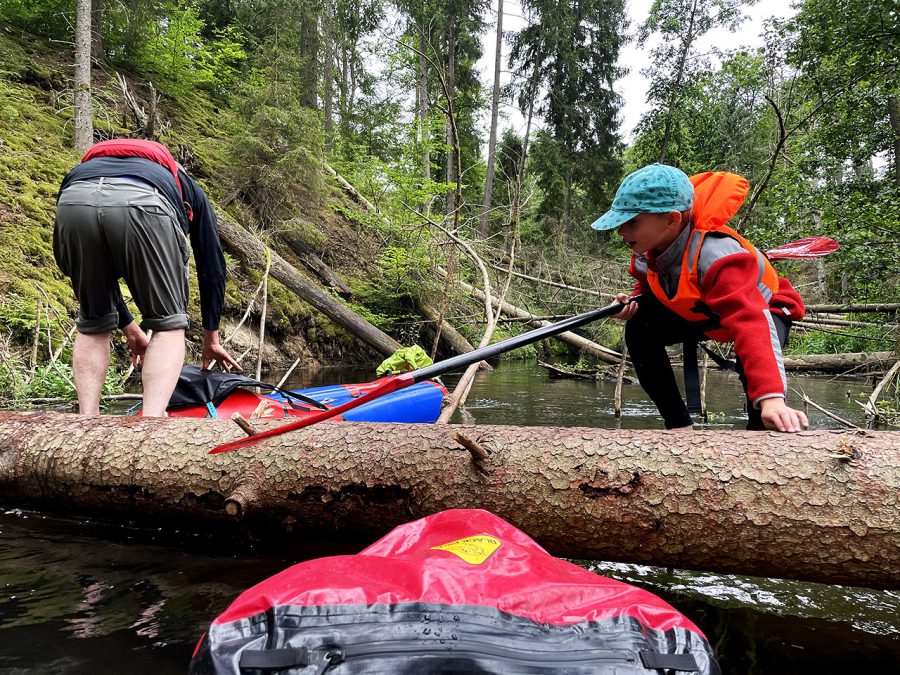 Immediately after that, the river passed through a short stretch of a natural reserve. The fallen trees there were not cleared, and it took some time to negotiate that part. After that, however, the river left the forest, it became broader, and it slowed down significantly. There was also some head wind. That was why the last stretch before we got the takeout point on the Szczytno Lake was rather a lot of tedious work for Krzysztof and I, while Jan was still enjoying it…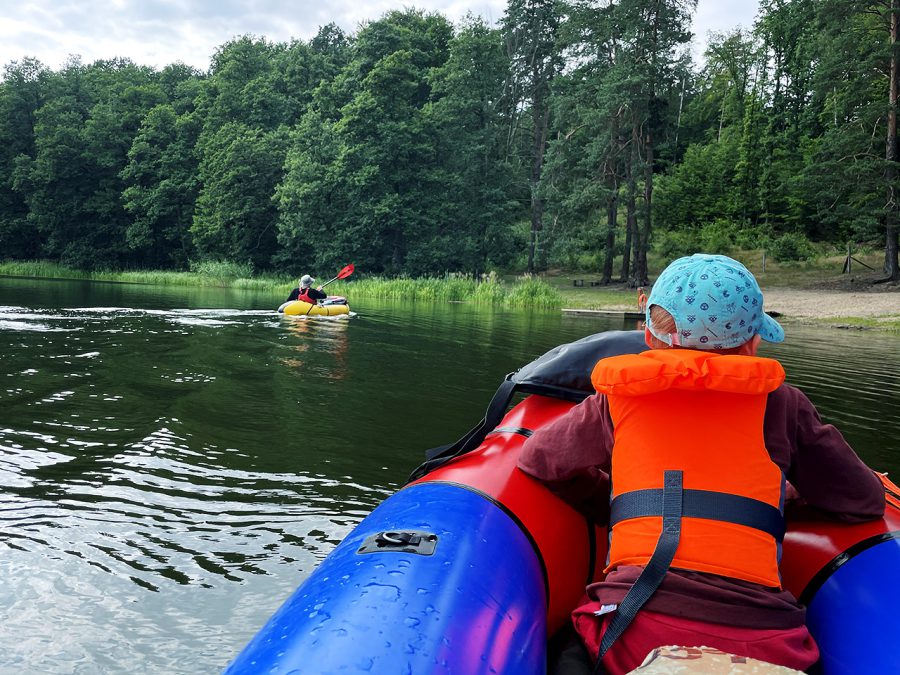 When I asked Kasia a few days later how Jan's school presentation went. "He evaluated this summer and the Brda with you and Dad was the best event ever," Kasia told me. Jan also went to a summer camp in the mountains with his friends after that trip, which was very good. "But nothing could be compared to the Brda. He was also happy to say that nobody in his class had such an experience."