AMBASSADOR'S
シエラ山脈のオフトレイルを歩くサウザン・シエラ・ハイルート(前編)|by リズ・トーマスのハイキング・アズ・ア・ウーマン#35
2021.10.20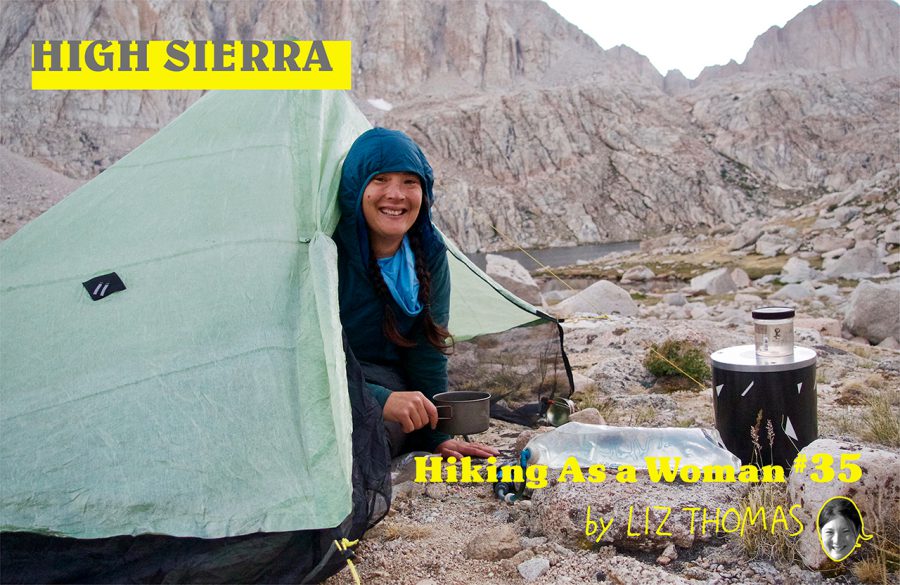 An Off Trail Route in the High Sierra
Distance hikers know the Sierra Nevada mountain range because of the John Muir Trail. But there are endless options for off-trail high routes in the Sierra.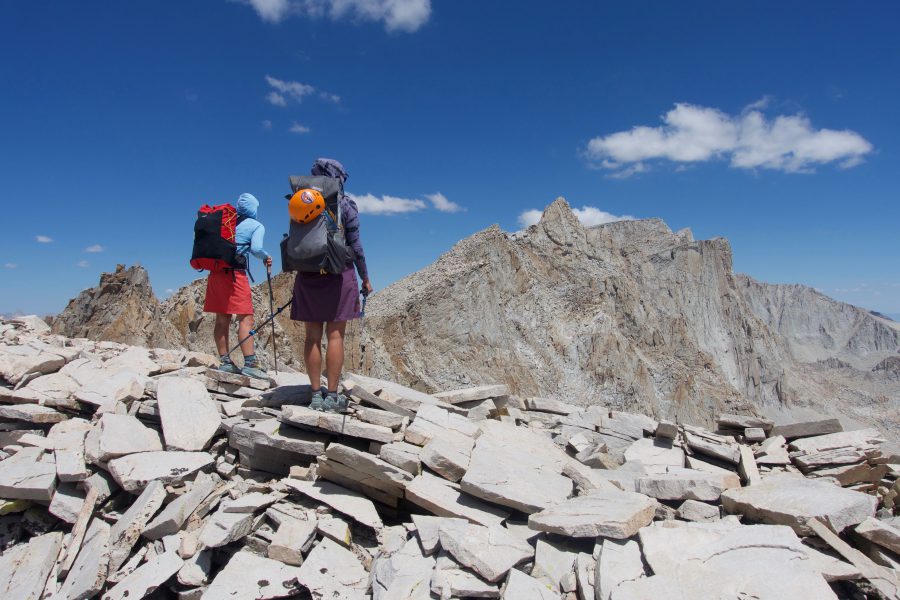 Southern High Sierra route.
Five years ago, I hiked the Sierra High Route (SHR), a ~300 km route from north of Yosemite to Sequoia National Park.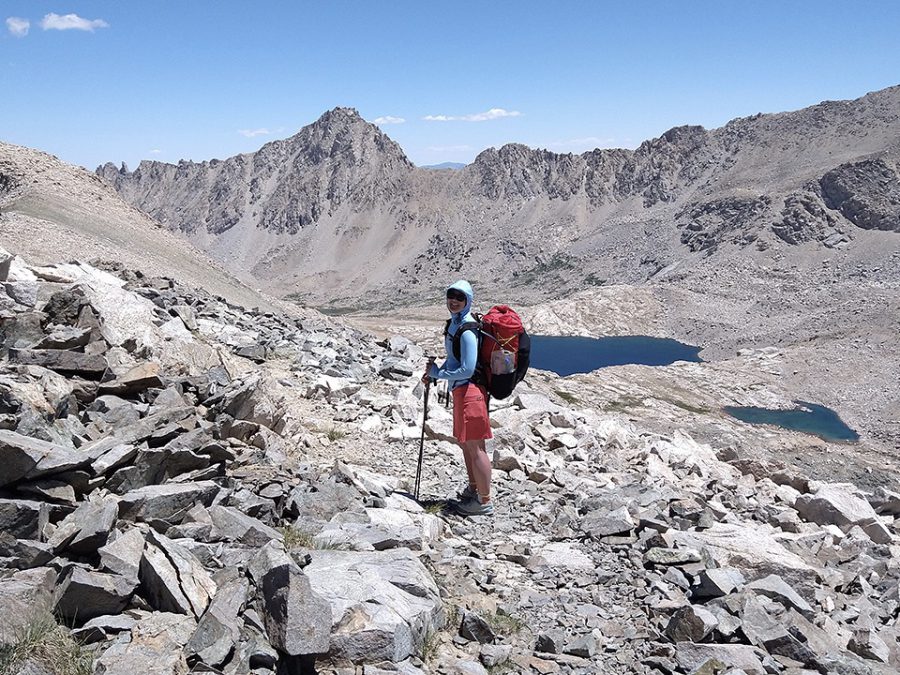 Junction Pass.
This year, I hiked the Alan Dixon's Southern Sierra High Route (SoSHR), a 160 km continuation of the SHR that goes south of Mt.Whitney. This difficult route adds an extra challenge to thru-hiking in the Sierra, while opportunities to explore infrequently visited basins in the range.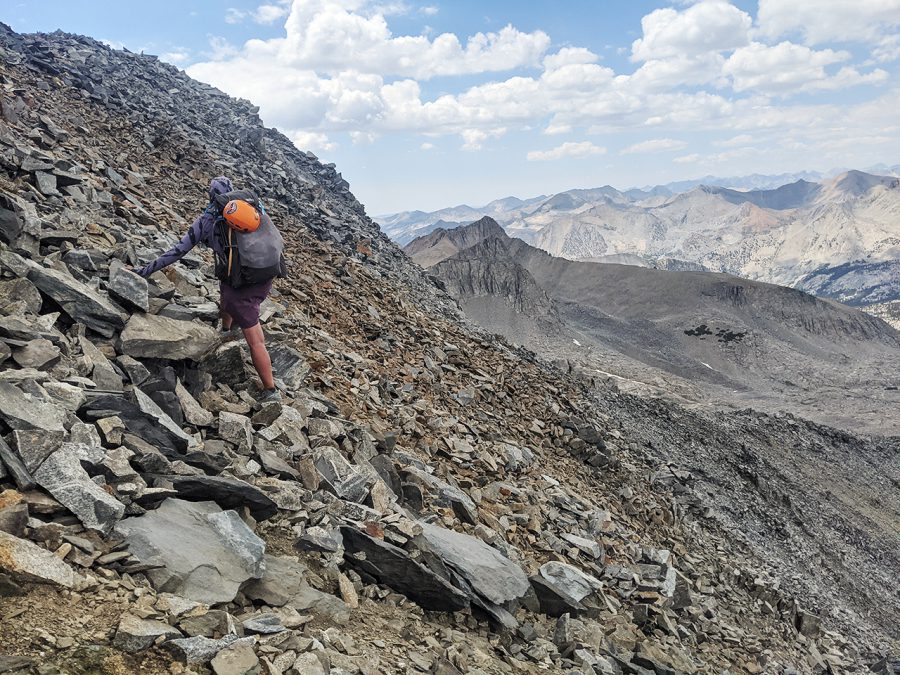 POD traversing Baxter Peak.
When I hiked the SHR several years ago, other thru-hikers asked me how much more difficult it is than other thru-hikes. I told them, "The SHR has about as much in common with thru-hiking as thru-hiking has in common with day hiking."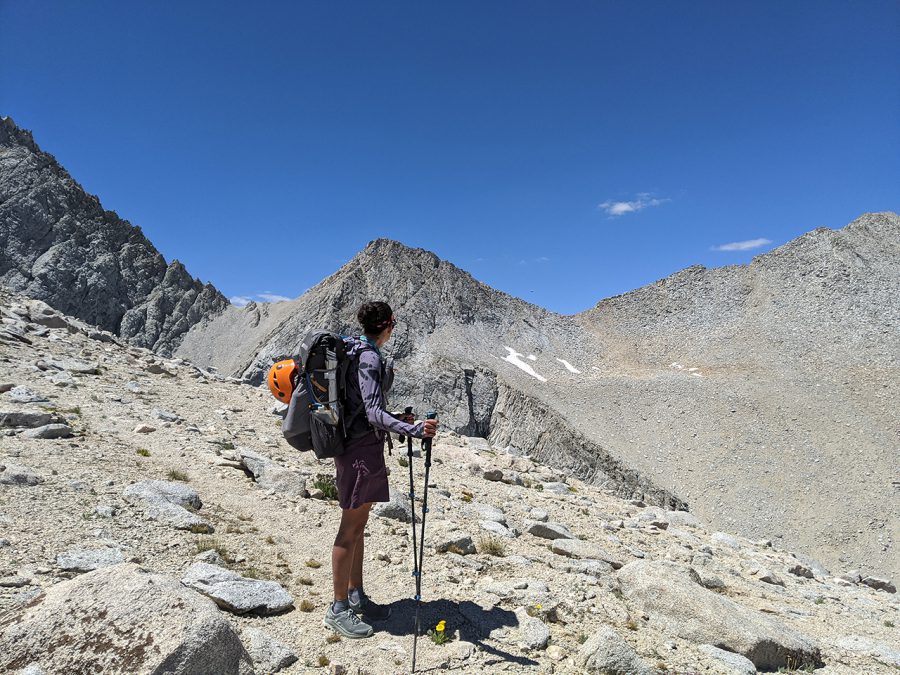 POD at the top of Junction Pass with Forrester Pass and the PCT in the background.
The reason is that high Sierra routes require using hands to balance and pull myself over rocks. There are even a few Class 3 sections of rock climbing. On routes, it's unsafe to hike in bad weather. That means an on-trail "zero day" and retreating backwards to the safety of treeline.
Most hikers can only cover half as many miles on a route as on a trail. At the end of the day, we're more physically and mentally exhausted. Yet the opportunity to choose your own path, read the landscape, and stand atop passes with solitude makes it worth it.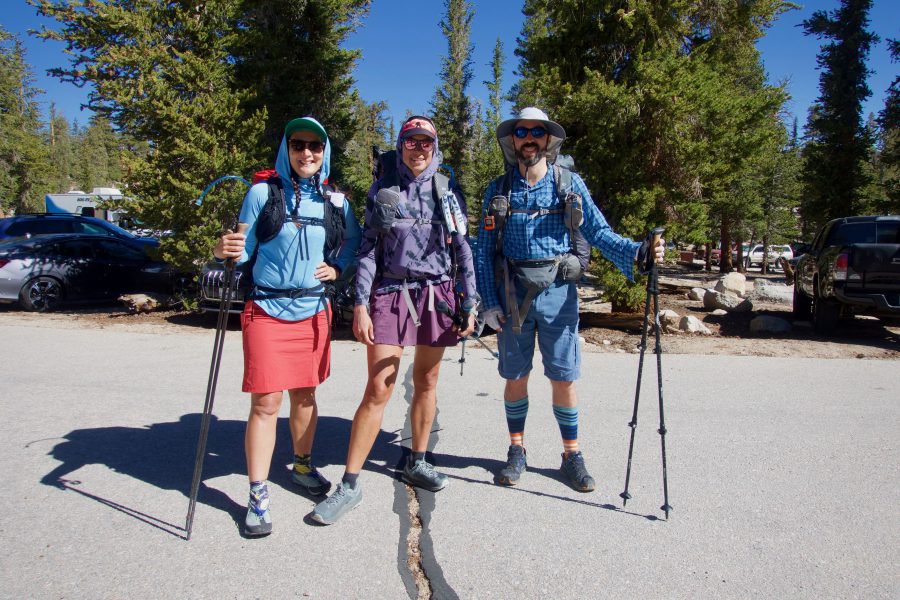 Snorkel, POD, Flamingo.
I hiked the SoSHR with my friend Felicia Hermosillo, whose trail name is Princess of Darkness (POD). Our friend Flamingo joined us for two days. They were great hiking partners because they have a lot of off-trail travel experience, are excellent at navigation and map reading, and are comfortable scrambling on exposed cliffs.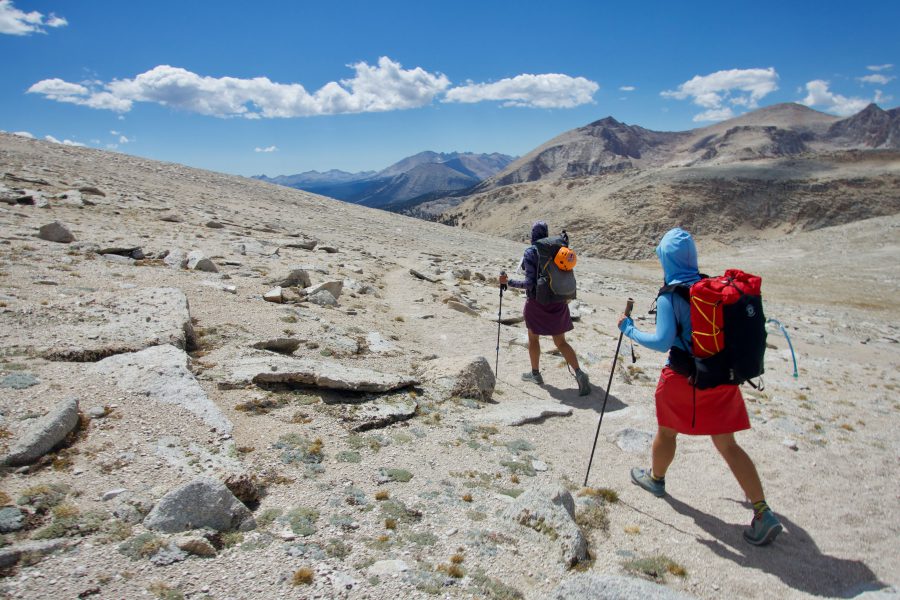 Snorkel and POD on trail. 
We started at the Cottonwood Pass trailhead at ~3,000 meters climbing on good trail among twisted, ancient Foxtail Pines. At green Miter Basin, we said goodbye to the trail. Even though it was a holiday weekend, we were the only hikers camping among the large alpine lakes.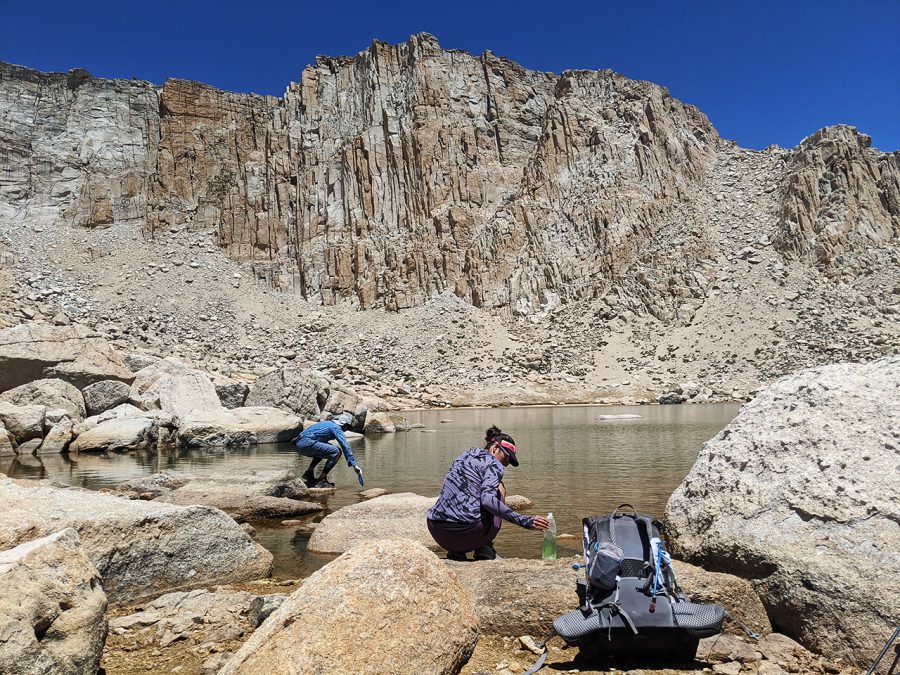 POD refills her water at the lake below New Army Pass.
The next morning, we ascended Crabtree Pass, on what Steve Roper calls "green ramps"–grassy slopes that don't require hands to ascend. We could see Mt. Whitney, our day's goal, in the distance. But the route to get there looked impossible. We scrambled down granite slabs to the bottom of the valley and found a path up through steep sand. It was slow going–especially at the 3,700 meter altitude. We got a lot of sand in our shoes.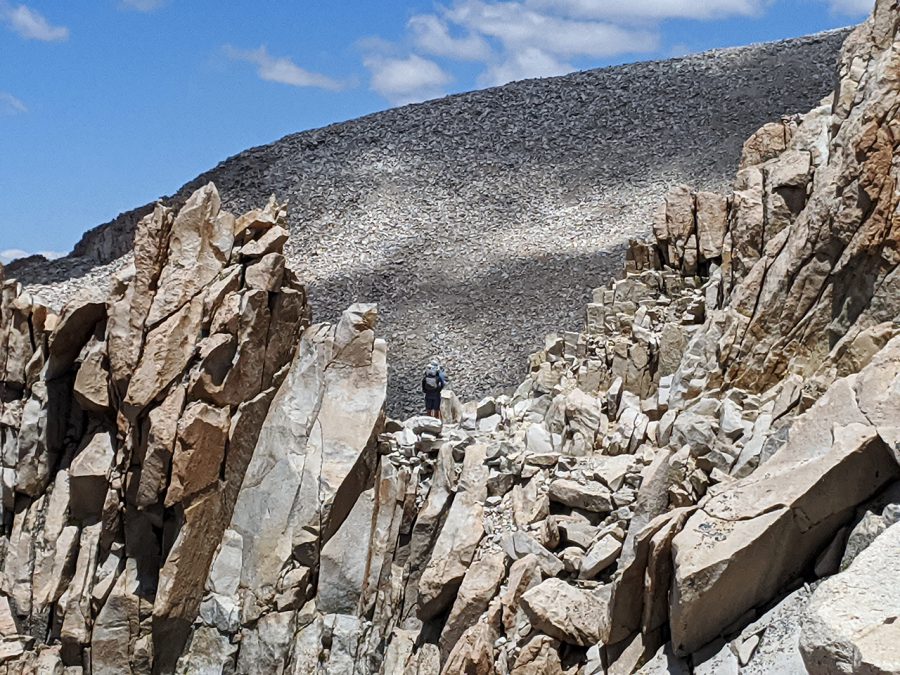 Flamingo on the Whitney Cest Trail with the slopes of Mt. Whitney ahead.
It was a relief to reach the Whitney Trail and hike 5 km on established path. From the summit of Mt. Whitney (4,418 meters), Flamingo went home via the trail. POD and I continued on, descending the steep chute of the Mountaineer's Route. I'd climbed up the MR before, but the descent was trickier than I remembered. It was loose and had frequent rockfall. Luckily, there were no other parties above us.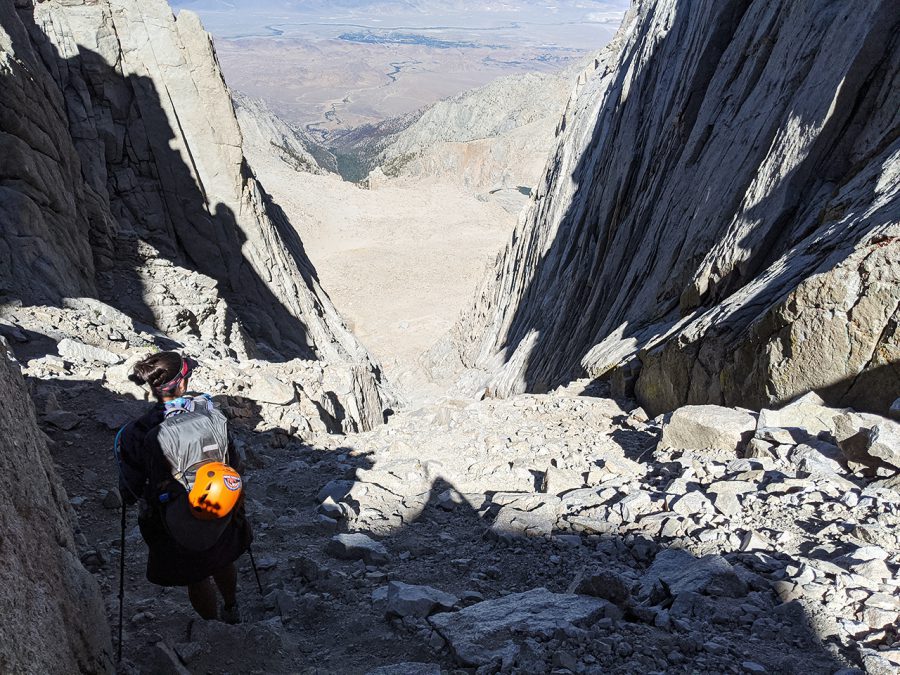 POD descending Mt. Whitney via the Mountaineer's Route.
We camped at Lower Boy Scout Lake, a popular springing point for Whitney summiters. It was the last time we'd camp near others for 5 days.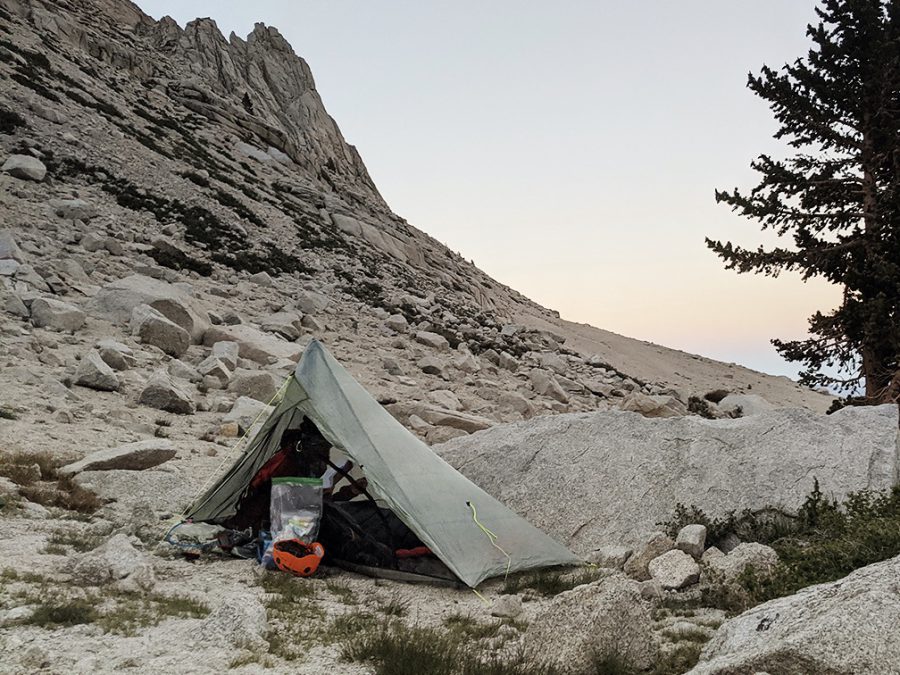 POD camping near Boyscout Lake.
That morning, we ascended another sandy slog towards Russell-Carillion Col. But when we looked over the other side of what we thought was the col, the basin below didn't match the map.
POD volunteered to scramble up a nearby tower of boulders to figure out where we were. When she got to the top, she discovered she was where we wanted to be!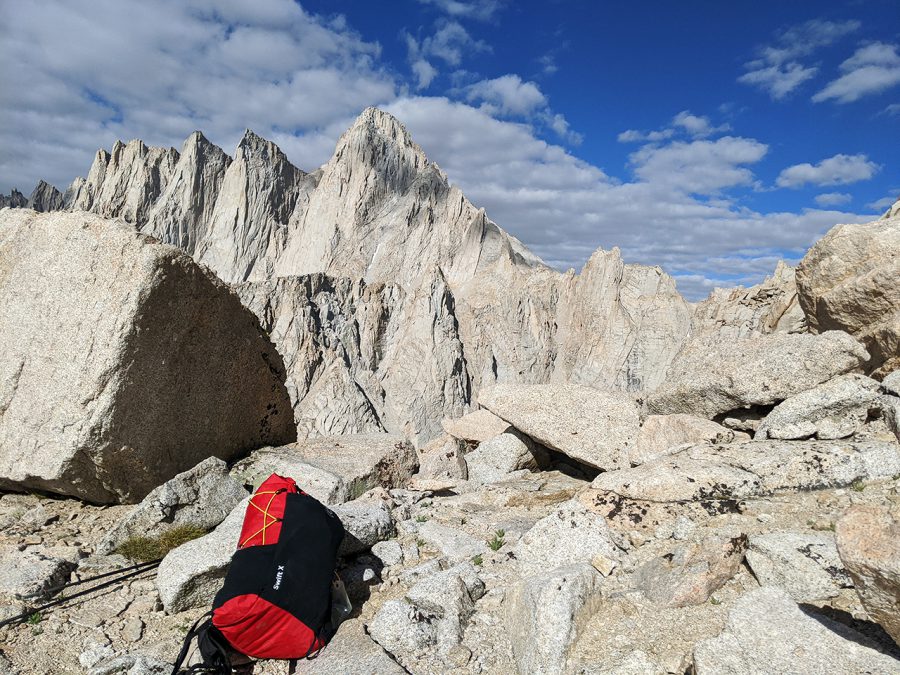 Liz's backpack on Rusell Carillion Col with Mt Russell in the background.
To descend the pass, we climbed down a cliff. The guidebook recommends a short rope to lower packs, but we didn't find it difficult. Below us was blue Tulainyo Lake (3,909 m), the highest elevation lake in the continental US. We were surrounded with high peaks. Even in this low snow year, there was still ice.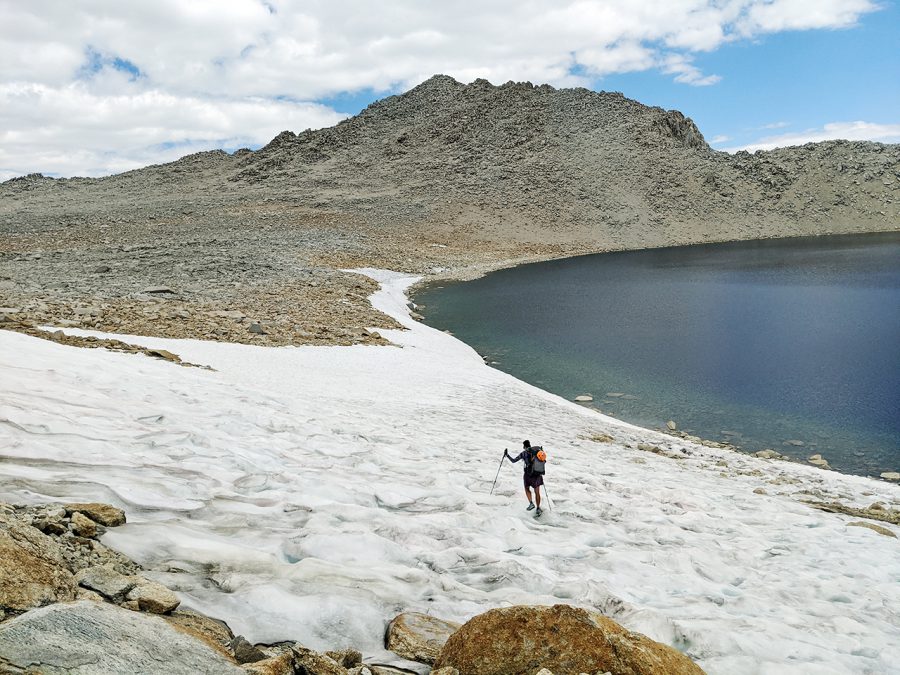 POD at Tuyainyo Lake.