TRIP REPORT
パックラフト・アディクト | #55 ポーランドのべウナ川、結婚記念日のパックラフティング・デート
2022.02.23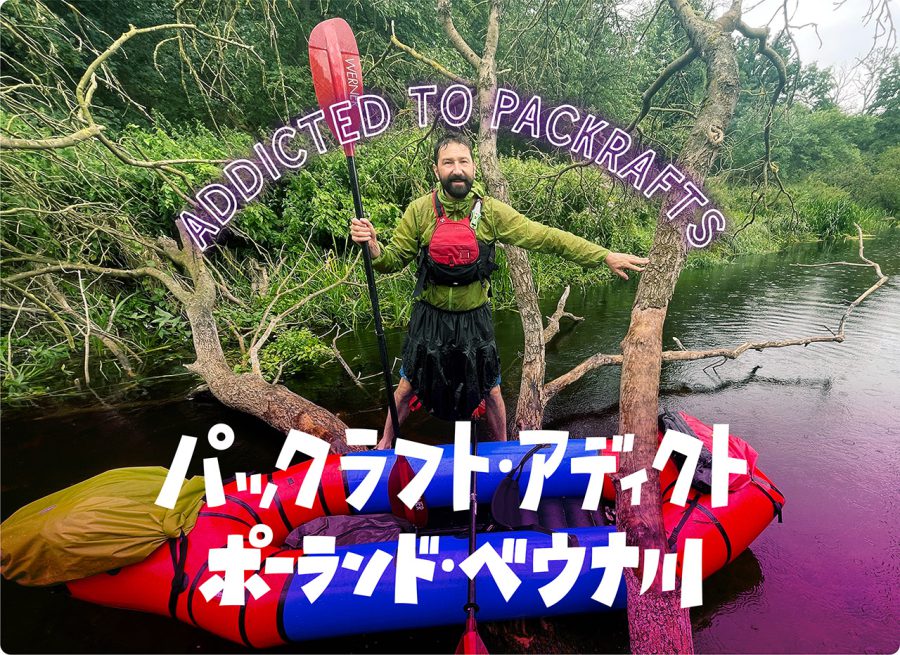 Packrafting the Wełna River, Poland
It's August 10 and my wife, Marta, and I are at the main train station in Poznan and we are about to do something 'unusual' – we are about to go on a packrafting microadventure on the Wełna River. The 'unusual' part about it is that it is our way to celebrate our marriage anniversary and for the first time since the birth of our daughter, it is just the two of us, while our 3.5-year-old is staying with her grandmother at home. This trip is also a bit spontaneous as just until a few days prior, none of us heard about the river we were about to paddle. And we only learned about it thanks to a chance encounter.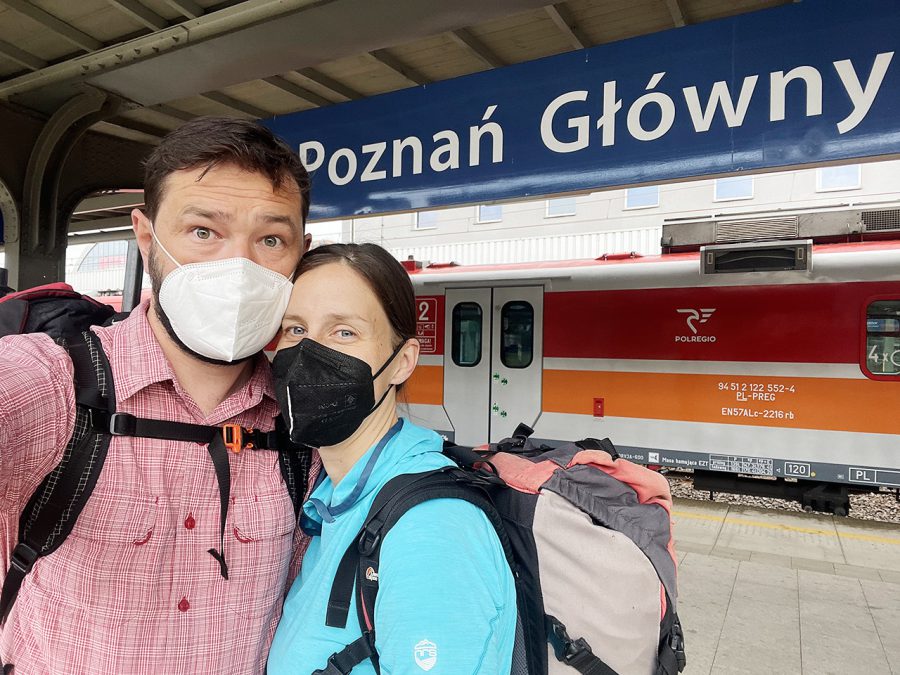 Just two days before that, all three of us went on a short paddling trip on the Warta River in Poznan itself. The river's broad and quiet there and it was just a short run of 5 km, which we did in a little over an hour. At the takeout point, when we were drying and deflating our two-person Oryx by Alpacka Rafts, we were approached by a young guy. "This is a packraft, isn't it?" he asked us. It turned out that he was a packrafter himself. He had had his boat for a couple of years by then and did a few interesting trips, including Venice (where I had paddled less than a week before). My wife, who is always on a lookout for new rivers to packraft for me, asked him if he had any he would recommend in the neighborhood. "Have you already done the Wełno River?" he asked. No, we had not. "It's a nice small river, which is easily accessible by train," he explained. That sounded exactly like what we were looking for as our car was broken at the time.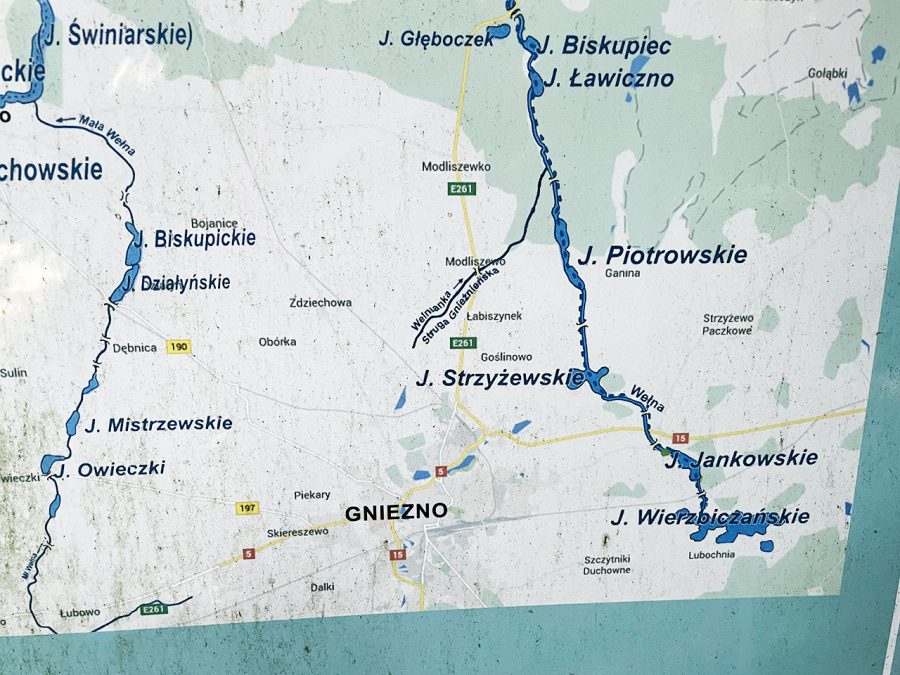 So, when we got back home, I looked up the information on the river, which, indeed, turned out to be rather interesting. A tributary of the Warta River (the one we had just packrafted), its total length is 118 kilometers, out of which 113.5 km could be paddled (from Lake Jankowski to the mouth of the Warta River). However, not all parts are equally interesting. In its upper and middle reaches, it is a lowland river, flowing through 12 lakes, winding lazily among meadows, forests, and fields. The paddling trail in this section is difficult and strenuous due to the low water level and is mostly available only in spring.
On the other hand, the lower section (starting from Rogoźno) is available all year round. It is also the most interesting and varied part of the river. There, the Wełna takes the form of a mountain river and constitutes the eastern border of the Notecka Forest. The river meanders picturesquely among forests and meadows. To protect the natural environment, three water nature reserves have been established on the river, all of which are at this lower section.
Several sources that I read also claimed that it was one of the most beautiful and diversified canoeing routes in Greater Poland, the province my wife comes from. As a matter of fact, the estuary of the Wełna is in the town of Oborniki, less than 25 km to the north from where Marta grew up.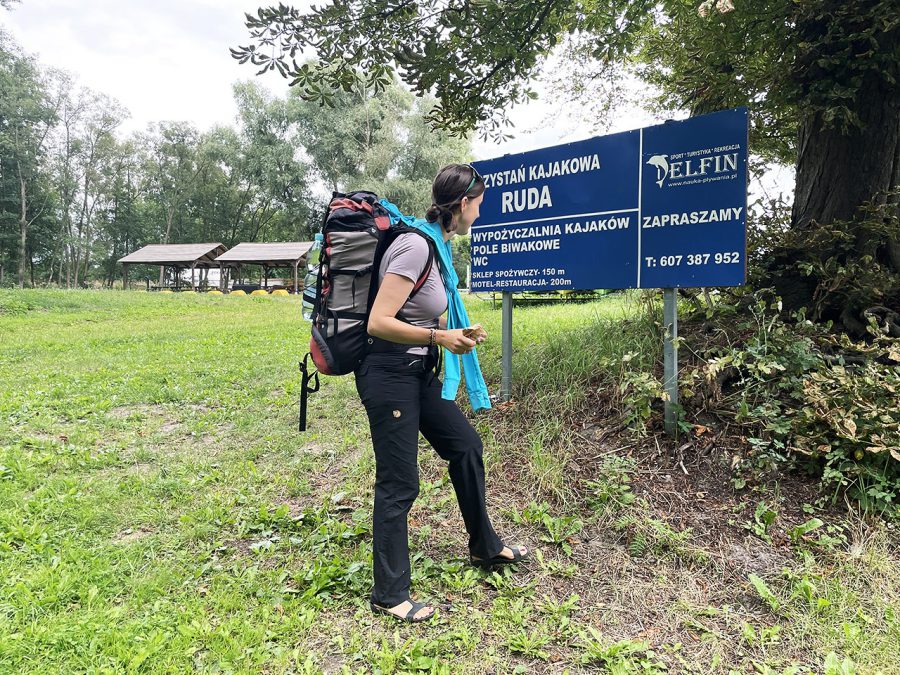 "Funnily enough, I have never heard of the river before," she admitted to me. "Should we go?" Yes, we should. There was even a suitable occasion to do that – the next day we had our seventh marriage anniversary. And while we could not make it on the day itself due to prior arrangements, the day after was free and it looked like it would be possible. What made it even more exciting was that, since the birth of our daughter, Helena, it was our first time to go on a day trip on our own. "Just the two of us" as the famous song goes.
"Your mommy and daddy are going on a date, which is only for the grownups," explained my wife to our daughter. "Be a good girl and stay with your granny." To my surprise, Helena accepted that without any objections. And so, we went.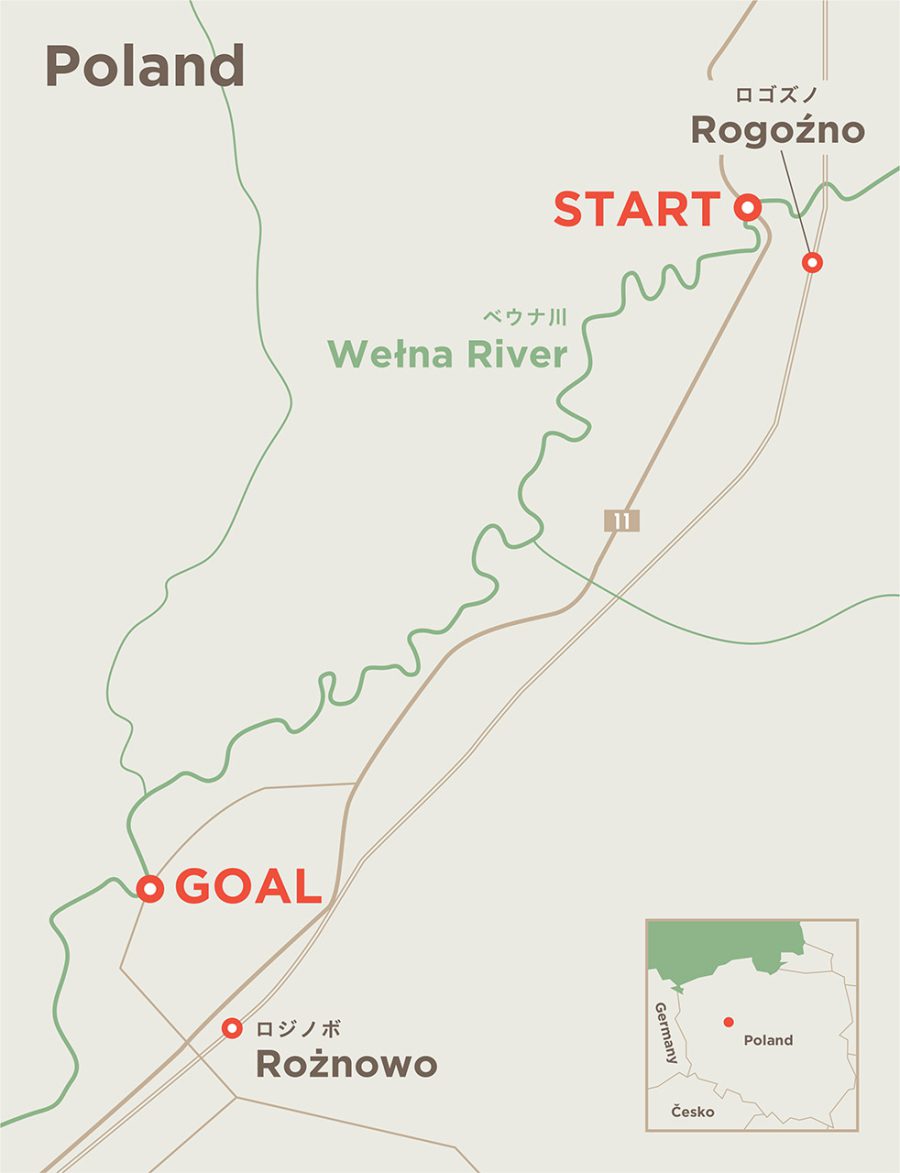 The idea was to go to the starting point in Ruda, which was a 1.5 km walk from the Rogoźno train station and paddle as far as possible. To be honest, secretly, I was hoping to reach Oborniki, where the Wełna flows into the Warta, but as we did not know how fast the river was (or if there was even enough water in it at all), we decided to be flexible and adjust the plans as we went. This flexibility is one of the beauties of packrafting, after all.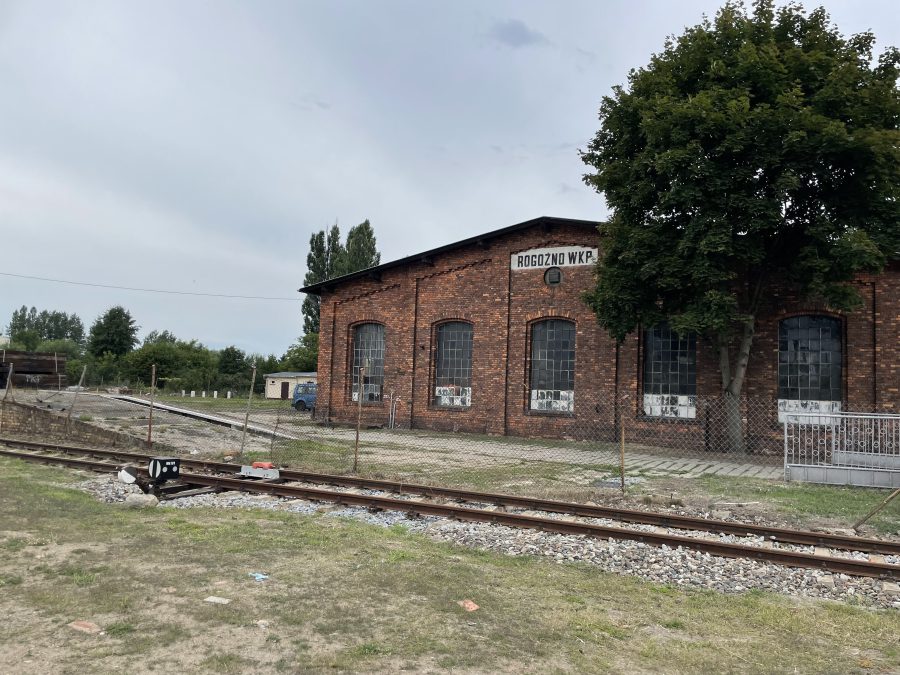 After a 40-minute ride a slow local train, we arrived in Rogoźno, got some food in the supermarket and walked to the put-in point in the neighboring village of Ruda just over a kilometer away. The place that we chose to start our trip was a regular starting place for kayaking trips.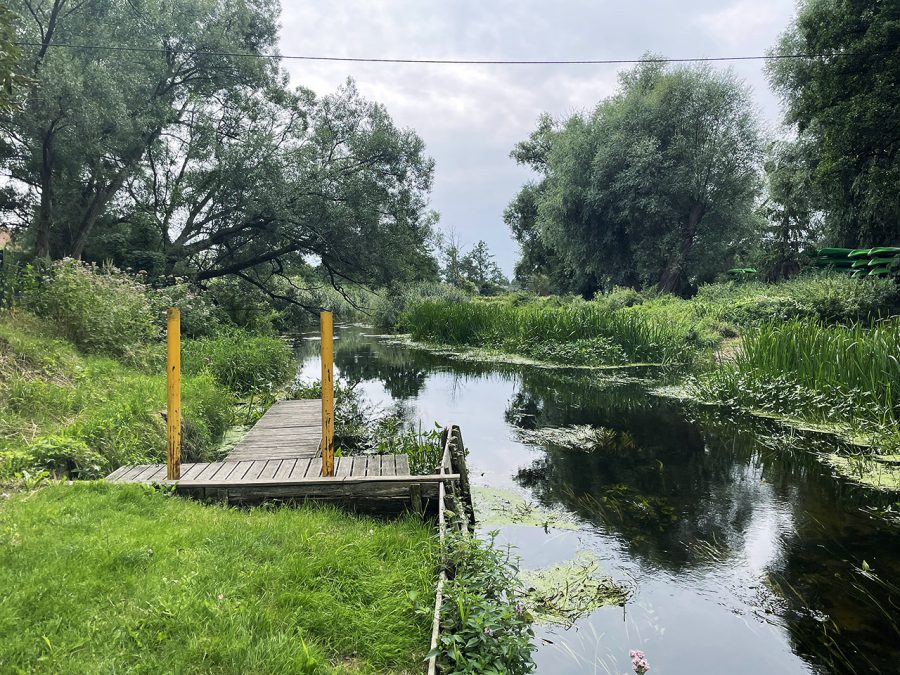 There was a nice small pier, a pile of rental kayaks, a building with a company office, a campsite with a covered shelter and a firepit, but not a sole around. On the opposite side of the river, there was a building of an old industrial watermill, which is used a starting point for kayaking trips by another company (I have seen some videos on youtube about that). And indeed, there were some people prepping up a couple of two-person kayaks for a father with two teenage daughters.
It took us around 40 minutes to get ourselves ready and set out on out packrafting "date".

 
The river itself was just five or six meters wide, rather shallow with clear water. We could see some small fish passing by. The current was noticeable, but not very strong. The bends, meanders and shallows made this part very beautiful. At times, there was a bit too little water, and we heard our packraft 'singing' as it ran over some stones. A couple of times, I had to step out of the packraft and push it alone. Still it was a pleasure to be out on the water again. Just the two of us.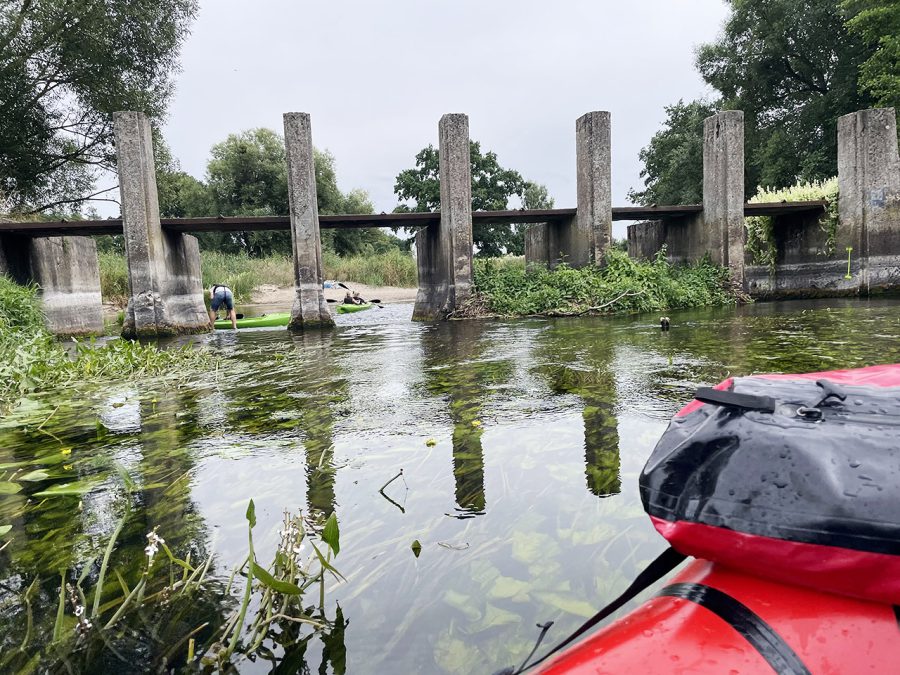 Over a couple of kilometers, we reached the remains of the concrete structure of an old weir, where we stuck again – it really seemed that the water level was rather low. Immediately after the weir, we caught up with the father and his two daughters who left before us. They seemed to be having the same problem as us. At this point, I started to wonder if it would not be a good idea to 'finish early', while we were still close to a train station.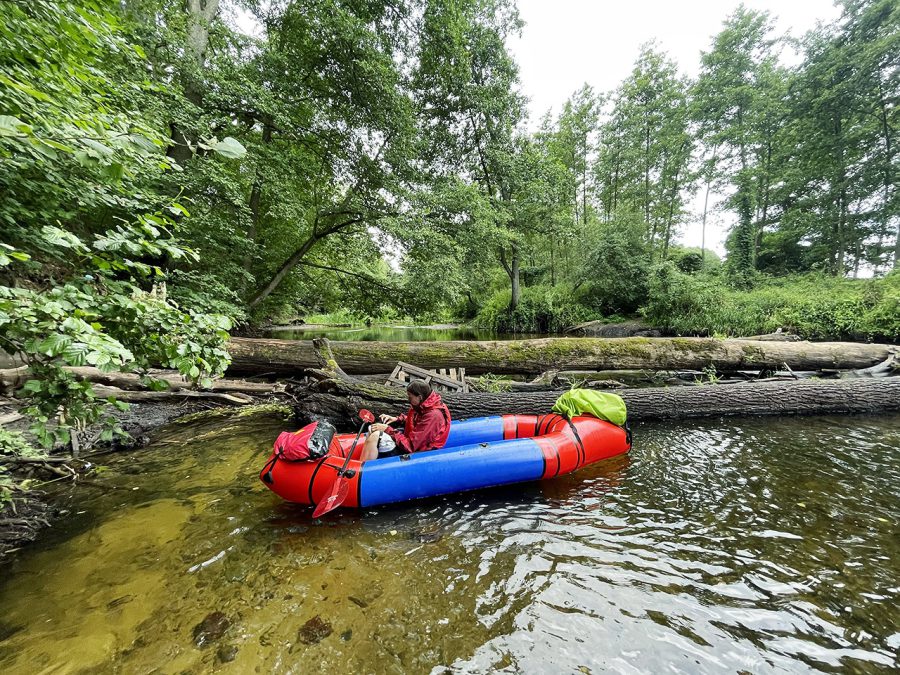 Luckily, we went on and gradually the river became deep enough for us to pass in our packraft without getting stuck any more (there came across a few fallen trees that we had to carry around, but that was a different story).
A few kilometers further we reached the first nature reserve located on the Wełna. The river flows faster here, and the boulder-covered bottom is often hidden under red seaweed.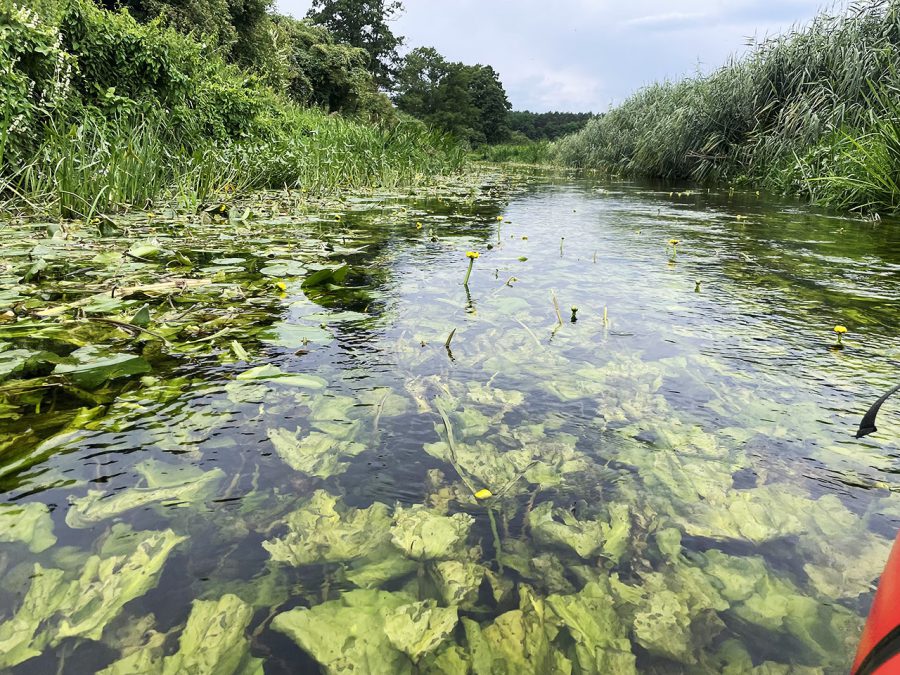 Almost from the very beginning, we saw a lot of different fish. "It is almost like paddling in an aquarium," my wife said. "We should come here with Helena next time – she will really enjoy it a lot."
While on the whole, it was a moderately warm day (in the high teens), at one point, the sun disappeared, and it started to rain. Almost immediately the temperature dropped, and we had to put all the clothes that we brought with us. Good thing it was just a typical summer rain and the sun came back in about an hour.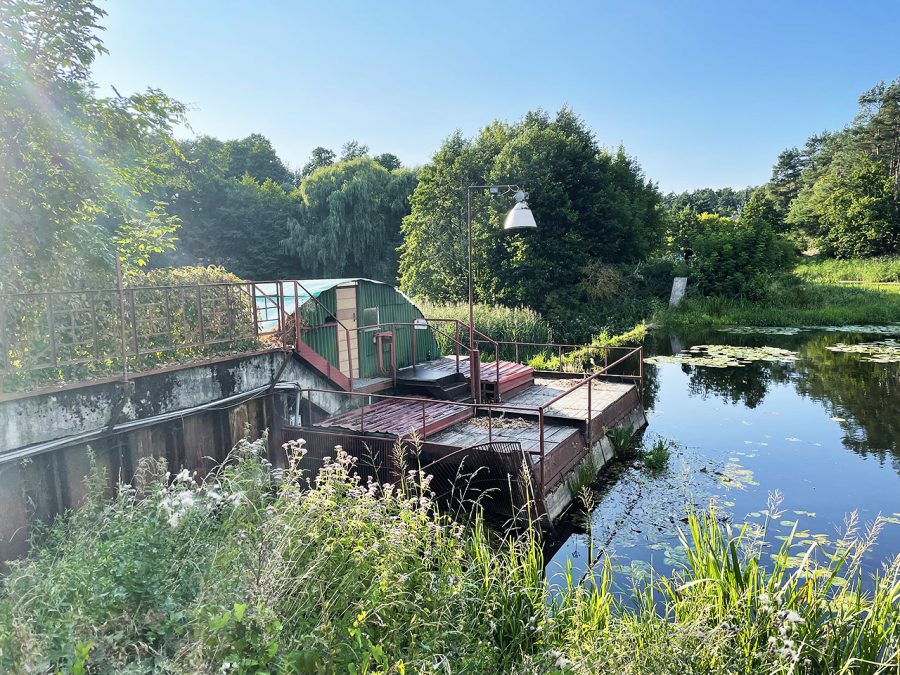 Around 18:00 we reached a small hydroelectric power plant and a dam, where we had to portage a few hundred meters. Just opposite the place where we put in, there is an old mill that houses the Museum of Milling and Water Facilities in the Rural Industry. In the area around it, there are numerous artifacts and information boards that tell the story of fishing in the Wełna. According to them, there are around 20 types of fish that live in the river. Later on I also read that there had been attempts to strengthen the population of sea trout and salmon, and introduce brown trout by releasing fish fry of these species into the river. So, maybe what we saw was the result of that effort.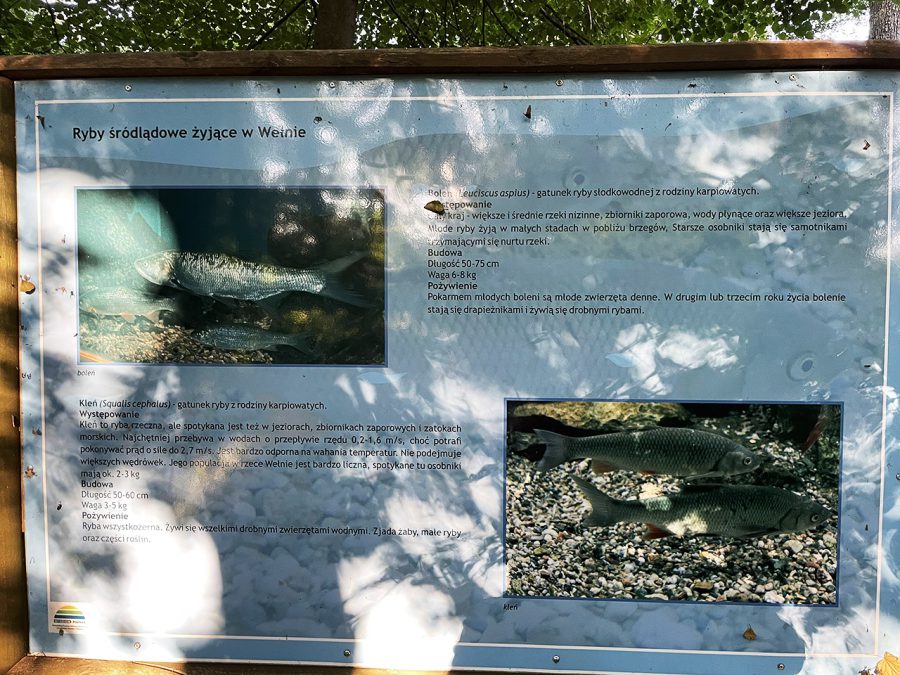 The last couple kilometers were a race against the clock. The best place for us to step out would have been in Kowanówko, where the train station is just a short distance from the river. However, we soon realized that it would not be possible to paddle that far as the sun started to set already. That is why we decided to stop near Rożnowo.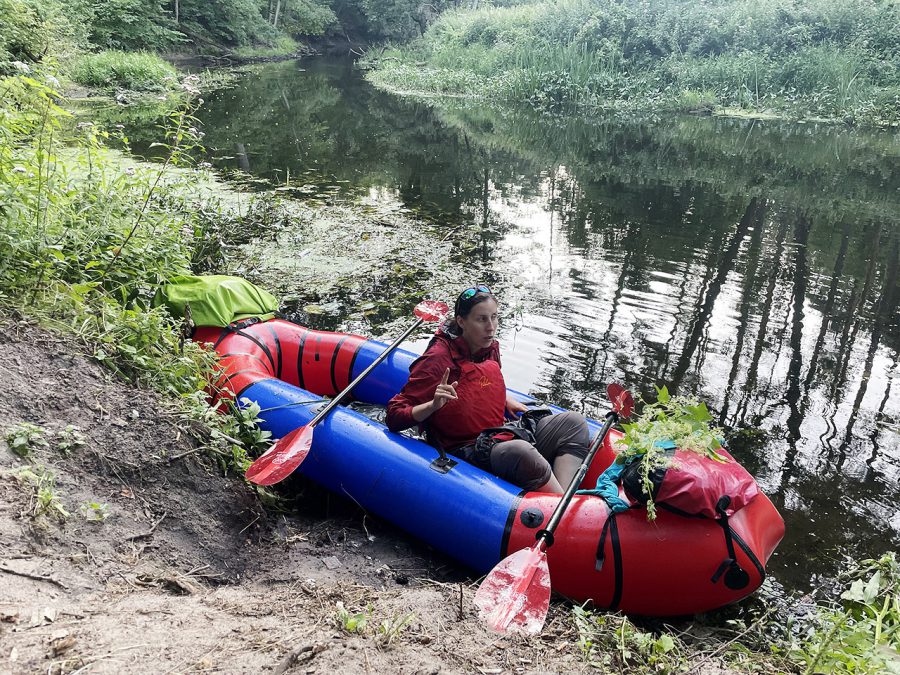 The river banks here were really high and muddy after the rain. That is why we looked like a couple of happy pigs when we got to the road on the top. Marta checked the train connection, and it turned out that we had less than 30 minutes to the next train, while the train after would have been in over two hours. That is why we did not have time to clean ourselves up, but quickly packed our stuff, and ran the 2.5 km to the station with just a few minutes to spare before the train arrived.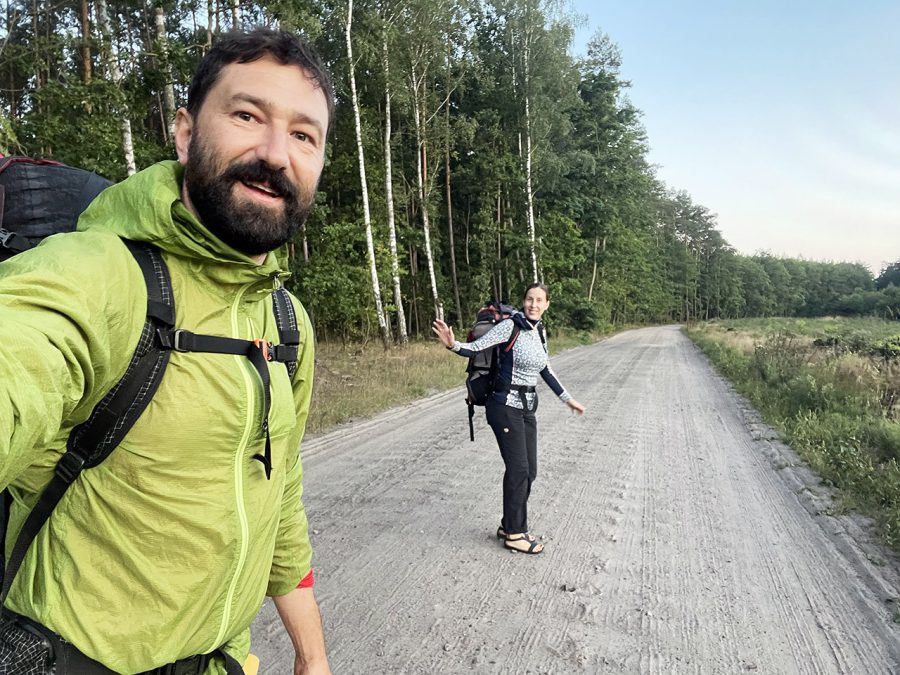 Looking back at the day and this 'unusual' date we felt that it was definitely a success and we should try to do it again. "So, are there any more anniversaries coming up soon?" Marta asked with a smile.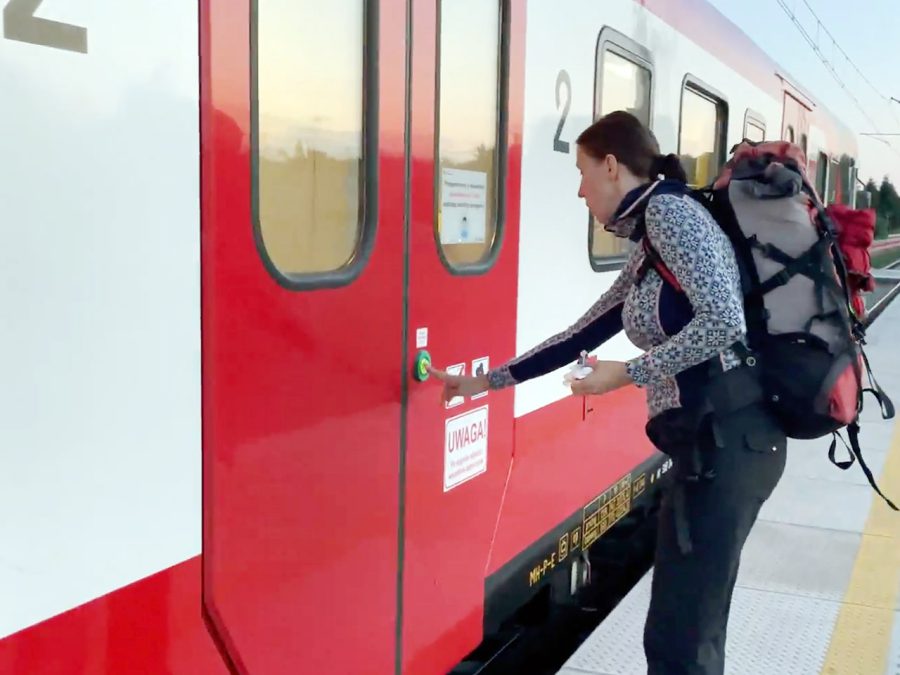 TAGS: