TRIP REPORT
パックラフト・アディクト | #56 Packrafting Meet-up BENELUX 2022
2022.03.30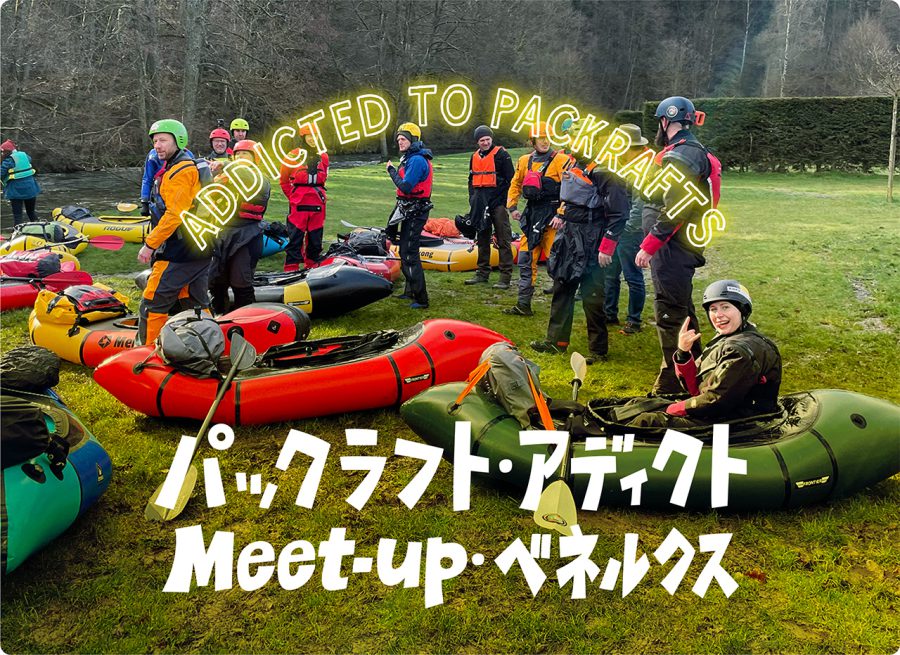 The 'First' BENELUX Packrafting Meet-up
Sometime at the end of January, Remi, a packrafting friend of mine, asked in the Dutch pakrafting chat if anyone was planning to go to the "First BENELUX Packrafting Meet-up." To my "Who/what/when and where?" he sent a link to the website of a Belgian packrafter, Mathias (https://fagusoutdoor.be/beneluxpackraftmeetup/), who I had met during one of the European Packrafting meet-ups in Slovenia a few years before. I had seen something about the event on social media, but somehow, I had not paid too much attention to it and I was not certain what it was exactly. That was why it was good to have the link to it.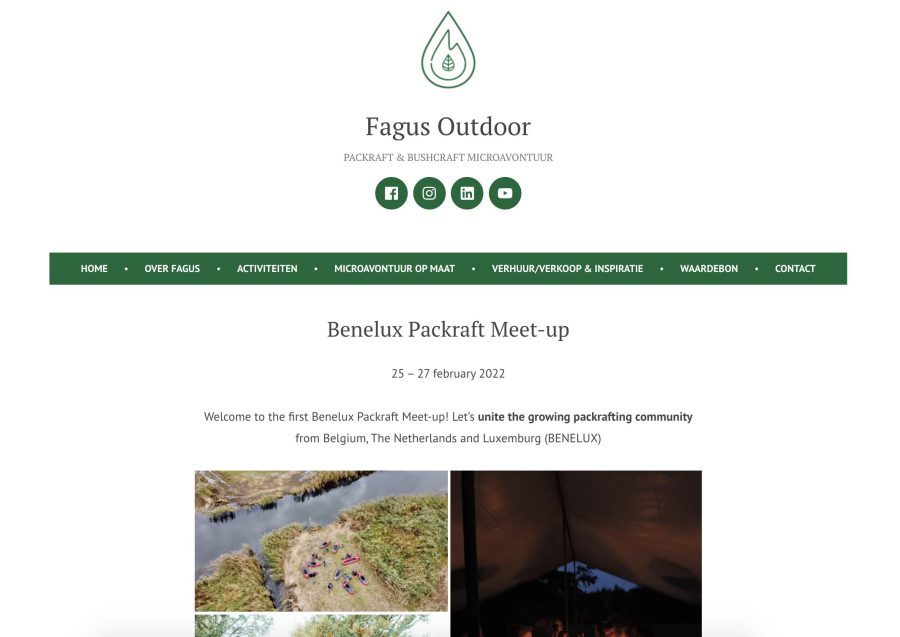 According to the website, this was supposed to be the first BENELUX packrafting meet-up that would help the growing packrafting community from Belgium, The Netherlands and Luxemburg (thus, BENELUX) unite. It was to take place in Belgian Ardennes, which is a nice and 'central' location and was planned for the end of February (25-27), which is still very much the winter there. However, it is also the time when the rivers are most likely to have enough water and are officially open for paddling (in Belgium they regulate this very strictly).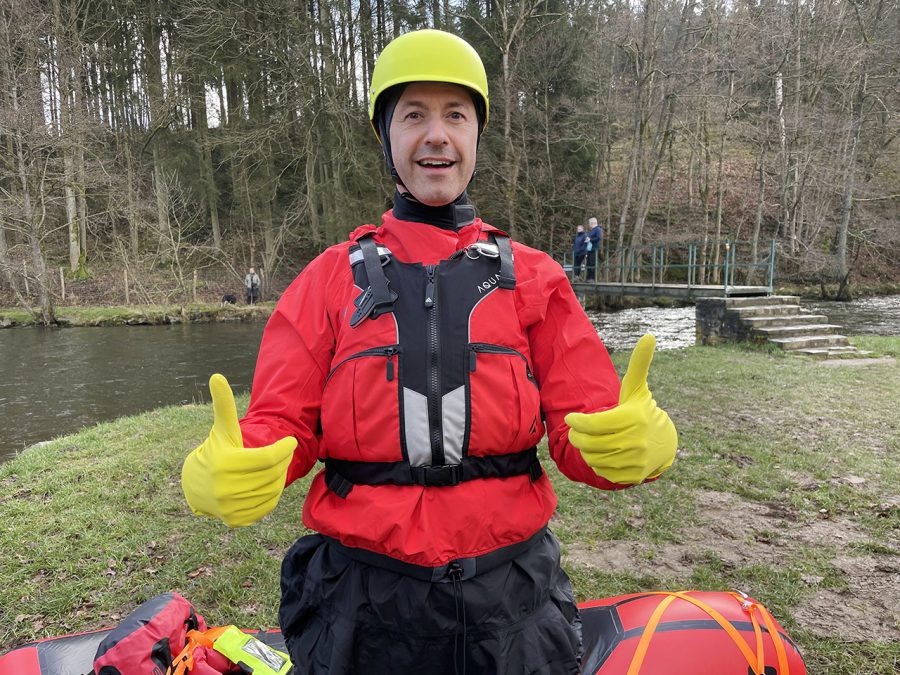 I liked the idea of such a meet-up, though I questioned if it were to be the first one of the kind – I had already participated in a couple of meet-ups with Dutch and Belgian packrafters, though those were only the Dutch-speaking Belgians.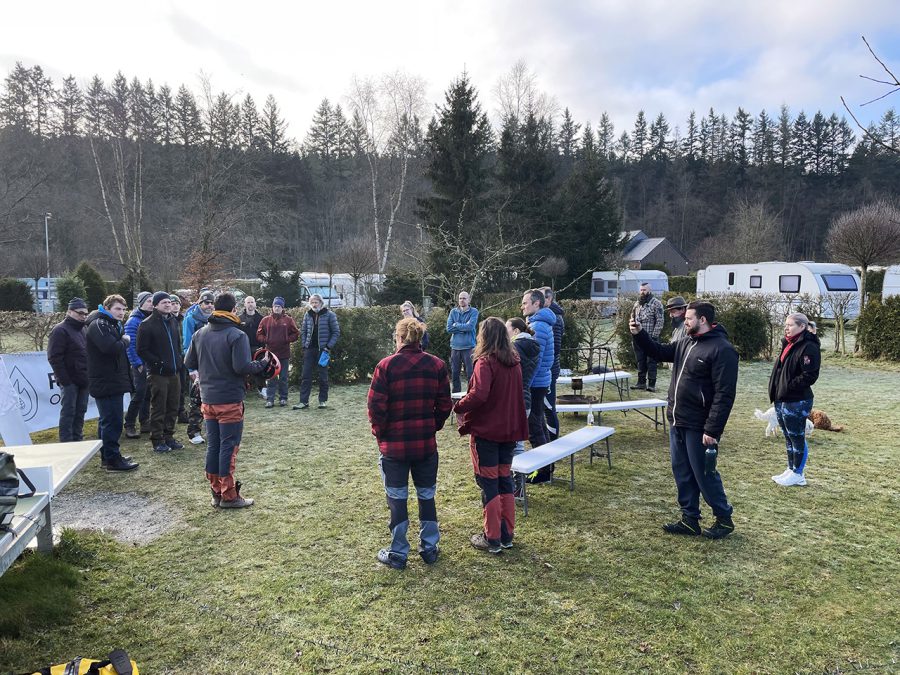 Having been taught by the last two years of COVID, I decided that I would go to the meet-up, if I had a chance, but I would not plan much in advance. And luckily, the chance presented itself. Not only was I free from work as we had 'Spring' holidays that week, the borders were open and there were no extra restrictions in place. What was more, on Friday morning, February 25 I was flying back from a family trip to Cyprus, so I was going to be in the south of the Netherlands (not far from the Belgian border) anyway. That was why I made an arrangement with Remi, who lives in the south of the country too, to travel together. And so I went.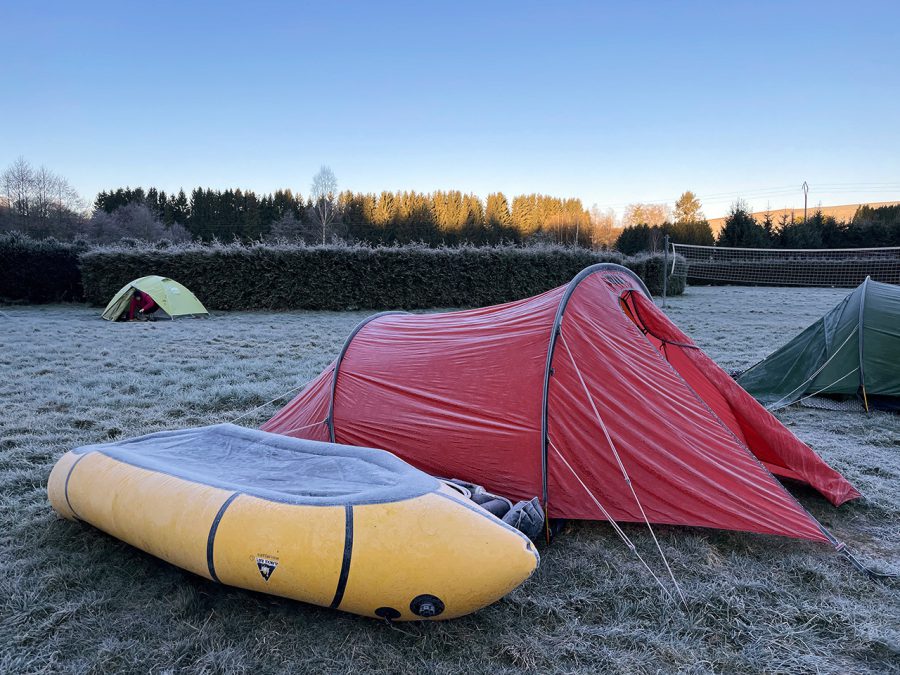 The meet-up took place over three days – from Friday to Sunday, though for most people just like for Remi and I, Friday was the "arrival to the camp site" day. Camping Pont de Berguème was our home base which we used the next two days when we went paddling. As a matter of fact, the camping is located on the banks the Ourthe Occidentale (the Western Ourthe) and, judging by the presence of a drying room, is regularly used by all sorts of paddlers. Besides a tent field, it also had small wooden huts and places for campers. The latter two options seemed to be more popular as, when we arrived, there was only one more person with a tent, whereas the others brought their campers or booked a hut. (A few more people with tents came on Saturday.)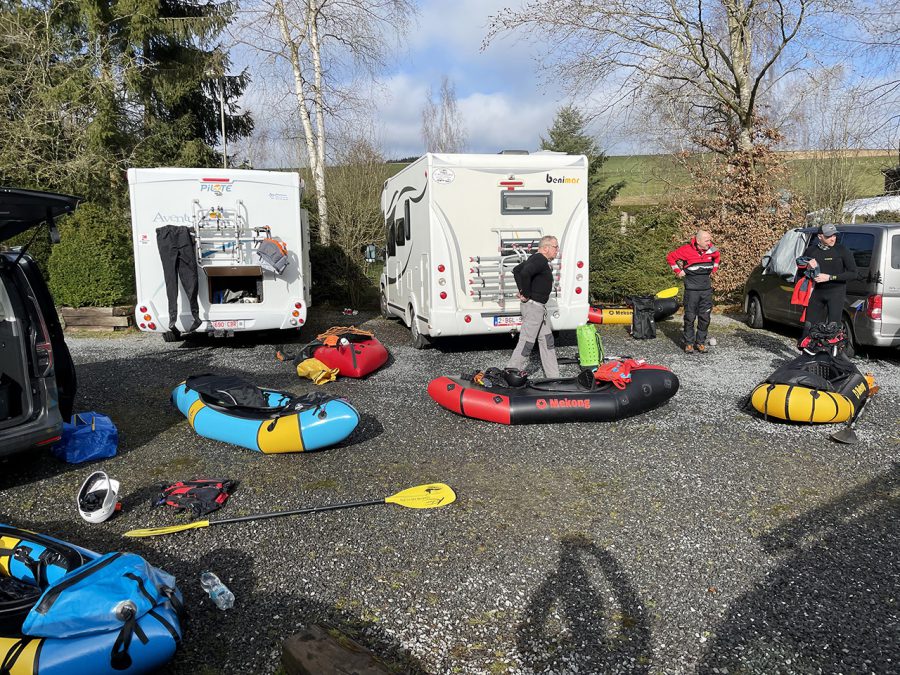 This was completely justifiable as, while the days were warm, the temperatures at night during those three days would drop below freezing point. It was the coldest in the night from Saturday to Sunday when it went down as low as -5 degrees Centigrade (some people told me that water bottles in their cars were frozen solid). I did not have a problem with it though as I had an extra quilt and a bivy bag with me, which helped me to create an extremely warm sleeping system. (Long live car camping!)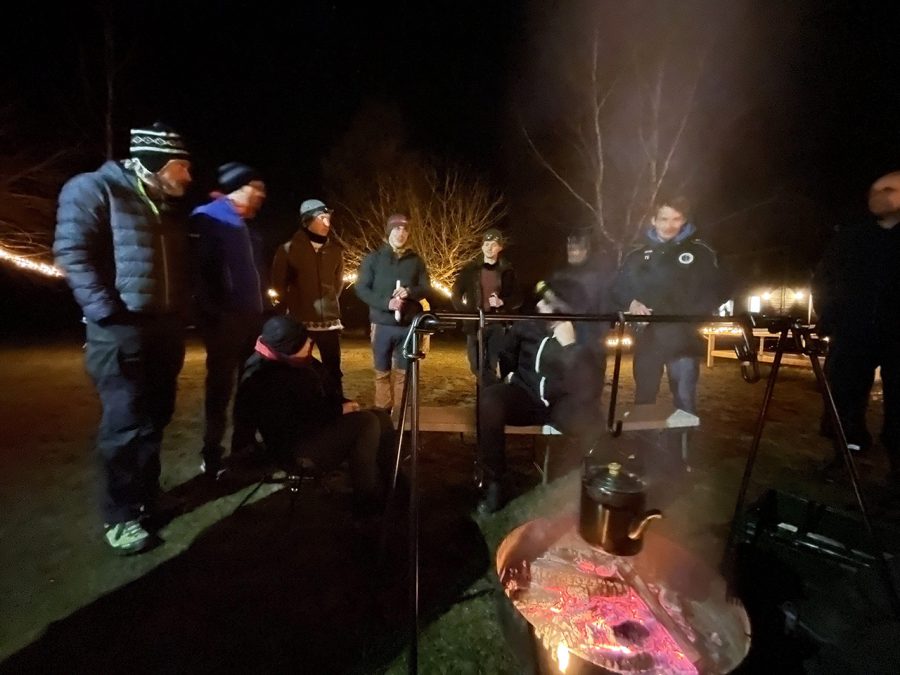 The cold temperatures at night seemed to have had quite an influence though. Not only some people decided not to show up (not all 50 people, who signed up for the meet-up made it), the way we mingled with each other was influenced by this as well. Even though Mathias created a central point with a bonfire, it was a bit too cold to sit next to it and quite a few people moved to the bar of the camping, where they could enjoy a conversation and a Belgian beer in the warmth and comfort.
The people who attended the meet-up were mostly Belgians (both Dutch and French-speaking), as well as a couple of Dutch, Germans and, if I am not mistaken, one or two French. (No one from Luxemburg though.) A few of people I had already met before during one of the European meet-ups (either in Slovenia or in Austria), but most of them were new faces. Some of those were actually new to packrafting as well. I talked to a couple of them and they said that that had started paddling during the previous two years because of COVID.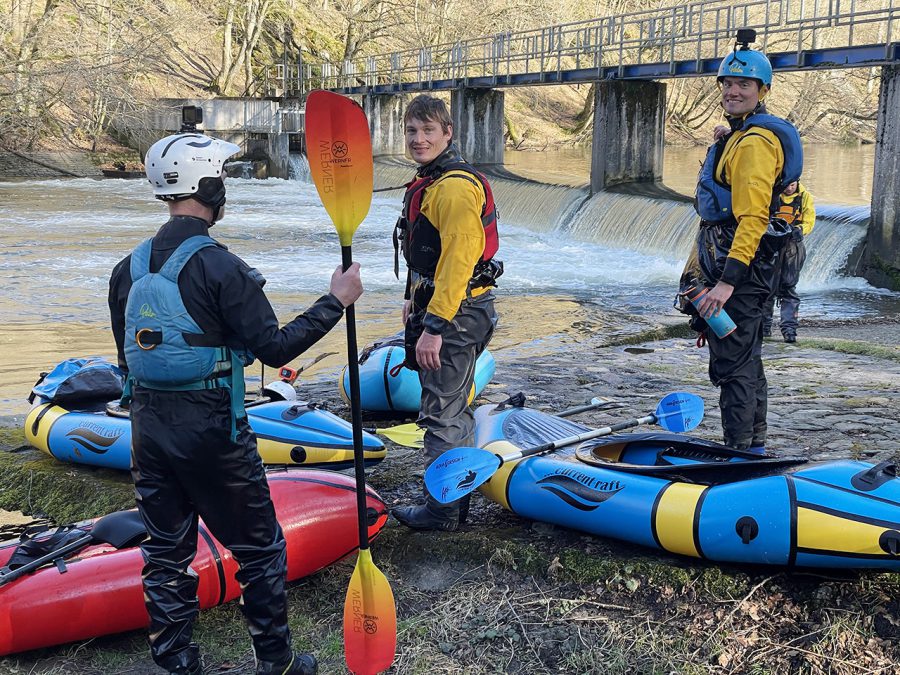 One of the new people I met and paddled with was Tim from Germany, the owner of current-raft.de. During one of the days, we had a talk and he told us how he started the company. Originally, he had a Sputnik from the Russian Time Trial, but was not too happy with it. He also could not find something that he wanted on the market. That is why he got in contact with several different Chinese manufacturers and ordered a few packrafts from them based on his specifications. It helped him to find the one he wanted. The other packrafts he put on eBay and, to his surprise, they were gone in no time at all. That brought him to an idea of starting his own packraft brand and now he has a line of a few models, one of which (a prototype) I test-paddled on Sunday.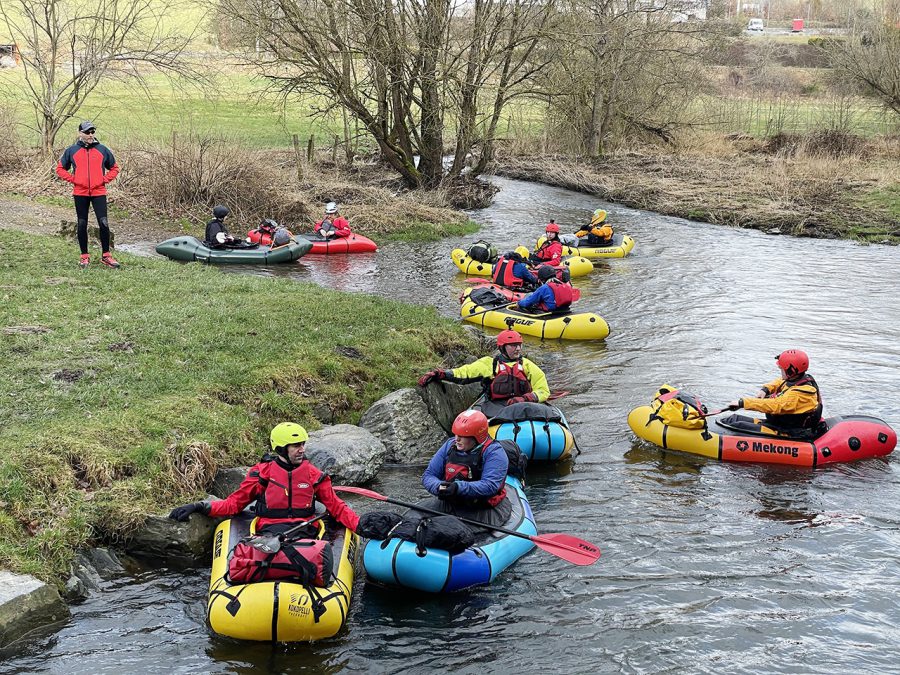 When it came to the programme, there was not much other than splitting up in groups according to the interests and paddling together. (In this respect it was a true meet-up.) The only other thing we had on Saturday morning, when we had our first group pow-wow at the central place – a representative of a new Belgian rafting and packrafting association that they were hoping to establish soon gave a speech. He spoke in French (not the language I speak) and as it was not translated. That is why I only got some points out if it.
From what I understood, the reason for establishing the association was to make sure that rafters and packrafters could get the same rights as kayakers (who have their own lobbying association) when it comes to river usage. I have already mentioned that there are a lot of rules in regard to what, who and when can paddle in Belgium. And it seems that some, more difficult and, at the same time, more interesting parts of rivers are officially only accessible to kayakers.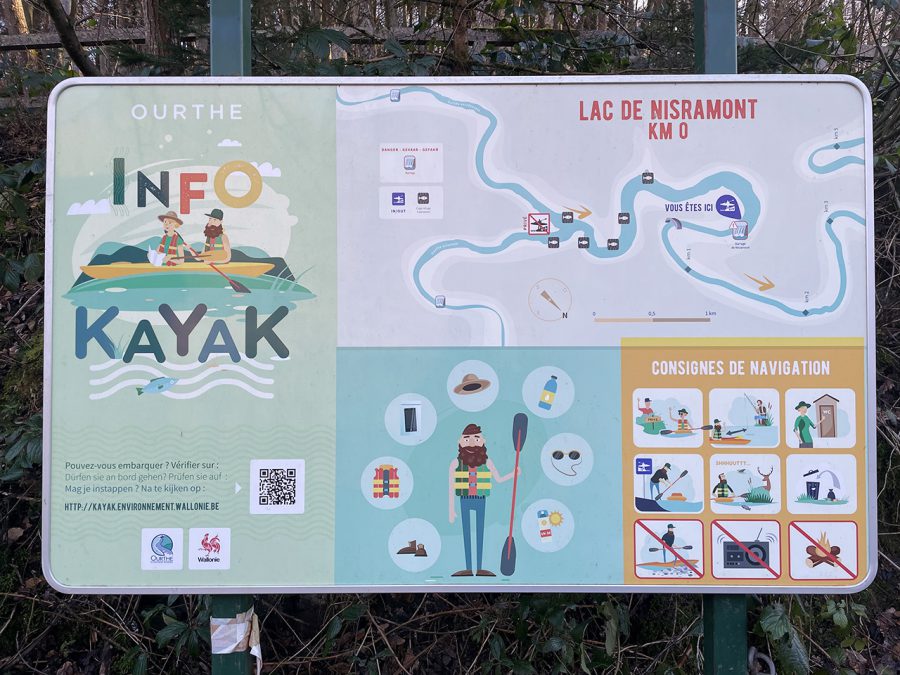 It seemed that some of the present liked the idea of creating this new association, however, not everyone. I talked to one of the people I paddled later and he said that it would have been better to join the kayaking association instead of creating a separate one altogether. "There is no point in creating a new but similar one, just to get recognition," he explained. "It is better to join the forces and work together."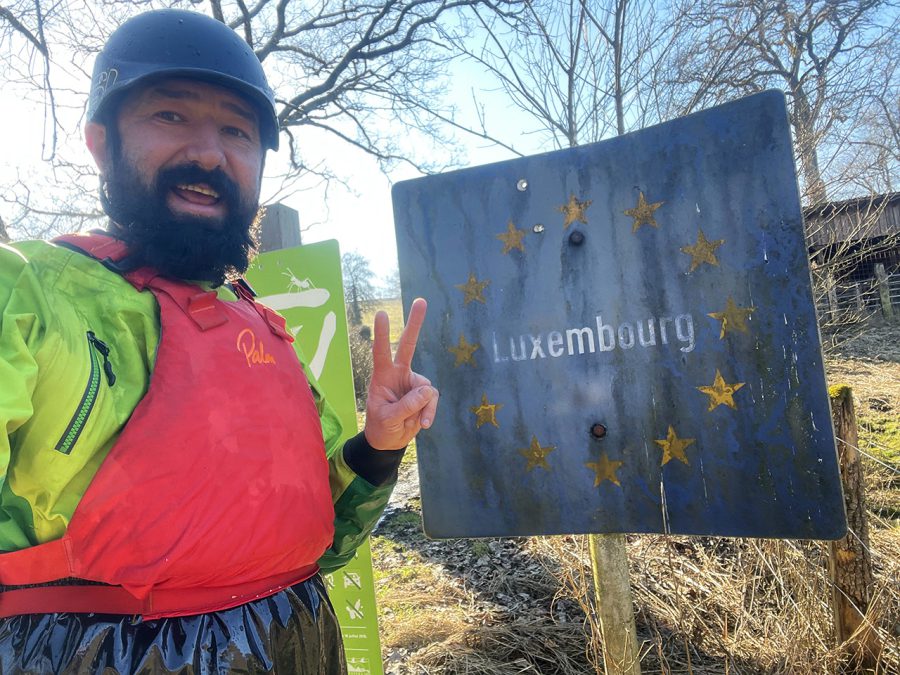 However, what we came there for was packrafting together and that was exactly what we did both on Saturday and Sunday. The first day all of us decide to paddle the Ourthe Occidentale, down from the camping to Lake Nisramont, formed at the confluence with the Ourthe Orientale (the Eastern Ourthe) by a 16m high dam. We did split up in two main groups – those who wanted to paddle down and drive back and those who wanted to hike back. I decided to be lazy and joined the first group (just nine of us – all atdifferent experience level). In retrospect it would have been easier to hike back instead as, it turned out, our cars were parked at the very end of the lake, near the dam and we had to paddle over 4 km on flat water to reach them. Good thing we did not have almost any headwind.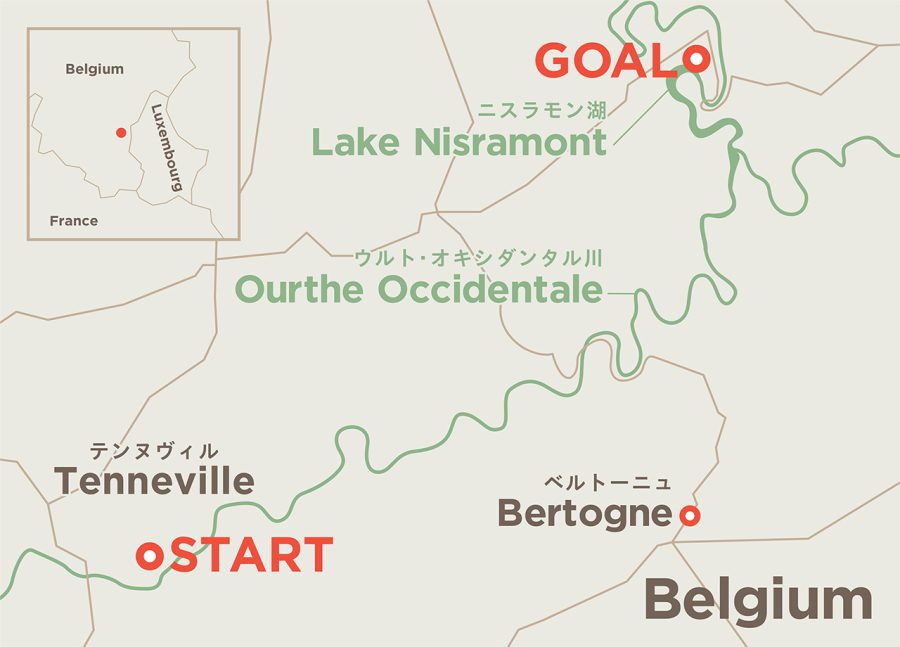 The river itself (around 16 km) was not too difficult and besides some occasional weirs and small rapids, most of the 'fun' was trying to stay in the centre and not get caught in a tree. One of us actually did. Her capsizing gave us a chance to practice rescue techniques – Remi did a great job with a throw rope and I caught her paddle and her packraft.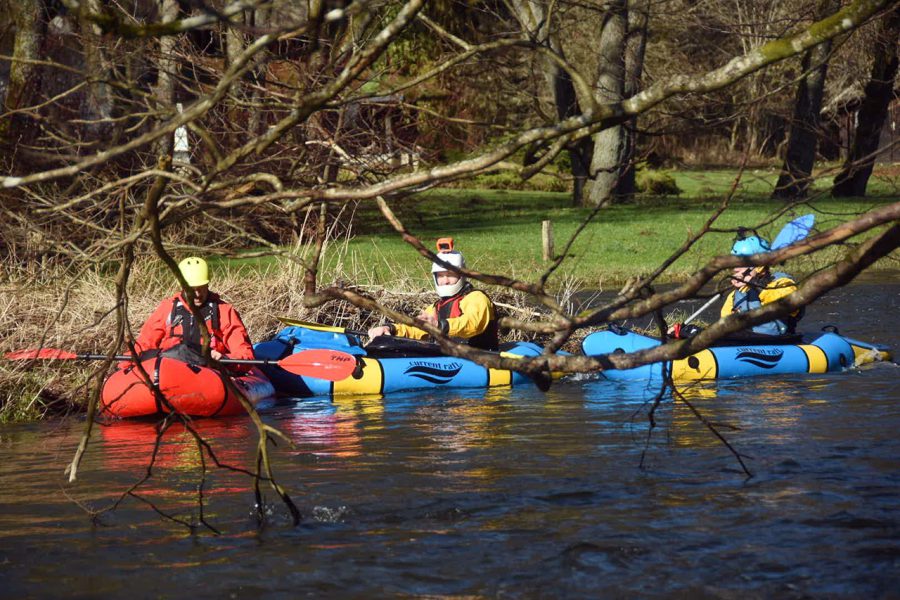 The second day (on Sunday) there was much more variation in what people decide to paddle. Some went for the upper Ourthe (the section below the Nisramont dam), while others decided to paddle the Eastern Ourthe. A group of us, including Tim, Remi and I, went for the Sauer (or La Sûre in French), which springs in Belgium, but from Martelange (the place where we started) becomes a border river with Luxemburg. That alone made it very interesting as I am excited about border rivers (please see my article on this).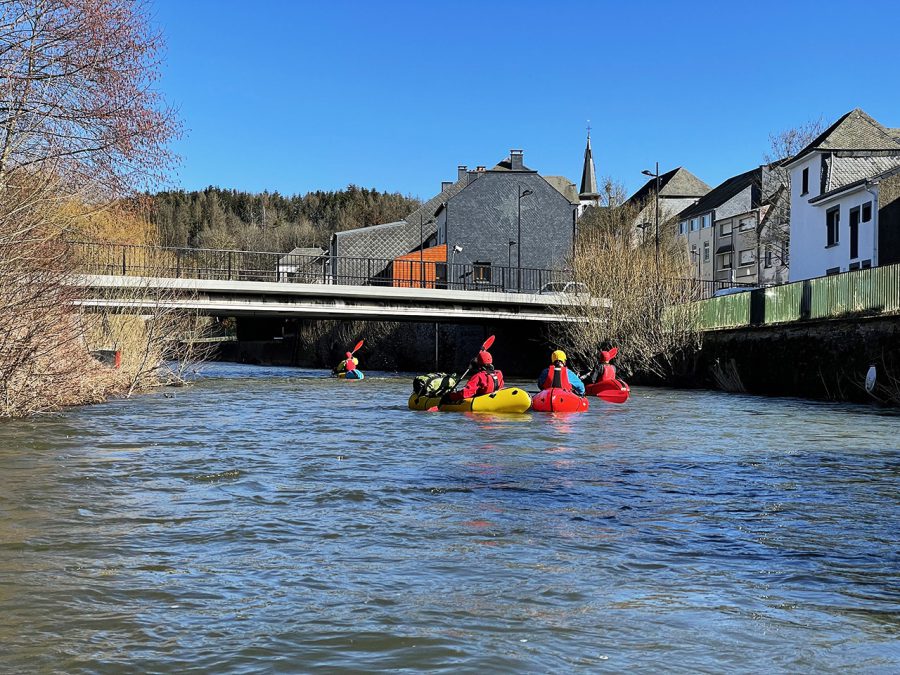 It was also the river I had not had a chance to paddle before as it is rather far from where I live. Additionally, from what I heard, it is also less often allowed to paddle it (for example, the day before it was still prohibited). Finally, paddling in Luxemburg made it a truly BENELUX meet-up.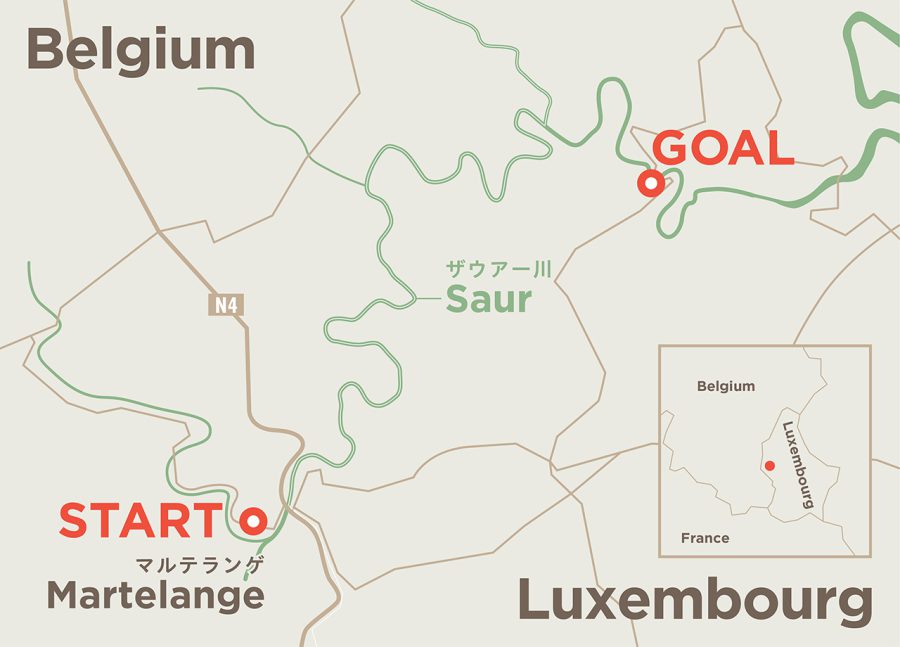 Altogether we paddled just over 16km (13 of which formed the national border) on the Sauer. From what I saw, this was definitely a bit more complex river, but not my much. Still three of us capsized. Once due to getting caught on a low hanging tree and three times going down an old watermill weir – the same person flipped twice.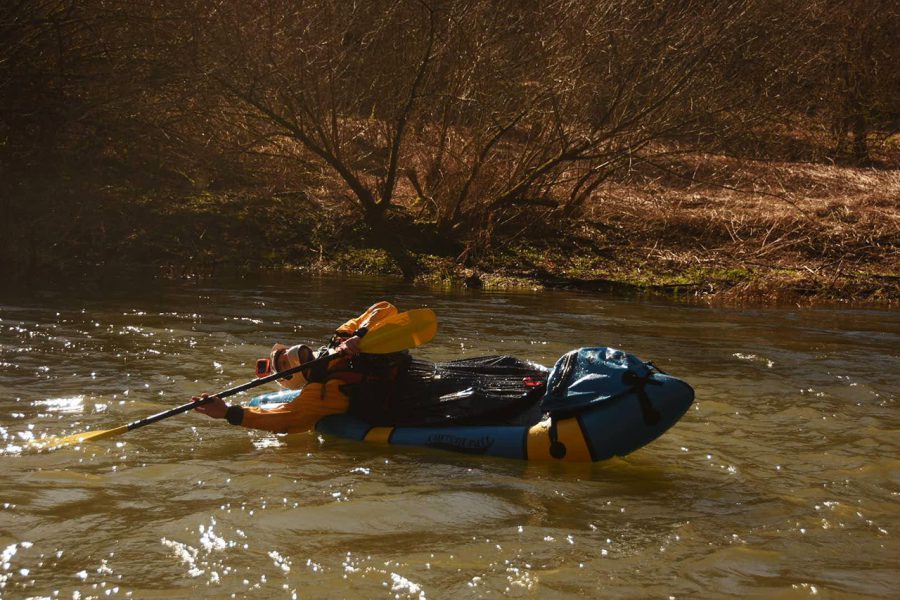 The other two people were Tim and I. I ran the weir twice and the first time, I did not position my boat right and swam. The second time it went fine. Tim, on the other hand, flipped on his second run, as his paddle broke when he tried to brace. Luckily, Remi had an extra paddle in his packraft. (Remi saves the day again!)
All in all, even though the nights were cold, there was not much of a programme and I could not understand everything and everyone, I think it was a successful meet-up. I met new people and made some new packrafting friends, tried out a new packraft, paddled two new rivers, and went for a swim ones. If that was not a fun weekend, I do not know what is…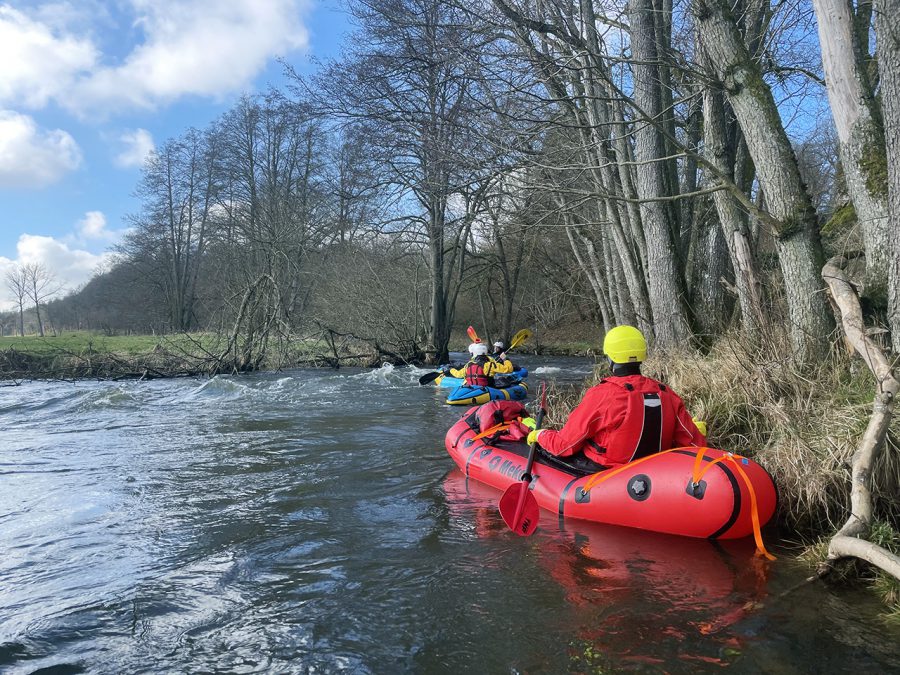 TAGS: